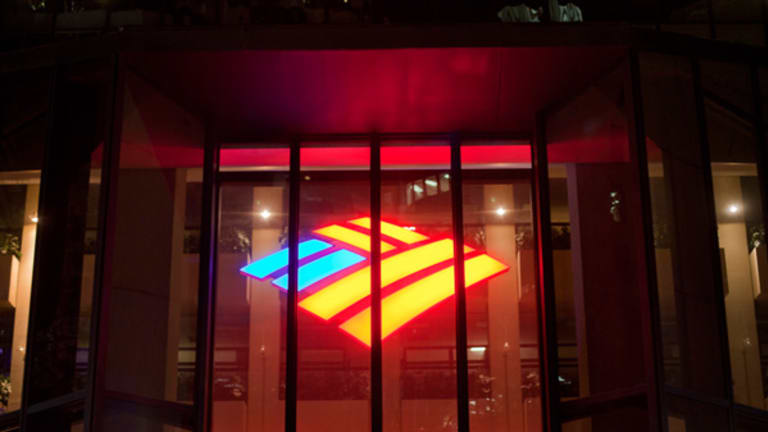 Bank of America: Countrywide 'Hustle' Winner
Bank of America's shareholders shrugged off another high profile lawsuit on Wednesday.
NEW YORK (
) --
Bank of America
(BAC) - Get Bank of America Corporation Report
shares pulled back by only a nickel to close at $9.31, despite another high-profile lawsuit against the company, this time by
.
The lawsuit perfectly illustrates the lingering material risk and headline risk from former Bank of America CEO Ken Lewis's disastrous decision to purchase Countrywide Financial in July 2008, when it was already apparent that the residential real estate bubble had burst.
Of course, the Justice Department's timing works very well in the election season, once again, pitting the government against the banks. According to the complaint, "Countrywide and later Bank of America, following the acquisition of Countrywide in 2008, implemented a new origination process called 'Hustle,' which was intentionally designed to process loans at high speed and without quality checkpoints, and which generated thousands of fraudulent and otherwise defective residential mortgage loans sold to
Fannie Mae
(FNMA)
and
Freddie Mac
(FMCC)
that later defaulted causing over $1 billion dollars in losses and countless foreclosures."
The branding of an internal loan approval process as "Hustle" perfectly illustrates the gleeful sales culture associated with an asset bubble.
Anthony Sabino -- a professor at John's University's Peter J. Tobin College of Business -- expressed sympathy for Bank of America CEO Brian Moynihan, saying that "no sooner than he settles one piece of litigation as part of the fallout of the Great Recession (i.e., the flawed merger with Merrill Lynch), another monstrous lawsuit rises up to take its place." Sabino went on to say that "the news is not all that horrific," since the lawsuit was expected, and "Moynihan has been doing a pretty good job of tackling these problems head on and resolving them. Odds are he will do the same here."
The broad indexes saw slight declines on Wednesday, following Tuesday's
painful session
, despite another strong housing report, with the Census Bureau estimating that sales of new single-family homes in September rose to a seasonally adjusted annual rate of 389,000, increasing 5.7% from a revised August rate of 368,000, and 27.1% from the rate of 306,000 in September 2011.
The
Federal Reserve
Open Market Committee said in its October
on Wednesday that "household spending has advanced a bit more quickly, but growth in business fixed investment has slowed, and that "the housing sector has shown some further signs of improvement, albeit from a depressed level." The Committee announced no new action, but reiterated that it "anticipates that exceptionally low levels for the federal funds rate are likely to be warranted at least through mid-2015."
The big news for the broad market was a 19% rise in shares of
FaceBook
(FB) - Get Meta Platforms Inc. Report
, which closed at $23.21, after the company reported non-GAAP third-quarter earnings of $311 million, or 12 cents a share, excluding share-based compensation and related payroll tax expenses, increasing from $295 million, or 12 cents a share, in the second quarter, and $273 million, or 12 cents a share, in the third quarter of 2012.
Investors were relieved to see FaceBook's third-quarter revenue come in at $1.26 billion, increasing from $1.18 billion the previous quarter and $954 million a year earlier.
Citigroup analyst Mark Mahaney upgraded FaceBook to a "Buy" rating from a neutral rating, although he lowered his price target for the shares by $5 to $30, saying that the third-quarter revenue beat his estimate of $1.17 billion.
Mahaney said that "ad Revenue growth accelerated despite Mobile rising from 0% to 14% of Revenue - the odd advantage FB enjoys is that because its Desktop Monetization starts from a relatively low base, it's easier for Mobile Monetization to be accretive," and that the company's revenue growth accelerated to an annual pace of 38% from 36% in the second quarter.
Moving back to the financials, the
KBW Bank Index
(I:BKX)
was down slightly to close at 49.41, with 15 of the 24 index components showing declines for the session.
New York Community Faces Margin Pressure
New York Community Bancorp was the loser among KBW Bank Index components on Wednesday, with shares sliding 5% to close at $13.92, after the company reported third-quarter earnings of $128.8 million, or 29 cents a share, declining from $131.2 million, or 30 cents a share, in the second quarter, but increasing from $119.8 million, or 27 cents a share, in the third quarter of 2011.
While New York Community continued what could only be described as solid earnings performance, with a third-quarter return on average assets of 1.37% and a return on tangible equity of 18.06%, the company followed the patter for many regional banks in the continued low-rate environment, with declines in its net interest income and net interest margin.
The net interest margin is the spread between a bank's average yield on loans and investments, and its average cost for deposits and borrowings. Most regional banks are seeing margins squeezed. The Federal Reserve's target federal funds rate has been in a range of between zero and 0.25% since late 2008, and most banks have already seen most of the benefits of lower rates on deposits and borrowings. Meanwhile, the central bank in September increased its monthly purchases of long-term mortgage backed securities -- a move called
-- in an effort to hold long-term rates at their historically low levels, or push them down even further.
New York Community Bancorp's third-quarter net interest income declined to $285.0 million, from $296.7 million in the second quarter, and $295.0 million in the third quarter of last year, while the company's net interest margin narrowed to 3.17% in the third quarter, from 3.30% the previous quarter, and 3.33% a year earlier.
The company said that "the linked-quarter and year-over-year reductions reflect the impact of the yield curve as the average 10-year Treasury rate fell 77 basis points year-over-year and 19 basis points linked-quarter, to 1.64%, and the average two-year Treasury rate fell three basis points linked-quarter and two basis points year-over-year, to 0.26%."
New York Community Bancorp also said in its earnings release that "although loan production rose as the low level of market interest rates prompted a rise in refinancing activity, the replenishment of the loan portfolio occurred at lower yields," and that "the impact was somewhat tempered by the high level of prepayment penalty income from multi-family and
commercial real estate loans held for investment, and by a meaningful increase in the average balance of loans." The company added that it "continued to reduce its cost of interest-bearing deposits, largely reflecting the benefit of its transaction with Aurora Bank."
The company expects the net interest margin to decline further. During New York Community's earnings conference call, CFO Thomas Cangemi said that "looking at Q2 versus Q3 our guidance was down 12 to 15
basis points and thus we came in at the low end our range," and that "my guess is that where we sit today, given where the interest rate environment is and looking at the
loan pipeline, we are probably going to be on that same level, so probably down 12 to 15 in Q4," excluding loan prepayments.
Cangemi also said he expected the company to "see the bottom of the margin... well within 2013."
While New York Community Bancorp has continued its strong earnings performance, some analysts over the years have repeatedly questioned the attractive quarterly dividend payout of 25 cents, which the company has maintained for 35 consecutive quarters.
Sandler O'Neill analyst Mark Fitzgibbon said that during the third quarter, "the dividend payout ratio
declined to 78% (currently a 6.9% dividend yield). However, we remain concerned that over time banking regulators will pressure institutions with high payout ratios to right-size their distributions."
Fitzgibbon rates New York Community Bancorp a "Hold," with a 12-month price target of $14.50.
The analyst said "in light of the quarterly results and updated guidance from management, we are raising our 2012 core EPS estimate by a $0.06 to $1.17, but lowering our 2013 EPS estimate by $0.07 to $0.98." Fitzgibbon added that "we continue to believe that shares of NYB are approaching fair value at just over 2x tangible book value versus the peer group median of about 1.5 times TBV," and that "on a forward earnings basis, shares are currently trading at 14.9x our 2013 EPS estimate versus the peer group median of 12.8x."
New York Community Bancorp's shares have now returned 19% year-to-date, following a 30% decline during 2011.
The shares for 1.9 times their reported Sept. 30 tangible book value of $7.22, and for 13 times the consensus 2013 earnings estimate of $1.04 a share, among analysts polled by Thomson Reuters. Based on the quarterly payout of 25 cents, the shares have a dividend yield of 7.18%.
The company also announced on Wednesday that effective on Nov. 13, its trading symbol will change from NYB to NYCB.
NYB
data by
Interested in more on New York Community Bancorp? See TheStreet Ratings' report card for this stock.
RELATED STORIES:
Get Ready for the Bank Stock Apocalypse
Bank of America Hit With $1 Billion Suit Over Countrywide 'Hustle'
...and He Doesn't Need to Kill Dodd Frank
--
Written by Philip van Doorn in Jupiter, Fla.
>Contact by
.
Philip W. van Doorn is a member of TheStreet's banking and finance team, commenting on industry and regulatory trends. He previously served as the senior analyst for TheStreet.com Ratings, responsible for assigning financial strength ratings to banks and savings and loan institutions. Mr. van Doorn previously served as a loan operations officer at Riverside National Bank in Fort Pierce, Fla., and as a credit analyst at the Federal Home Loan Bank of New York, where he monitored banks in New York, New Jersey and Puerto Rico. Mr. van Doorn has additional experience in the mutual fund and computer software industries. He holds a bachelor of science in business administration from Long Island University.