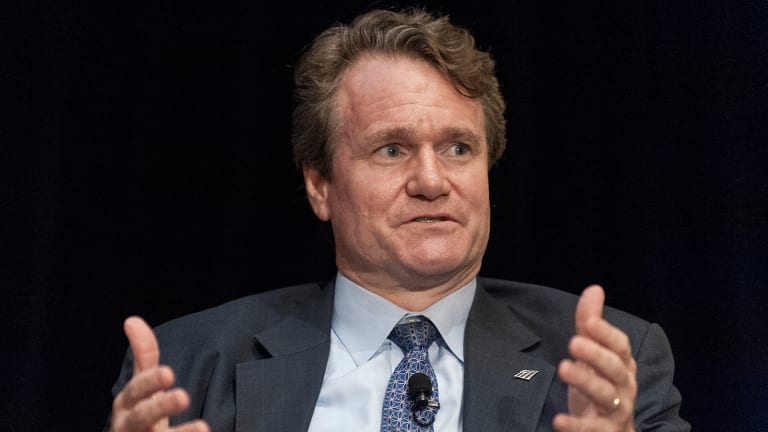 Bank of America CEO Still Grappling With Financial Crisis Fallout
From tougher regulations to a loan portfolio laden with bad mortgages, fallout from the financial crisis continues to challenge Bank of America, CEO Brian Moynihan says.
NEW YORK ( TheStreet) -- Dealing with the past still weighs heavily on Bank of America (BAC) - Get Report CEO Brian Moynihan's mind.
Among the first speakers at Bernstein's Annual Strategic Decisions Conference, Moynihan focused heavily on the changing interest-rate environment, operating in an era of increased regulation, and what's next for the bank. The 31-year-old conference, held at New York's Waldorf Astoria, offers investors and analysts a chance to hear from an array of Fortune 500 companies, from Bank of America to Yum Brands (YUM) - Get Report, McDonald's (MD) - Get Report and JPMorgan Chase (JPM) - Get Report
While Moynihan focused on the future, his remarks made clear that the 2008 crisis continues to weigh on the Charlotte, N.C.-based banking giant.
Like its rivals, Bank of America is anxious for the Federal Reserve to begin raising interest rates, which were slashed to around zero during the crisis. While anyone with a savings account knows the pain of near-bottom deposit rates, as Moynihan pointed out, the interest banks can charge on loans is also suppressed.
Widening the spread between interest charged on loans and interest paid on deposits -- also known as net interest margin -- would benefit the bank immensely. The figure is an industry benchmark for the profitability of a bank's lending operations. As of the end of 2014, Bank of America's net interest margin was 2.1%.
Compounding the issue of narrowing interest-margin spreads is that the banks have had to adhere to tighter lending standards and capital requirements following the crisis, which necessitated government bailouts and wiped out trillions of dollars in market value. |
As Moynihan sees it, capital is divided into three buckets: capital companies can put to work; capital buffers, which are under new mandates; and capital companies pay out. Because banks have higher capital requirements, they have less money to put to work in the form of loans. As Moynihan tells it, the bank's challenge is, "Can you keep your nose clean and still give access to credit?"
Adding to Bank of America's regulatory issues, the company must submit a new capital plan to the Federal Reserve by September to address weaknesses identified in stress tests. As the bank completes this "discrete task," Moynihan said he wants to make sure that it emerges as best in its class in future testing.
Inherent in much of Moynihan's talk was the idea that, even though the bank has made progress, it is still weighed down by the past.
Bank of America continues to wind down its legacy asset servicing division, launched in 2011 to service defaulted loans and mortgages, many of which were acquired through Bank of America's purchase of subprime lender Countrywide in 2008. 
Moynihan acknowledged that some of the quantitative and qualitative costs in that division arise from the customers being in an unpleasant situation. As such, managing that division requires " a lot of work, a lot of people, and a lot of care."
Progress can be difficult when the past hasn't been fully dealt with.