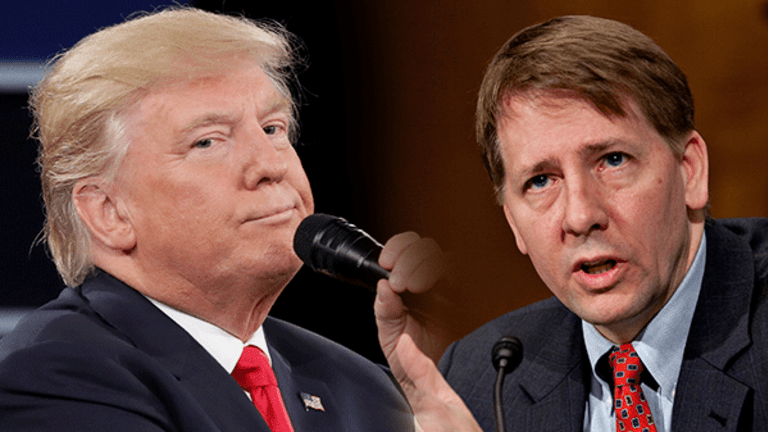 Bank Fees, Payday Loans to Get Less Scrutiny From Trump's Consumer Watchdog
Fees charged by banks like Wells Fargo and high-interest payday loans are all likely to get less scrutiny when a Trump administration overhauls the Consumer Financial Protection Bureau.
Payday lenders, student loan companies and banks that earn revenue from overdraft fees and similar charges should get a lift from the incoming Trump administration's overhaul of the nation's consumer watchdog agency.
The Consumer Financial Protection Bureau, or CFPB, was created by the post-crisis Dodd-Frank Act to write rules for mortgages and other credit products after regulators failed in their oversight of the market prior to the 2008 financial economic meltdown.
The agency most recently was in the spotlight for disclosing that employees at banking giant Wells Fargo (WFC)  had opened as many as 2 million unauthorized consumer credit card and savings accounts in an effort to meet aggressive sales quotas, news that prompted a national furor.
While Trump and his transition team have said that he would seek to abolish the entire Dodd-Frank law, it's unlikely that he could eliminate the bureau. A major priority instead might be replacing its first director, Richard Cordray, which is easier said than done. A panel of federal appeals court judges ruled last month that the president should have the power to "supervise and direct" as well as fire the agency's director at will, although the bureau said before Trump's victory that it would appeal the decision.
While Trump might try to quickly replace Cordray with someone whose ideology is more similar to the president-elect's, Keefe, Bruyette & Woods analyst Brian Gardner said such a movement would likely lead to an expensive lawsuit that dragged on for months. Cordray, who is expected to fight efforts to remove him, would still probably leave when his term expires in July 2018.
Nonetheless, regulatory observers contend that President Trump and the Republican-controlled Congress will simultaneously move ahead with a key goal that was blocked by Democrats: Replacing the role of director with a bipartisan commission made up of five members and subject to the congressional appropriations process.
Democrats who fiercely opposed that approach might relent given that a five-person commission would grant them two directors to push against a Trump-installed chairman. "The odds are high that the CFPB will be shifted to a commission," said Boltansky. 
Regardless of when Cordray leaves, analysts expect the Trump administration to curb the bureau's enforcement, supervisory and rulemaking activities -- a major boon for financial institutions under its oversight. 
For example, the CFPB has proposed a rule that would require payday lenders to verify their customers' income and confirm they can afford to repay the money they borrow, making it harder for people to roll over their loans into new, more expensive ones.
EXCLUSIVE LOOK INSIDE: Wells Fargo is a holding in Jim Cramer's Action Alerts PLUS charitable trust portfolio. Want to be alerted before Cramer buys or sells the stock? Learn more now.
The agency's goal was to ensure that consumers aren't taking on too much debt, but Compass Point analyst Isaac Boltansky said the proposal will likely be materially softened now or "die on the vine," benefiting Cash America International, which was acquired by First Cash Financial Services (FCFS) , EZCorp, (EZPW) , Enova International (ENVA) , World Acceptance (WRLD) and OneMain Holdings (OMF)
Indeed, any agency rule not already finalized may now be pulled back, Keefe Bruyette's Gardner suggested on a Wall Street Journal Pro webcast Thursday. 
A Trump administration is also likely to be a positive for student-loan servicers such as Navient (NAVI) and Nelnet (NNI) , and for-profit education firms, including DeVry Education Group (DV) , which was sued by the Federal Trade Commission in January over claims that its national ads misled students.
"A new secretary of Education and new CFPB director are likely to take some of the regulatory pressure off of private student lenders and student loan services," Gardner said.
Banks' consumer businesses, which typically charge overdraft fees of about $35, would face less risk of regulatory backlash, too. According to a CFPB study in February, the nation's 628 biggest banks made $11.2 billion in overdraft and non-sufficient fund fees in 2015.
Such fees were among the reasons for widespread criticism of Wells Fargo, since employees who opened unauthorized deposit accounts typically funded them with money from accounts the customers used, leading to overdrafts.
The resulting scandal led to the abrupt retirement of CEO John Stumpf, a variety of regulatory probes and lawsuits from consumers, investors and workers.
Smaller banks helped by a more lenient consumer watchdog under Trump would include Regions Financial (RF) , TCF Financial (TCB) , BOK Financial (BOKF) and International Bancshares (IBOC) .