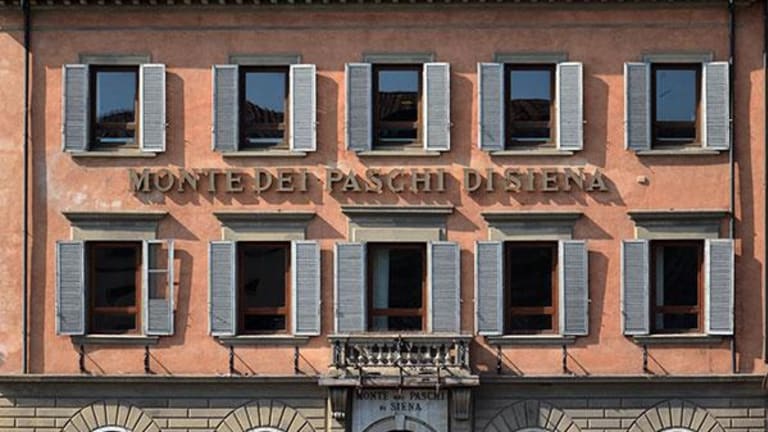 Banca Monte dei Paschi Shares Whipsaw Amid Government Rescue Speculation
Multiple concerns leave Europe preparing for its first major-bank failure since the crisis
Banca Monte dei Paschi di Sienna (BMDPY)  swung wildly Wednesday amid a warning on its liquidity and the approval from Italian lawmakers that could lead to a capital injection in the failing lender.
BMPS shares fell as as 16.5% after the opening bell in Milan, changing hands at €15 each before being suspended by regulators after Italy's third-largest bank said its liquidity buffer could last only for a few more months. However, shares stabilized after lawmakers in Italy's lower house approved a government proposal to borrow as much as €20 billion ($20.8 billion) to shore-up the country's financial system.
BMPS was last seen down 3.24% at €17.94 each at 11:20 GMT, but the bid-to-offer spread on the shares makes an exact pricing assessment almost impossible. 
BMPS has been trying to raise €5 billion in new capital and sell a €27 billion in bad loans as part of a balance sheet repair effort that must be put in place by Dec. 31 deadline imposed on it by the European Central Bank.
The banks said Wednesday that it lost more than €13 billion of customer deposits during the first nine months of the year, equivalent to 10% of its total deposit base, and cautioned that a deterioration in market conditions meant it could now burn through its liquidity buffer in as little as four months.
The admission followed Italian media speculation that it had raised only €1.6 billion of a targeted €2 billion to €3 billion in its ongoing debt-for-equity swap, leaving as much as €3 billion needed in a rights issue cash call to shore up its sagging balance sheet.
The Lower House approval has the firepower to support a theoretical nationalization of BMPS, but such a move that its likely to raise objections in Brussels given that European rules on state-aid, along with the Bank Resolution and Recovery Directive, make going to the aid of the financial sector difficult without imposing losses on investors such as bondholders and equity holders.
The heavy proportion of financial sector bonds and shares which are owned by retail investors in Italy means that any move by a government to impose haircuts on carries considerable political risk.