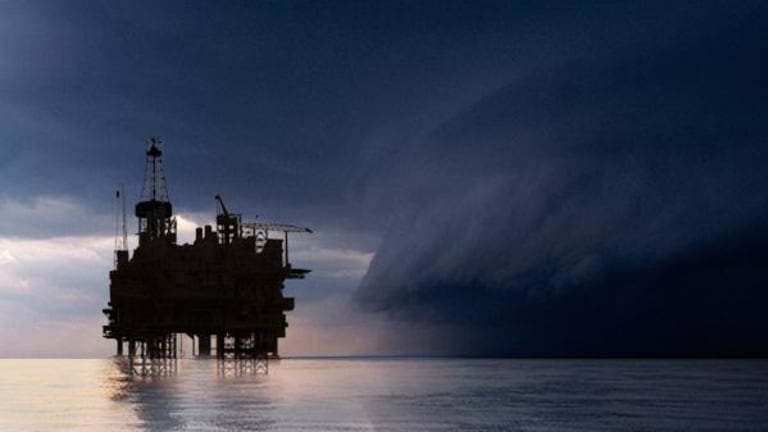 U.S. oil and natural gas producers brought online 13 rigs in the past week, sending Baker Hughes' (BHI) rig count up to a total of 870 units.
Nine oil rigs were added week over week, while the number of natural gas rigs rose by four, according to the Houston oilfield services provider.
Meanwhile, just as President Donald Trump signed an executive order calling for a review of America's offshore drilling policies, Baker Hughes reported the U.S. offshore count fell by three this week. The offshore count, now at 17 overall, is down eight rigs year over year.
Industry analysts don't expect Trump's executive order to have a meaningful impact on offshore rig counts for at least two years as much of the Arctic and Atlantic oceans would require extensive seismic testing and geological studies for operators to determine where profitable reserves can be drilled. 
All told, the U.S. land rig count is now up 450 rigs from a year ago when it stood at 420, Baker Hughes data showed. Oil rigs are up 365 in the past year, while natural gas rigs have climbed by 84 and miscellaneous rigs are up one.
Contrary to the recent trend, the Permian Basin of West Texas and New Mexico did not see the largest weekly gain, adding just two rigs. South Texas' Eagle Ford Shale oil and natural gas play for the second consecutive week saw the largest uptick in drilling activity with five new rigs coming online.
Still, the Permian has of late been the dominant force behind increased drilling activity as strategic operators such as Exxon Mobil (XOM) - Get Exxon Mobil Corporation Report, Diamondback Energy (FANG) - Get Diamondback Energy, Inc. Report, Pioneer Natural Resources (PXD) - Get Pioneer Natural Resources Company Report and RSP Permian (RSPP)  have bolstered acreage in the play to inevitably ramp production in the most lucrative of U.S. oil basins.
"We see unique value that we're going to bring to that Permian acreage," Exxon's vice president of investor relations, Jeffrey Woodbury, said on the company's earnings call Friday referring to Exxon's recent $6.6 billion purchase of Permian assets from the Bass family. "And as we said back when we consummated the transaction, we believe that we're going to demonstrate that we are going to be industry-leading in terms of overall unit development cost and overall return on investment given the unique aspects of it, that being as I said previously, the contiguous nature of it in the ability for us to bring our value chain perspective."
Out of the 870 active U.S. land rigs, 342 are focused on the Permian, according to Baker Hughes' data. By comparison, the basin with the nearest level of activity to that of the Permian is the Eagle Ford with 83 rigs online. 
Overall, the U.S. land rig count's first-quarter average of 719 units was 27% above fourth quarter numbers, Stephens oilfield services analysts Christopher Denison and Brooks Braden said in a recent research note.
And the firm expects the count to increase another 20% quarter over quarter in the second frame.
"Given the faster-than-anticipated increase, we now model 2017 U.S. land rig count to average 865 rigs vs. 741 previously (early Feb.) with the majority of gains occurring in [the first half of 2017]," Dennison and Braden wrote. "Commensurate with the pace of rig additions. However, we also anticipate startup inefficiencies to creep into the system and pressure [first half] gross margin expansion to the tune of 200-300 [basis points] in our models."
If oil holds between $50 and $60 per barrel through 2018 as Stephens analysts predict, this pressure on oilfield service providers should abate in the second half of 2017 as the supply chain responds.