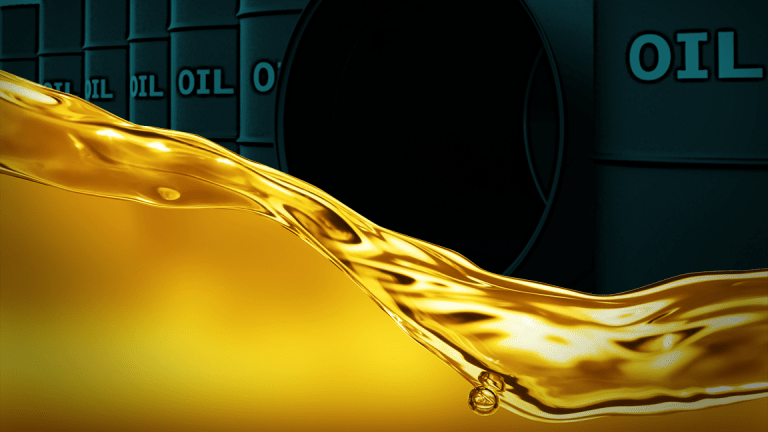 What $70 Oil Means to M&A Market
U.S. oil and natural gas drilling rigs climbed by 15 this past week as oil futures play footsie with $70 per barrel and talk swirls around a potential pickup in oil and gas industry M&A.
U.S. oil and natural gas drilling rigs climbed by 15 this past week, Baker Hughes undefined said Friday, Jan. 12, as oil futures prepared to post their fourth straight week of gains and talk swirls around a potential pickup in oil and gas industry M&A. 
Oil rigs jumped by 10 to 752 and gas rigs rose by five to 187, bringing the total U.S. rig count up to 939. The U.S. rig count is now 280 greater than it was this time last year when it was stood at 659 units, with oil rigs up 230, gas rigs up 51 and miscellaneous rigs down one. 
Global benchmark Brent crude futures rose 0.6% Friday afternoon to $69.68 per barrel after hitting a more than three-year high of $70 per barrel Thursday. Meanwhile, West Texas Intermediate crude contracts were also in the green slightly at $64.17 around 2 p.m.
Major movements over time in the number of active U.S. oil and gas rigs tend to lag commodity prices by as much as three months, but minor week-to-week movements in the count can be affected by various circumstances, including harsh winter weather conditions, as witnessed in much of the country over the past two weeks, as well as operators simply moving rigs from one well pad to another, or to another resource basin entirely.  
In the grand scheme of things, $70 international oil, especially when the spread between Brent and WTI remains wide, is good news for U.S. oil and gas companies. 
The commodity's support in the first weeks of 2018 already have analysts and other industry followers chattering over an uptick in corporate consolidation among oil and gas explorers and producer. TheStreet's sister publication The Deal has recently reported on various potential tie-ups, including Diamondback Energy Inc. (FANG) picking up another Permian player, such as Energen Corp. (EGN) , SM Energy Co. (SM) , Lilis Energy Inc. (LLEX) or even privately held Endeavor Energy Resources LP. 
More of What's Trending on TheStreet:
Seaport Global Securities LLC analysts hinted in a Jan. 11 research note that Diamondback might be open to merging with a peer with quality assets that has underperformed the market or is under capitalized, rather than buying more undeveloped acreage. Several of the above would fit the bill there, particularly Endeavor or Energen, though The Deal reported activist-pressured Energen seems firmly against selling at this point. 
Diamondback, rebuffed by bankrupt E&P Breitburn Energy Partners LP on a $725 million stalking horse offer for its Permian Basin assets in west Texas, could wind up with Breitburn's Howard county assets after the company emerges from Chapter 11 bankruptcy, according to industry banking sources. 
Still, WTI forward strip prices moving north of $60 per barrel has not been followed by an en masse upward movement in E&P budget adjustments, meaning for oil and gas producers in the U.S., the focus remains on returns instead of growth. That could put a pin in the long-hoped for pickup in industry M&A for now, even with substantially stronger oil prices.
After all, U.S. producers are likely weary over the thought of finding themselves in a similar position many did in late 2014, when oil prices dropped precipitously after a large round of consolidation and sizeable asset swaps.
For example, witness the now-reorganized Linn Energy LLC's $4.9 billion purchase of Berry Petroleum Corp. in February 2013, Devon Energy Corp.'s (DVN) $4.2 billion acquisition of Crosstex Energy LP in October 2013, Halcon Resources Corp.'s (HK) $1.45 billion acquisition of Petro-Hunt LLC's Williston Basin assets October 2012 and Freeport-McMoRan Copper & Gold Inc.'s -- now Freeport-McMoRan Inc. (FCX) -- $20 billion acquisition of Plains Exploration & Production Co. and McMoRan Exploration Co. in two deals in December 2012. 
Between June 27, 2014, and Jan. 23, 2015, the commodity plunged from $105.74 to $45.59, and then dived again to bottom at about $26 a barrel in February 2016.
Unable to pay the massive debts accrued from these untimely deals, dozens of E&P companies, including Linn Energy and Halcon, filed for Chapter 11 bankruptcy protection between late 2015 and early 2017. Others, such as Freeport-McMoRan, were forced to launch various asset sales to eliminate the debt, in the process admitting the ill-timing of their oil investment spree. 
Producers today may be hesistant to allow history to repeat itself, yet today analysts are once again calling for much-needed consolidation in an oversaturated U.S. market, particularly in the oil-rich Permian Basin.