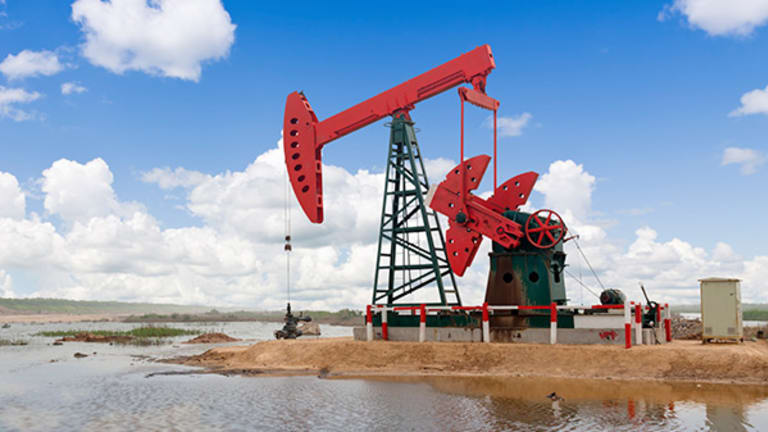 Baker Hughes Oil Rig Count Up 2 As Reports Say OPEC Won't Deal
The U.S. rig count is stalling in response to a mid-summer oil price rout, but the news follows troubling indications that Saudi Arabia won't agree to cap production.
The U.S. rig count is stalling in response to a mid-summer oil price rout, but the news follows troubling indications that Saudi Arabia won't agree to cap production.
Oil futures were down Friday following news that Saudi Arabia won't move to enact a long-awaited freeze on production for OPEC members.
The disappointing news was quickly followed by an slight increase in Baker Hughes (BHI) active rotary rig count. U.S. oil and gas rigs climbed by 5 from last week to 511.
The Houston oilfield services giant also said oil rigs were up by 2 to 418, versus last weeks count of 416. 
Prior to Friday's news concerning the Organization of Petroleum Exporting Countries, West Texas Intermediate oil futures were slipping slightly after posting solid weekly gains.
The commodity started the trading week at just north of $43 per barrel and were trading slightly above $46 per barrel Friday afternoon just before reports surfaced claiming Saudi Arabia doesn't see a supply deal coming at OPEC's meeting next week in Algiers.
WTI crude contracts for November delivery had fallen to $44.50 around 1 p.m. 
But the stalling activity in Baker Hughes' rig count is to be expected at this point in the cycle by analysts estimates. The rig count tends to lag significant movement in oil prices by as much as a quarter, and the industry is currently 3 months removed from a mid-summer commodity rout that saw oil prices fall from just under $50 per barrel in late June to below $40 per barrel in early August. 
Last week Baker Hughes' overall count fell for just the second time since the end of June to land at 506 rigs, but this data was contrasted by RigData's U.S. land rig count, which increased by 20 rigs, or 4%, to 547 during the same period. 
The boost in RigData's count came largely from horizontal rigs, which were up 21 week-over-week compared to BHI's count that saw a 2-rig drop. In the third quarter, RigData's U.S. land rig count is tracking up 24% from the prior frame, versus Baker Hughes' count, which was up 16% in the quarter prior to Friday's bump/drop. 
Meanwhile, gas rigs were up by Baker Hughes count to 92, versus last week's count of 89. The natural gas rig count continues to see little improvement despite prices for the commodity rising above $3 per million British Thermal Units this week for the first time since May 2015. 
But demand for gas-powered generation is trending up, according to KLR Group analysts John Gerdes and Gail Nicholson. With that bump in demand, the industry followers expect natural gas activity to climb from its current level around 90 rigs and exit 2016 averaging 110 rigs. 
Offshore rig operators are still hurting, however, according to Tudor, Pickering, Holt & Co. analysts. TPH said this week that there is still no visible evidence of any near-term trough in deepwater rig demand as two separate exploration and production companies announced plans to potentially early-terminate another pair of sixth-generation floaters last week.
Overall, Baker Hughes' U.S. rig count is down by 327 from last year's count of 838, with oil rigs down 223, gas rigs down 105, and miscellaneous rigs up 1. The U.S. offshore rig count is at 20, unchanged from last week, and down 13 rigs year over year.
The Canadian rig count was up this week as well, climbing 6 rigs from last week to 138. Canadian oil rigs were up 2 week-over-week to 77, while gas rigs were rose by 5 to 61.