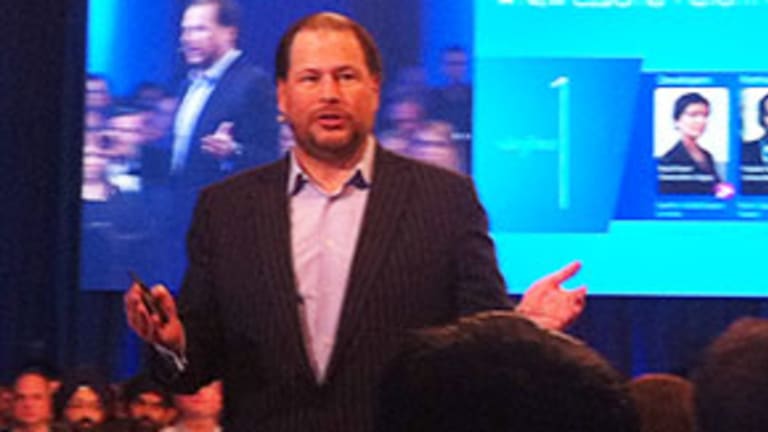 Publish date:
Bad Short-Term Thinking; Analysts Wrong on Salesforce; Fed Recession: Jim Cramer's Best Blogs
This week Jim Cramer discussed shortsighted investing, how analysts could've been so wrong on Salesforce's quarter and how the Fed will send us into recession.
This week Jim Cramer discussed shortsighted investing, how analysts could've been so wrong on Salesforce's quarter and how the Fed will send us into recession.
Jim Cramer fills his blog on RealMoney every day with his up-to-the-minute reactions to what's happening in the market and his legendary ahead-of-the-crowd ideas. This week he blogged on:
Short-term moves and bad thinking.
How did everyone miss Salesforce.com's fabulous quarter?
How the Fed can talk us into a recession.
Click here for information on RealMoney, where you can see all the blogs, including Jim Cramer's -- and reader comments -- in real time.
Short-Term Stock Moves Can Lead to Shortsighted Investing
Posted on Feb. 25 at 3:29 p.m. ET
This market is filled with cases of seller's remorse. It's chock-full of stocks that got clobbered when they reported earnings, and then roared higher as people seemed to forget the bad news, overlook it or just said, you know what, it wasn't as bad as I thought.
We see them every day. I often marvel at how short-term people are when it comes to earnings and how longer-term they should be if the story's really unchanged or actually better.
Let me go over some real seller's remorse stories, some from before earnings and some from after, so you know what I am talking about.
Recently, we had four CEOs come on Mad Money and they all fit the bill of what I am talking about.
First up was Tom Falk, CEO of Kimberly Clark (KMB) - Get Report . His company had just reported earnings that, if you looked under the hood, showed tremendous growth and a lot of great cost reduction. No matter, the company said it saw earnings for 2016 from $5.95 to $6.15 a share, and the Street was looking for $6.14, and a bunch of stories immediately appeared saying, "Kimberly Clark misses Street estimates."
I don't know. I did what I always do before I interview a CEO for Mad Money. I read the predictive notes, what Wall Street analysts were looking for, I read the press release, I listened to the conference call and then I read analysts' comments about the quarter.
It seems that while Kimberly had a lot of good things to say, it got hurt by currency like everyone else and there were some one-time timing issues that obscured what amounted to a breathtakingly good quarter.
I do my best, by the way, not to look at the stock because I have become convinced the holders of so many stocks are so short term and do so little homework that to take your cue from a short-term movement in stock -- not a long-term -- is just stupid as all get out. You just aren't going to get it right.
So I ignored that the stock fell from $127 to $122 off the quarter until the interview began. Then I just asked Falk point-blank if the decline made any sense to him at all because it sure didn't make sense to me given how well the company is doing. He promptly agreed and we went over how not only was the quarter not a "miss," but there were many line items that were much better than expected.
It seemed so obvious if you had done the homework.

Sure enough, Kimberly did the big pirouette and soared and has now gone from $122 to $132, hitting an all-time high. The sellers were just plain wrong.
Clorox (CLX) - Get Report ? Similar situation. I loved the quarter because it showed some incredible margin improvement, in part because energy costs were way down because of the collapse in oil. Burt's Bees, the natural and organic line of goods, was spectacular. Kingsford's terrific. The new splashless bleach numbers were off the charts.
What happens? The stock gets obliterated, falling from $131 to $124. When I saw CEO Benno Dorer soon after, I asked him the exact same thing. What's the deal? How could your stock have gotten so clobbered? He didn't know. He has beaten everything he was asked to do. I puzzled over a line item that concerned me, the mild disappointment from Brita Filters. He quickly explained that the company was about to launch a big national campaign for Brita, starring basketball genius Steph Curry. In light of Dorer's comments, I promptly called the decline ridiculous. It was. Memo to the idiots who sold it: The stock's now gone from $124 to $130, almost back to where it was when it reported. I am confident it can take out that high.
The other day Brent Saunders, CEO of Allergan (AGN) - Get Report , came on after his company reported what I think was by far the best report of any pharmaceutical company in 2016. Most of the drug lines had accelerated sales growth. The company's approval rates were off the charts. Plus, its merger with Pfizer (PFE) - Get Report , while under attack by House Democrats for taking advantage of a legal loophole in the tax law to allow the company to pay lower taxes in a foreign jurisdiction, was on track and ready to close in the second half of the year.
I asked him, how he could explain how hard the stock's been hit of late, including the two bucks down after it reported. He said he was "baffled." He had no explanation for the weakness whatsoever.
I asked if it could be because a key part of the transaction, a sale of his generic drug business to Teva (TEVA) - Get Report for $40 billion, might be off track. Nope, it will close soon. I wondered if perhaps there might be something with pricing, something political. Nope, nothing's changed. I threw up my hands and stopped trying to shoehorn why people sell and proclaimed my bafflement, too!
We were right to be baffled. The stock's up a quick $10 since the report.
Then there's the bizarre saga of Salesforce.com (CRM) - Get Report . Three weeks ago, we visited with CEO Marc Benioff in San Francisco. The stock had just fallen from $67 to the mid-$50s after having already come down from $81 in December.
While Benioff couldn't answer directly how the quarter was, given that he was in what's known as "quiet period" where you can't reveal the numbers of a quarter, he did go out of his way to say it was a fabulous time for Salesforce and that the whole group of high-growth stocks has been going down but that business was booming. He talked about customer enthusiasm for a suite of new products and how CEOs had been praising it all over the place and replacing their current systems with it or going all Salesforce, like consultant giant Accenture (ACN) - Get Report , a marquee client if you could ever have one. The result? The stock immediately fell another 8%.
The whole thing was insane.
Insult to injury, earlier in the week a brokerage firm said Benioff would be cautious on his call and the gross margins could be under pressure not to mention issues about acquisition integration and a strong dollar.
Last night, Salesforce reported the best tech quarter of 2016. The company gave you remarkable 27% revenue growth, astounding for a company with $8 billion in sales, including a 38% rise in operating cash flow to $460 million -- take that, you who think the company actually makes no money. It landed not one but two nine-figure contracts, again unheard of not just in Silicon Valley, but anywhere.

There was no mention of integration issues. The gross margins were off the charts. The strong dollar? It didn't even come up. But what did have to come up? How about analysts' numbers for the rest of 2016? And they were taken up gigantically.
It was insane.
There were a ton of others just like these. Walmart (WMT) - Get Report allegedly blew it when the company reported and the stock got hammered. But after further review, the reasons for the decline seemed a little too pat and the explanations pretty darned thorough. It's up almost four points since the selloff.
Same thing with Lockheed Martin (LMT) - Get Report . The stock had been in a huge downturn when it reported and then went still lower. Why did they sell? Who knows? It's now up 14 straight points from when they gave up on it. (Allergan and Lockheed Martin are part of TheStreet'sAction Alerts PLUS portfolio.)
To me, these are all examples of snap judgments, fear and panic. They are the enemies of capital, the destroyers of your portfolio. Let these stocks be a reminder that your first judgment may not be a judgment of all, just the siren of worry blurring your decision-making and keeping you from making money.
Position: Long AGN and LMT
Why Analysts Were So Wrong About Salesforce.com
Posted on Feb. 25 at 6:58 a.m. ET
I can't figure out if the strength of Salesforce.com's (CRM) - Get Report quarter is a show of strength from founder and CEO Marc Benioff's company, or a show of weakness from Oracle  (ORCL) - Get Report and SAP (SAP) - Get Report , or a show of total ignorance by Wall Street traders and some of the research shops out there.
First, there's no doubting the strength of this quarter. I know some think that Benioff can be too much of a chest thumper -- and yes he is a larger-than-life figure -- but there really isn't any quibbling with how he started his call: "Look, my number one thing is, I want to tell you is, this is the absolute best quarter we have ever had... well beyond our expectations."
It is pretty amazing to have an $8 billion company put up 27% revenue growth -- this is a gigantic enterprise. It is downright confounding for a company that was often thought to have chimerical earnings power to generate 38% growth in operating cash flow, to $460 million -- that's cash on the barrelhead. It's a very rare thing to hear about a nine-figure deal in technology -- Salesforce had two of them. There's also $11 billion in deferred revenue, meaning that the next quarter is going to be strong, too.
It is pretty clear that these deals - a gigantic deal like the one that's putting Unilever (UL) - Get Report on the Salesforce platform -- is a CEO-to-CEO deal. That is Marc Benioff sitting down with Paul Polman at Unilever and making it happen. You also have to think that Benioff sat down with Walter Bettinger, the CEO of Charles Schwab (SCHW) - Get Report , and convinced the broker to rip out Oracle and put Salesforce in, the same way that ABB and Schneider, two gigantic European engineering firms, actually proselytized publicly for Salesforce at the World Economic Forum in Davos.
It's happening across the enterprise, where you need Salesforce to meet the demands of a converged world of cloud and mobile and social and data science and the Internet of Things, and if you don't have it, you risk being "uberized" and nobody wants to be uberized out of this world, just like retailers were Amazoned without knowing it was happening.
As Benioff said to me at the beginning of my interview with him, "What deals didn't we win?" implying that whenever he was up against SAP and Oracle on an important matter, Salesforce won, and that in the application area it is now selling more enterprise software than SAP or Oracle -- where he worked for 13 years.
Yes, it was a magnificent quarter, and it did come, in part, at the expense of SAP and Oracle -- who have to be losing business to the company simply because there isn't that much around.

But more importantly, at least to this stock jock, is that while the stock stood at about $80 in the thick of this quarter, it had traveled down to $53 right before the results were announced. And for that I blame bizarre guilt by association to Tableau Software (DATA) - Get Report and LinkedIn (LNKD) , which were true blow-ups of monstrous proportions. I think that Wall Street -- both traders and analysts -- conflated the three, and nothing could have been more wrong. Benioff warned us to beware of false clouds, and he might well have been talking about Tableau, because when that analytic company blew up it caused a panic in Salesforce's stock, one that was accentuated by LinkedIn's disappointing results.
The bizarre linkage reverberated endlessly, right down to a note earlier this week from Oppenheimer saying that gross margins would be weak and it was cautious on the quarter because of integration issues with a recent acquisition of Steelbrick and worries about negative currencies.
Curiously, neither even came up on the call.
My takeaway: I can't believe how wrong most analysts were about a fabulous quarter right in front of them, and instead decided to focus on the weakness of competitors that weren't competitors and colleagues that weren't colleagues. Their commentary was valueless, at best. What does it say? I think many of these analysts are just guessing. If some had made just a few calls, they wouldn't have missed gigantic deals and a huge takeaway of business in Europe.
Instead, Saleforce blew it away right underneath many a nose, and in a spectacular fashion. In short when Salesforce was supposed to have its worst quarter, it had its best and perhaps that's the real takeaway.
Position: None
Fed Could Talk Us Into a Recession
Posted on Feb. 24 at 1:57 p.m. ET
Everywhere I go, I get the same question: Are we going to have a recession? I get it from people who want to buy real estate. I get it from people who come to the bar. I get it from people who are debating starting new businesses. It's in the air. Everywhere.
And then I get a second whisper. It goes like this: The Fed feels the need to raise rates and it's just a question of time if they move in March.
Who do I get the latter from? These Fed governors who love to grab a mike and tell us how good things are.
Funny, these two conversations should be combined so they can sound like this: "We are going to have a recession and the Fed is going to raise rates right into it." Or if you want to get really cynical: "We are going to have a recession because of the Fed."
There was an astounding piece of research out of Morgan Stanley  (MS) - Get Report telling you to sell General Motors (GM) - Get Report because the profits are more at risk than people realize in a recession.
I read the piece and said, hmm, I guess we are going into a recession or the research analyst wouldn't have spent a huge chunk of the piece outlining the coming recession's impact on General Motors.
Then I started thinking about the conversation I had with Ford (F) - Get Report CEO Mark Fields not long ago when we were in San Francisco, where he basically said he felt we could talk ourselves into a recession, and in fact that's his biggest fear. Given that his stocks sells at 5x earnings and yields more than 6%, if you include its special dividend, it's pretty obvious I am not the only one who fears recession. (Ford is part of TheStreet'sDividend Stock Advisor portfolio.)
We all know that if autos are at a peak rate and are coming down, that's a principal driver of the economy and it could be a real reason why we could have a recession.
Then there's housing. We heard some terrific stuff about household formation yesterday from Home Depot (HD) - Get Report , the undisputed kind of everything inside a home. Target (TGT) - Get Report also talked about inside-the-home sales being strong. (Target is part of TheStreet's Action Alerts PLUS portfolio.)

But how about homes themselves? New home purchases for January announced this morning were simply awful, well below expectation with a particularly negative report from out west. Home sales fell to 494,000 when economists were looking for 520,000. The homebuilding stocks have been horrendous since the rate hike, with some of them losing 25% to 35% of their value. That's like the auto stocks. That's saying something.
And then there's oil. We know oil's been in a bear market for ages. It can bounce, but the companies that labor in the oil patch, both the oil service and the exploration and production companies, can't make money unless oil's over $35 a barrel. I know there aren't that many people in the oil business and it really only impacts nine states negatively and not even net negatively, but recessions are about confidence and when you read the stories about the woes of the oil companies and those that lend to them, you don't feel confidence-inspired.
And let's not forget the political landscape. The Republicans try to outdo each other about how poorly we are doing as a nation. They kind of have to. After all, they are running against a Democrat and the Democrats own the White House. You hear them talk every day because there is a horse race going on, even if it is for second place. But if you watch putative nominee Donald Trump, it's like listening to Ronald Reagan talk about how badly the country's doing under Jimmy Carter. It's like half the people think that unless Trump gets in, our country's about to sink into a recession, and the other half thinks that if he wins, things will very quickly spin out of control.
You know the media want to resurrect the candidacy of Bernie Sanders after they just buried him last weekend, and with good reason, he's still raising money. But if you are wealthier, you are nervous about his candidacy because of the studies showing what some would call a Robin Hood effect. You may love Sanders, but, hey, that's one of the reasons you love him. Masochistic stock jocks love him, too, I guess.
Now, layer all that on top of the vast majority of Fed speakers this week who seem pretty anxious about raising rates in March because things are so good and you can see how you have a bit of an unsettling moment developing. We would all feel better if there was something positive happening overseas, maybe in Japan or Europe or perhaps China, maybe Korea or Canada or Brazil or Argentina?
But there isn't, and we know it will only get worse the more the Fed hikes rates because it will send the dollar higher and cause companies that have to pay debt in U.S. dollars to pay more. None of this is helped by this discussion in the United Kingdom about maybe leaving the European Union. That just puts more downward pressure on the euro versus the dollar.
The decline in interest rates we have had is also signaling a recession. How in heck can the 10-year Treasury be all the way down to 1.7%, absurdly low, if things are so hot? In case you want to follow the Treasury action, all you have to do is monitor what's known as the TLT, which tracks the return of bonds with maturities of 20 years or more. This sucker was supposed to be going down as things got more robust; that's always been the pattern. Nope. It's going the other way.
Against all of this, I mean all of it, is the chatter from Fed governors who are so chipper and so obviously oblivious to all the discussions that I know I have. I almost think, do they live in a vacuum? Who are they talking to? Don't they at least have some buddies who are concerned about a recession? Don't they know some people who are pulling back from investing?
Hmm, maybe they just live in a real positive world where all they can think of is that it's a good sign that they can raise rates because it shows that things must be better off. No one, not one, seems to be articulating the obvious, which is, wow, with so many people thinking of a recession, maybe we just say, "We are done talking about rate hikes for the moment."
As long as these Fed governors remain as upbeat as they are about the fabulous notion of being in a position to raise rates, we are going to have a lot more days where the market goes down, not up.
I don't want to blame them. Maybe cars simply aren't selling because we all have them. Maybe homes are selling because we don't need them. Maybe interest rates are going lower because we don't like to borrow money anymore. Maybe we are back in 1939, where a considerable number of very smart people thought the problems overseas had nothing to do with us.
Or maybe, just maybe, those who are really bullish on the Fed are just plain wrong.
Somehow, I think the latter's the more compelling case.
Position: Long TGT