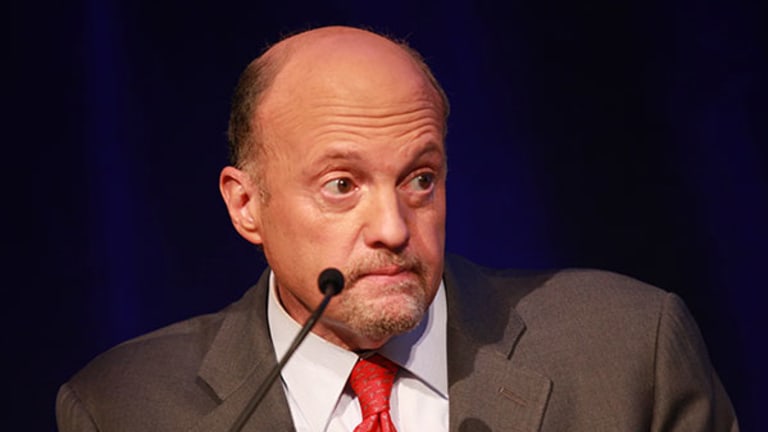 BAC Pays Its Dues; Freight Cars Don't Lie: Jim Cramer's Best Blogs
Catch up on Jim Cramer's thinking over the last week about Bank of America's settlement and using trains as an indicator.
Catch up on Jim Cramer's thinking over the last week about Bank of America's settlement and using trains as an indicator.
NEW YORK (TheStreet) -- Jim Cramer fills his blog on RealMoney every day with his up-to-the-minute reactions to what's happening in the market and his legendary ahead-of-the-crowd ideas. This week he blogged on:
Bank of America's settlement, and
Using trains as an indicator.
Click here for information on RealMoney, where you can see all the blogs, including Jim Cramer's -- and reader comments -- in real time.
Bank of America Pays Its Dues
Posted at 11:28 a.m. EST on Thursday, Aug. 21, 2014
How in the heck can a company write a $17 billion check to the government and still have its stock go higher?
That's a legitimate question, given that Bank of America's (BAC) - Get Report  stock is soaring now that it has paid the Department of Justice its bounty of which more than $9 billion of it is cash on the barrelhead -- enough to pretty much wipe out a quarter's worth of earnings along with any reserves.
The answer is simple: We are now able to estimate what Bank of America can earn. We are now able to put a number out there that can be reached. We are in the realm of "normalized earnings power."
Read More:Tracking the Bank Settlements: A Nonprofit Backed by Banks

What does that mean? As long as this litigation hung over the head of this bank, it was impossible to figure out what it could earn. There were so many lawsuits by so many government entities, so many charges, and so many billions in legal fees, all on top of the $60 billion that had been shelled out, that you were simply guessing about what the company could earn.
This decision to pay took the earnings estimates out of the guesswork category and into the pencil and paper world of how much of the net interest margin, fees and investment banking could fall to the bottom line if everything goes right.
I think the answer is $2 in 2016, maybe even earlier if rates were to spike to 3% on the 10-year Treasury note. That make the price-to-earnings multiple on this stock the cheapest in the group -- maybe even the cheapest in the entire S&P 500. I think that Bank of America is an earnings machine that has been hobbled forever by the sins of the fathers. Remember, this bank spent $4 billion buying Countrywide Financial, which I now believe to be the worst acquisition in history.
Just think about how much time the top dogs at this bank had to spend on these matters. Just think about the horrendous misallocation of resources and drain that this litigation produced. It is now all behind them.
Now, let me just say that I think that the Justice Department truly held Bank of America out to dry. There is no rhyme or reason for the $17 billion figure other than it was bigger than what JPMorgan paid, so it gives the Justice Department bragging rights.
This money comes out of the shareholders' pockets who did nothing wrong. There were no criminal prosecutions, no perp walks for who ran this bank -- or anybody else for that matter. When I heard Dick Kovacevich, the man who so ably ran Wells Fargo (WFC) - Get Report , talk this morning on "Squawk Box" about this miscarriage of justice my blood was boiling. How could they not have prosecuted the bad guys? How did this happen? How did they pick these numbers?
I think this was a witch hunt, plain and simple. I have not been a big fan of what happened with the banks during the Great Recession. They were, indeed, the biggest participants in it. But the notion that these fines are anything but grandstanding at this point is fanciful. If you wanted to change human behavior, you put people in jail. You don't wipe out earnings.
I hope this sad chapter of justice is now behind Bank of America. It has more than paid its dues and its stock is now free to run.
But the fact that the bankers who did this are still free and not even on the run? That's the real outrage here. That's the travesty that should never be forgotten.
At the time of publication, Action Alerts PLUS, which Cramer co-manages as a charitable trust, was long BAC.
Freight Cars Don't Lie
Posted at 2:52 p.m. EST on Wednesday, Aug. 20, 2014
Confused about how this market can keep advancing in the face of what can only be considered the mixed Federal Reserve minutes just released? I think I have a solution.
What I do is turn to the transports, because the size and tempo of shipments can be one of the most honest reads of the economy possible. They measure true commerce.
My choice gauge? The rails, more specifically Union Pacific (UNP) - Get Report , which just happened to hit an all-time high today. That in itself tells you something, doesn't it? Union Pacific doesn't hit crack into that all-time-high roster for nothing. It's hitting an all-time high because its freight levels, its car loadings as we call them, are surging.
Now we get granular. What does Union Pacific ship?
Twenty percent of its freight revenue comes from what we call intermodal transferring, and Union Pacific is having a banner year in this business. Why? Because of what I saw when I visited recently with the company's CEO, Jack Koraleski, and that's the burgeoning trans-loading industry, whereby goods are transferred from international to domestic containers. Given where Union Pacific's lines are, we can assume that we have robust imports from Asia-Pacific, a sure sign that business is growing, as imports are a classic tell of real economic strength.
Next is coal, which encompasses 19% of Union Pacific's car loadings. Coal has been weak. At one time I would have said that a decline in coal means a decline in energy production, a real tale of economic weakness. But given the environmental assault on coal, I am not going to use it as a cyclical indicator. That's just probably more natural gas shifting and nothing more.
Industrial products account for 18% of freight, and all I can say is they are roaring. Why? New housing construction, specifically timber, accounts for some of the increase, and that is bullish on the future of that important industry. Union Pacific is a gigantic shipper of frack sand, the stuff that is put into the ground to bring out oil and gas from all of these shales we talk about. That is another robust sign, because the oil industry is now the biggest job creator in the country.
The strength in this industrial products category dovetails perfectly with two indices that just came out that are showing remarkable strength, namely the Dodge Non-Residential Construction Index and the Architecture Billings Index, both of which are recording exceptionally strong levels of activity -- the latter reached a seven-year high. Why is that so important? Because these are signs of an uplift in non-residential construction, which can be a hiring machine once it gets going, which it surely has not done in ages. Just think about all of the goods and services it takes to build a skyscraper or a new factory or a large infrastructure project, and you will know how important these corroborating numbers can be.
The chemical sector is next at 17%. Here, business is booming, as Union Pacific, in the absence of pipelines, ships oil from the Bakken shale in North Dakota, the Niobrara shale in Colorado and the Permian and Eagle Ford plays in Texas, down to the refineries in the Gulf. We tend to think that when energy is weak, the economy is weak. But these shipment figures tell us something else: We are pumping oil like mad, and the supply is overwhelming demand, a very good sign.
Agricultural products are best shipped by rail, and they account for 16% of Union Pacific's revenue. Aha, here is another piece of the puzzle. The ag numbers here are huge and growing, because we have bumper crops everywhere. It's not demand that's driving down these commodity prices, either. It's supply. Again, that's a bullish read, because it says there is growth without much foodstuff inflation.
Finally, there's automotive at 10% of Union Pacific's freight business. So many people are worried about too many autos and rising inventories. If that's the case, why in heck is this segment doing so well? The answer is that despite what you hear, cars are flying off the lots, and they need to be replenished.
So, what does it all mean? For me it means that the market's move here isn't nearly as confusing or problematic as the picture emanating from the retailers or the commodities or interest rates or analysts' ratings would indicate. The strength in Union Pacific shows me that we have good growth with low inflation, the ideal scenario for higher stock prices regardless of the Fed's read on things. I'm taking a ride on the Union Pacific, and I like the direction of the stock and what its business says for the future of the U.S. economy.
At the time of publication, Action Alerts PLUS, which Cramer co-manages as a charitable trust, had no positions in the stocks mentioned.