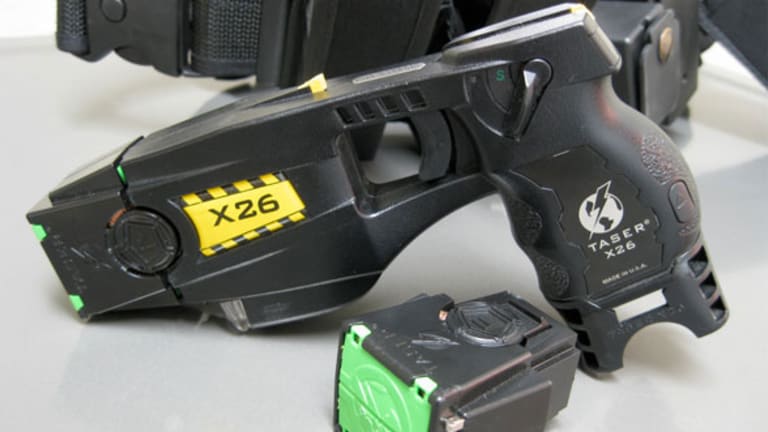 Publish date:
Axon Enterprise Is Hoping to Drive Growth As a Total Personal Security Company
A new name could help the company be seen as more than just a Taser maker.
A new name could help the company be seen as more than just a Taser maker.
Stun guns have been popular for decades. They have also generated handsome revenue.
However, lawsuits have chased its maker Axon Enterprise (AAXN) - Get Report , which changed its name on Wednesday (formerly Taser International), for quite some time.
Axon, which recently embarked on a diversification journey, has reinvented itself as something more by providing body cameras, a digital-evidence support platform, cloud software and sensor devices.
But this space is getting highly competitive. Will the transformation work for the $1.2 billion company?
Axon is projected by analysts to grow earnings per share by 30% annually. In case it achieves this growth, Wall Street is sure to reward it with a higher valuation. However, a slip-up would be punished because of the stock's premium 29 times forward earnings.
This is the company's first effective initiative to develop products other than stun guns. The company has spent years trying to alter its image as a one-product company.
In 2011, most of its revenue came from the Tasers Weapons unit. But in 2016, the Axon segment accounted for 24.4% of about $268 million in sales.
The growth in the Axon segment has been remarkably robust. In 2016, total revenues rose by 85% year-over-year, while the Taser Weapons unit grew at a modest rate of 25%.
To challenge competition, the company has taken various initiatives. It's added leadership talent from Tesla (TSLA) - Get Report , GoPro (GPRO) - Get Report , and Facebook (FB) - Get Report and is offering free body cameras to policemen.
Body cameras, much like the wearable action cameras made by GoPro, can help collect evidence and address concerns about police brutality.
Moreover, Axon has added software and artificial intelligence (AI) capabilities to the cameras so that they directly send important visuals/footage/evidence to digital repositories. This helps reduce the paperwork cops need to file.
The free offer is more of a market-building and public relations exercise after Axon lost an important order to a rival.
Axon's top challenger, Vievu, controlled by Safariland, has been securing key contracts to deliver cameras to police. There is also a small competitor, Digital Ally (DGLY) - Get Report , which makes cameras and has previously been engaged in a legal squabble with Taser International.
Big defense companies could also choose to enter this segment.
Axon's AI strategy will play an important role in making sure the company stands out from rivals. It recently acquired two teams to boost its AI capabilities.
Wall Street is betting big on Axon. Most analysts are hopeful that Axon, which has little debt on its balance sheet, can perform well.
Axon's rate of projected growth, which is much higher than the Standard & Poor's 500 and gun makers like American Outdoor Brands (AOBC) - Get Report (formerly Smith & Wesson Holding) and Sturm Ruger (RGR) - Get Report , supports its forward valuation of 29 times.
---
As we've just explained, Axon is an excellent growth opportunity. If you're looking for other growth opportunities, we've found a very experienced trader who turned $50,000 into $5 million by using his proprietary trading method. For a limited time, he's teaching how to make $67,548 per year in profitable trades if you follow his simple step-by-step process.Click here now for details.
The author is an independent contributor who at the time of publication owned none of the stocks mentioned.
Action Alerts PLUS, which Cramer manages as a charitable trust, is long FB.