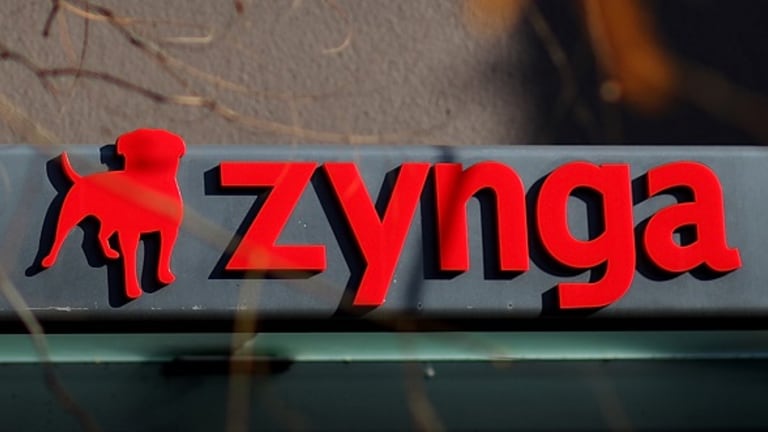 Avoid Zynga as Its Shares Continue to Show Little Improvement
The mobile game developer's stock has lost a lot of ground since its 2011 IPO.
Today, Zynga (ZNGA) - Get Free Report is a shadow of the company that once popularized social media gaming applications.
Best known for the game FarmVille on Facebook (FB) - Get Free Report , the San Francisco-based game developer has lately been without a hit that its investors so desperately want. Indeed, Zynga could be a value trap since the company has not posted a single year of profit since 2010.
Zynga shares closed at $2.84 on Thursday. They were trading at $13.40 at the end of March 2012.
With a price-to-cash flow ratio (P/CF) of more than 40 times, Zynga looks much cheaper than its five-year average of around 150 times. But there is no positive news when it comes to earnings.
Zynga has been reporting losses as its operating expenses eat up all of its revenue.
The company, however, has $850 million in cash, which is a little more than a year's worth of revenue for the company. This is the sole bright spot for Zynga.
Since its 2011 initial public offering, Zynga has lost over two-thirds of its stock's value.
In an effort to deal with higher costs, Zynga implemented job cuts and a management overhaul, but the company remains a lame duck waiting forever to turn around. Its $500 million acquisition of NaturalMotion has produced some results, but nothing game-changing
As the Q4 2016 earnings report showed, Zynga's bookings grew 11% and revenue beat expectations. But a wider-than-expected loss and light projections for Q1 EBITDA cast fresh doubts on the company.
Clearly, Zynga's CSR Racing 2 and Dawn of Titans are not the profit drivers that FarmVille or MafiaWars were.
Mobile revenues do show some promise at $154.7 million, a 20% increase year-over-year. This segment comprises over 80% of the company's sales. But a drop in average monthly users from 13% in Q3 to 7% in Q4 is an area of concern.
Investors who want to profit from gaming should avoid Zynga for now. The bullish cases for the company are around its real estate and cash.
If you want to bet on gaming, buy shares of Electronic Arts (EA) - Get Free Report or Activision Blizzard (ATVI) - Get Free Report . Both these companies have a solid track record of producing successful game titles.
---
As we've just explained, investors should avoid Zynga and buy shares of EA or Activision Blizzard instead. If you're looking for other growth opportunities, we've found a genius trader who turned $50,000 into $5 million by using his proprietary trading method. For a limited time, he's guaranteeing you $67,548 per year in profitable trades if you follow his simple step-by-step process.Click here now for details.
The author is an independent contributor who at the time of publication owned none of the stocks mentioned.