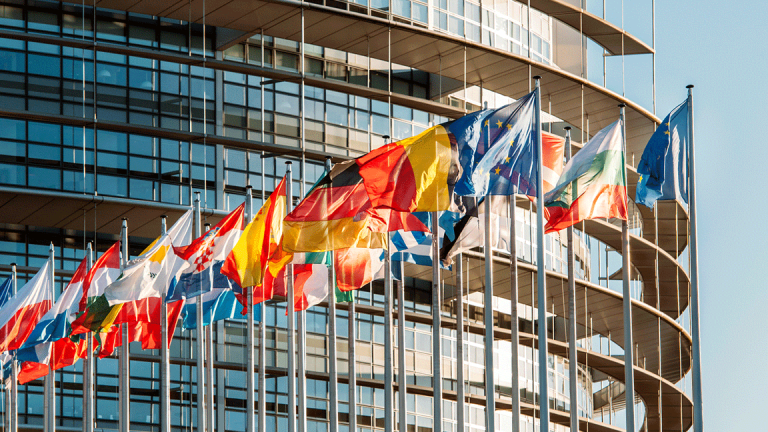 3 Reasons Investors Should Avoid European Stocks as Oil Prices Rise
Europe's major economies are already hurting, but rising energy costs will make it worse, especially for any company dependent on discretionary spending.
This week's jump in oil prices is likely to be far more damaging to Europe than it will be to the U.S.
For that reason, savvy investors would do well to avoid stocks dependent on activity in Europe and instead look elsewhere for investments.
Put another way, avoid the following exchange-traded funds or ones like them: The iShares MSCI Eurozone (EZU) , the iShares MSCI Germany (EWG)  and the iShares MSCI Italy (EWI) . Those three funds track stocks in, respectively, Europe's single currency area, Germany and Italy.
Instead, consider U.S. stocks such as those held in the SPDR S&P 500 (SPY) ETF which tracks the large-cap S&P 500 index. If you must buy European stocks, then seek out those that will benefit from a robust oil market such as oil major BP  (BP) .
Here's why:
1. Oil Prices to Remain Buoyant
The first piece of the puzzle is that the rise in oil prices, which soared after a drone attack on Saudi Arabia's oil infrastructure last weekend, may not be as short-lived as some think. In other words, the recent price of $65 a barrel for Brent crude, which is up 9% over the last month, might be with us for a while.
That's because of a combination of rising tensions in the middle east and the likelihood that the damage to Saudi's oil operations is worse than the initial estimates suggest, according to a recent report from New York-based bank Brown Brothers Harriman. The report states the following:
Saudi Aramco officials have grown less optimistic that there will be a rapid recovery in oil production. Press reports suggest that the damage was more extensive than previously thought and that it may be weeks or possibly months before most of the output will be restored. We suspect oil prices will not fall too much more given ongoing tensions.
Those higher crude prices could be more pronounced in Europe than the U.S. due to the different price benchmarks that get used.
Brent crude pricing is used in Europe whereas the WTI price is the price of reference in much of the U.S. And the latter, WTI, has risen only 6% over the past month versus the 9% rally for Brent.
2. Europe's Oil Equation Is Different
Europe is in trouble for another reason. The U.S. is close to having energy independence, but Europe is far from it. That will result in profoundly different outcomes for both economies.
While the U.S. consumes around 20 million barrels of petroleum products, including oil, a day its net imports are tiny, at around half a million barrels a day in June, according to data from the Energy Information Administration. 
In the U.S. any economic losses caused by rising gasoline prices will be at least partially offset by gains in the oil patch through high earnings and more jobs.
It is also likely that U.S. President Donald Trump will act to help cushion consumers from gasoline price rises perhaps through the use of the strategic petroleum reserve. "His constituents are the ones who use cars to go to work," says Don Coxe, chairman of Chicago-based financial firm Coxe Advisors.
Meanwhile, across the Atlantic, the situation is starkly different. The 28 countries of the EU are dependent on imports for more than 80% of their petroleum needs, according to data from Eurostat. Rising oil prices will only boost tiny parts of the European economy, and instead, the overwhelming impact will be to squeeze already cash-strapped consumers struggling in weak economies.
3. Europe's Biggest Economies Are Sick
Europe's single currency area was in particularly bad shape even before the jump in crude prices.
"The euro-zone's manufacturing downturn has dragged services growth lower this year. And with both employment and wage growth weakening, services will probably slow a little further next year," states a recent report from London-based research outfit Capital Economics.
In part that's led by the three largest economies in the eurozone -- France, Germany, and Italy -- which together account for almost two-thirds (65%) of the single currency area economy, according to data from Eurostat.
Italy is already in a recession, as defined by two back-to-back quarters of negative growth. Germany's economy has seen one-quarter of negative growth with another one imminent, according to a forecast from Trading Economics. France still sees positive growth, but that's expected to turn negative in due course as well, again according to Trading Economics.
Higher oil prices will exacerbate the slump as consumers cut back in the face of rising gasoline costs.
That will also happen in the U.S., but the effect will be less dramatic because the U.S. economy is nowhere near to having a recession, with solid growth and multi-decade lows in unemployment.
BP is a holding in Jim Cramer'sAction Alerts PLUS Charitable Trust Portfolio. Want to be alerted before Cramer buys or sells BP? Learn more now.
Constable owns none of the securities listed in this story.