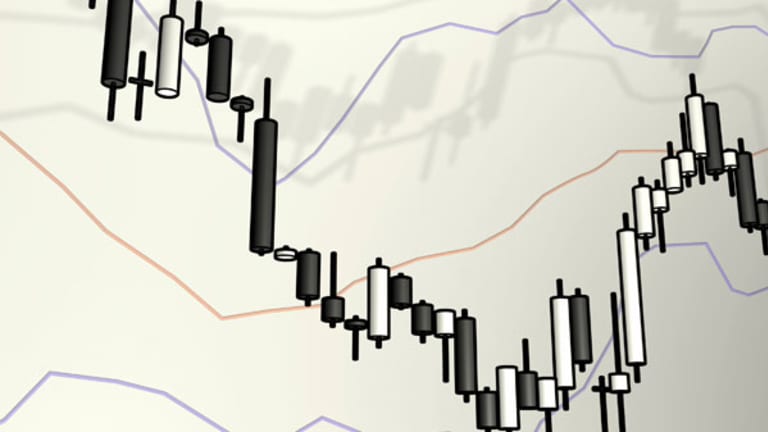 Avoid Amazon -- Buy These Cheaper Stocks Instead
The migration to online shopping continues apace, and these reasonably priced plays give you the right exposure
NEW YORK (Stockpickr) -- A couple of more bricks just got chipped off of the bricks-and-mortar foundation.
Old line stores -- derisively called "bricks and mortar" for their legacy way of selling merchandise -- just completed another ignominious milestone. Market share shrank as the online retailers made continued headway, led by mighty
Amazon.com
(AMZN) - Get Report
. According to Web traffic monitoring firm Comscore.com, online sales rose roughly 15% in November and December compared with a year ago. That compares with zero growth through traditional retail channels. Online holiday sales, which hit $32.6 billion in 2010, appear set to approach $37 billion in 2011.
>>5 Stocks Hedge Funds Favor for 2012
This ongoing migration carries two implications. First, traditional retailers may need to think about closing more stores in 2012 as the least-trafficked outlets fail to generate enough sales to cover fixed overhead costs. Second, online retailers can count on still-expanding profit margins as they leverage higher revenue over their fixed costs.
This all should be an endorsement for Amazon.com, the undisputed heavyweight champion of the online sales arena. Amazon is on track to boost sales at least 40% in 2011, another 30% in 2012 to around $65 billion, with more gains likely to come after that. Trouble is, Amazon is an awfully expensive stock based on near-term results. An investment in Amazon now is a bet on a much higher sales and profit base five years down the road.
How's this for an eye-opener? Amazon trades for 147 times projected 2011 profits, and looking ahead to 2012, that multiple falls to a still-lofty 88.
If you want exposure to the ongoing migration away from bricks-and-mortar and towards "e-tailing," it may be wiser to seek out more attractively valued names. Here are
.
Shutterfly
Consumers are finally breaking the habit of going down to the local drugstore to develop their digital photos. Instead, they're sitting down at their desk and letting online sites such as
Shutterfly
(SFLY) - Get Report
do the legwork.
The company has posted impressive annual sales growth, as revenue has risen at least 25% a year in every year since 2001 (with the exception of 2009, when sales only grew 15%). Analysts anticipate further robust growth in 2011 and 2012 as well.
But the extent to which sales will grow in the quarters ahead has led to a bit of controversy. Some analysts anticipate 2012 sales growth in excess of 30% to more than $600 million, while others think that 2012 sales will come in closer to $550 million. Indeed, the company announced just before Christmas that fourth quarter sales will likely be around $260 million instead of the $270 to $275 million that had been previously anticipated. That's still nicely up from $166 million in the fourth quarter of 2010.
Nevertheless, that lowered guidance pushed shares down below $24 after they had been in the mid-$60s earlier this year. At the current price, Shutterfly trades for less than 1.5 times projected 2012 sales. That's an awfully cheap multiple for a company that is still growing at a solid clip.
Analysts at Goldman Sachs foresee shares rising back to $29 while investment research firm Trefis carries a $40 price target.
Shutterfly, one of TheStreet Ratings'
top-rated online retail stocks
, shows up on a recent list of
Stocks With Big Insider Buying
.
eBay
Perhaps the most solid choice in the e-tailing sector -- outside of Amazon.com -- is
eBay
(EBAY) - Get Report
, which is back on the upswing after a brush with irrelevance a few years ago. Back in 2008 and 2009, concerns had arisen that consumers were tiring of the too-complex pricing schemes and were increasingly seeking out even cheaper alternatives such as Craigslist.
eBay's sales rose just 2% in 2009 and a still-weak 4% in 2010. Yet a major overhaul of the business is leading to a projected 27% sales gain in 2010 (to $11.6 billion) and expectations of further 15% to 20% growth in 2012 as well.
What was management's fix to the problems besetting the company? The company "spent the last four years fixing its neglected technology infrastructure by developing the search, categorization, and fulfillment technology to make eBay.com usable," note analysts at Goldman Sachs. eBay also made a few small acquisitions to help flesh out the company's offerings. Examples include the December 2010 purchase of local-shopping site Milo.com, a March 2011 $2.4 billion acquisition of Web fulfillment services provider GSI Commerce, and a June 2011 purchase of e-commerce developer Magento.com. Taken together, these deals help strengthen eBay's position as a provider of web site management and order fulfillment for traditional retailers that have been unable to develop a meaningful web presence.
Perhaps the greatest arrow in eBay's quiver is the PayPal division. More than 100 million people now have a credit card linked to a PayPal account, and that figure grows by more than 10% a year. Analysts now speak of an inflection point, whereby the installed base of PayPal users becomes so large that it becomes a "must-have" feature for any e-commerce Web site. It's telling that PayPal's eBay-related revenue rose 18% in the third-quarter, but usage of PayPal by other e-tailers jumped 33%.
By 2013, PayPal's sales base should approach $7 billion and EBITDA could hit $2 billion. At some point, management may look to spin out the PayPal business, as some estimates peg its value as close to $25 billion, not far from the whole company's $39 billion market value.
Whereas Amazon.com seems to be a fairly expensive stock, eBay's valuation is more reasonable: the stock trades for less than eight times Goldman Sachs' 2013 EBITDA forecast.
Big bets on eBay in the most recently reported quarter come from
--the stock comprises 1.6% of the total portfolio -- and
Leon Cooperman's Omega Advisors
.
Stamps.com
With the expectations that the U.S. Postal Service will be closing a number of branches to stem losses, investors flocked to online stamp seller
Stamps.com
(STMP) - Get Report
earlier this year, pushing shares up from $11 early in the year to more than $30 in late October.
Shares are off nearly 25% since then, and though not inexpensive at around 20 times projected 2011 profits, could have considerable upside if the U.S. Postmaster General gets his wish and culls many more branches from the roster and curtails Saturday delivery service.
That should yield a steady sales boost for Stamps.com for a number of years to come.
Stamps.com is one of TheStreet Ratings'
.
RELATED LINKS:
>>5 Stocks Setting Up to Break Out
>>7 Hot Stocks on Traders' Radars
Follow Stockpickr on
and become a fan on
Facebook.
Stockpickr is a wholly owned subsidiary of TheStreet.com.
At the time of publication, author had no positions in stocks mentioned.