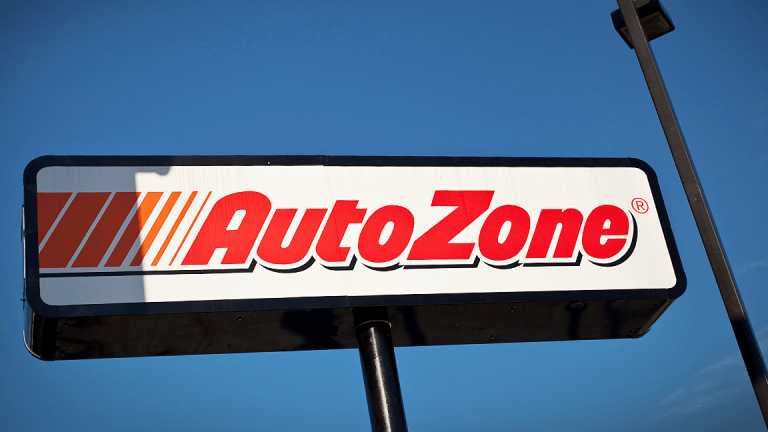 AutoZone Shares Rev Higher on Strong Earnings, Sales
AutoZone reports better-than-expected fiscal third-quarter earnings and sales.
Shares of AutoZone (AZO)   gained 4% to $1,016.85 in trading Tuesday after the auto parts retailer reported better-than-expected fiscal third-quarter earnings.
AutoZone on Tuesday reported net income for the quarter ended May 4 of $405.9 million, or $15.99 a share, vs. $366.7 million, or $13.42 a share, in the comparable year-earlier quarter.
Sales rose to $2.8 billion from $2.7 billion in the comparable year-ago period. Domestic same-store sales, a benchmark for the retail industry in general, rose 3.9%, the company said.
Analysts polled by FactSet had been expecting per-share earnings of $15.10 on sales of $2.8 billion and same-store sales growth of 3%.
Spring in Minnesota. It's a little… different. Whether you're drifting on ice - or not - we've got your car needs covered.https://t.co/R6d2FQy04y
"Our industry fundamentals remain strong and the industry data available to us shows we are improving our market share position," CEO Bill Rhodes said in a statement.
"As we continue to invest in our business, we remain committed to our disciplined approach of increasing operating earnings and cash flow and utilizing our balance sheet and capital effectively."
For the quarter, gross profit as a percentage of sales was 53.6% versus 53.5% in the same period last year.
Separately, the company said it repurchased 472,000 shares of its common stock for $466 million during its fiscal third quarter at an average price of $987 a share. At the end of the quarter, the company had $1.169 billion remaining under its current share repurchase authorization.
Related. See How AutoZone Ranks Among Analysts' Top Picks With Strong Buyback Activity
As of May 4, the company had 5,686 stores in 50 states in the U.S., the District of Columbia and Puerto Rico, 576 stores in Mexico, and 25 stores in Brazil for a total count of 6,287.