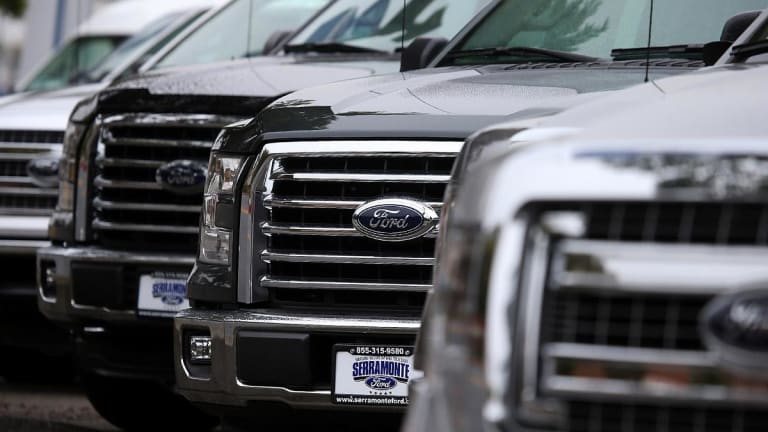 AutoNation Implements Cost-Saving Moves, Top Execs Leave Amid Restructuring
The nation's largest auto retailer is seeking cost-cutting measures as interest rates rise and auto sales slow.
The nation's largest auto retailer is seeking cost-cutting measures as interest rates rise and auto sales slow.
AutoNation Inc. (AN) - Get Report  began implementing planned restructuring and cost savings plans, including the resignation of some top executives, to improve efficiency and profitability, the company announced.
America's largest automotive retailer said it intends to reduce costs by about $50 million annually by letting go several top executives and realigning departments. The changes come by a consolidation of regional structure from three regions into two.
Former Eastern Region President James "Jim" Bender is now executive vice president of sales, and Executive Vice President and Chief Operating Officer Lance Iserman, and Executive Vice President and Chief Technology Officer Tom Conophy, have left the company.
Bender has been with AutoNation for more than 20 years, most recently as Eastern region president overseeing nearly 100 stores, 125 franchises, with about $8 billion in revenue in 2017.
Executive Vice President, Franchise Network, Merger & Acquisitions, and Corporate Real Estate, Donna Parlapiano, elected to retire effective Jan. 3.
After assisting with the major restructuring implementation, Executive Vice President and Chief Human Resource Officer Dennis Berger will leave the company Jan. 31.
"We believe automotive retail will be challenging in 2019 and improving our performance, creating synergies across our network, and restructuring our corporate and regional teams are pivotal components of AutoNation's cost savings plan, as we create a more agile, streamlined, and efficient core business that is well-positioned for long-term success," said Mike Jackson, AutoNation's chairman, CEO and president, in a statement.
According to the National Automobile Dealers Association, new car sales are expected to drop as higher interest rates and rising prices pinch customers' wallets. "We're forecasting sales of 16.8 million new cars and light trucks in 2019," said Patrick Manzi, NADA senior economist, at an industry briefing. This year should should see a 1.1% drop in car sales from last year.
AutoNation shares have been in a steady slide throughout the past year, falling more than 33% as U.S. vehicle sales slow. Shares closed up 1.7% on Monday.