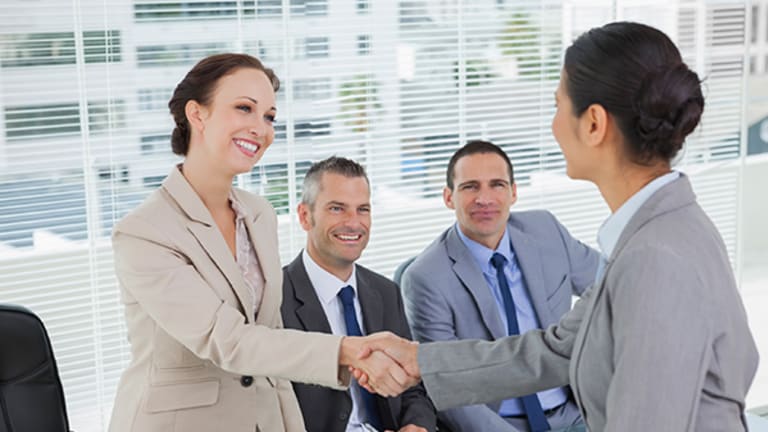 Automation Threatens Some Staffing Agencies According to Credit Suisse
Shares of European staffing agencies Adecco and Ranstad fell Wednesday after being downgraded by analysts at Credit Suisse, who warned of the threat posed to both companies by automation
Shares of European staffing agencies Adecco (AHEXY) and Ranstad (RANJY) fell Wednesday after being downgraded by analysts at Credit Suisse, who warned of the threat posed by automation to both sets of bottom lines.
The broker said that an increasing trend toward automation will hit temporary roles the hardest and that both companies will face an uphill struggle to grow their bottom lines during the years to 2030.
Credit Suisse estimated that as much as 67% of temporary occupations will eventually be automated, leading it to downgrade its long term forecasts for earnings growth and to cut its ratings for both companies to underperform.
Adecco stock fell more than 3% in response to the note, to change hands at an intra-day low of Sfr72.95, while Randstad dropped by a similar degree to trade down as low as €52.10. The analysts have assigned a price target of €48 to Randstad stock and Sfr63 to Adecco stock.
The largest competitor for both firms is the New York Stock Exchange listed ManpowerGroup (MAN) , which closed down just 0.09% at $103.88 on Tuesday.
Manpower, as well as the Swiss and Dutch companies, supply staff to a broad range of industries although what sets the three apart from other staffing providers is that they are heavily exposed to demand for temporary workers.
Randstad earns more than 65% of its top line by providing temporary staff across various sectors while Adecco takes more than 95% of its revenue from hiring out temps.
Growth in average earnings over the years to 2030 is now expected to be just above zero at both companies, according to Credit Suisse.
Other analysts have long been bearish on the temporary recruitment industry.
"We reiterate our Underperform rating as traditional temp recruiters face structural headwinds, we fear the industry is over-earning in France, and US temp penetration is back to peak," said Kean Marden at Jefferies earlier this month.