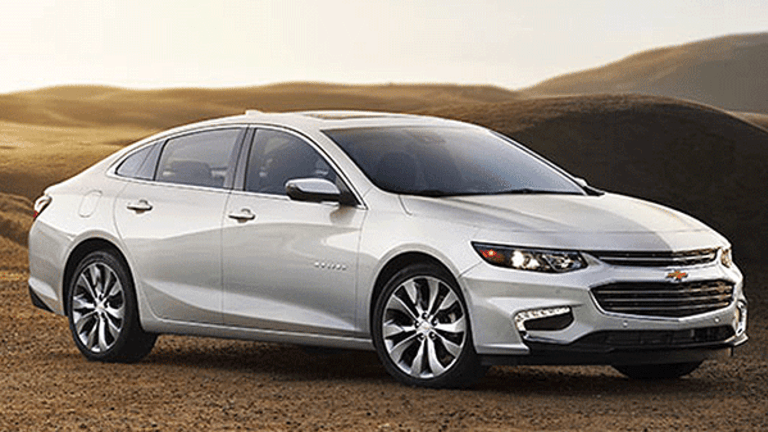 Automakers Plan U.S. Investments as Trump Threatens 35% Import Tariff on Vehicles
GM, BMW and Hyundai respond to Trump's warnings, though GM says its plan to invest $1 billion in U.S. plants and equipment was in the works for some time.
Updated to include information from General Motors.
General Motors (GM) - Get Report , Hyundai (HYMLF) and BMW (BMWYY) disclosed investment plans for making cars in North America following warnings by president-elect Donald Trump of a possible 35% tariff on vehicles imported to the U.S., the latest published Monday in the German press.
GM said Tuesday it would begin work moving axle production for its next generation full-size pickup trucks, including work previously done in Mexico, to operations in Michigan, creating 450 U.S. jobs. A $1 billion investment it plans to make in U.S. plants and equipment will affect 1,500 "new and retained" jobs in the U.S., the automaker said.
Prior to the official announcement, GM said its plan had been in the works for some time and wasn't a response to Trump's statements.
Hyundai Motor Group, which includes Kia Motors, said it plans to raise U.S. investment by 50% to $3.1 billion over the next five years. The South Korean company said it may build an additional assembly plant in the U.S.; Hyundai already operates one assembly plant in Alabama and a Kia plant in Georgia.
In an interview on Monday in the German newspaper Bild, Trump threatened BMW and other German automakers with a 35% import tariff on vehicles, including those imported from Mexico. BMW operates its biggest assembly plant in the world in Spartanburg, N.C.
"If you want to build cars in the world, then I wish you all the best. You can build cars for the United States, but for every car that comes to the USA, you will pay 35% tax," Trump said in remarks translated into German. "I would tell BMW that if you are building a factory in Mexico and plan to sell cars to the USA without a 35% tax, then you can forget that."
BMW executives are adamant that they intend to complete a new $1 billion manufacturing complex in San Luis Potosi, Mexico. Kenn Sparks, a BMW spokesman, said in a statement: "BMW's decision to build a plant in Mexico is strategic; it will supply cars to our markets around the world and will join our BMW Group Global Production Network of 31 plants in 14 countries."
German political leaders criticized Trump's stance, though in a restrained fashion since it's not clear how much congressional support Trump will be able to muster for new protectionist trade legislation.
In the 1980s, the administration of Ronald Reagan negotiated a voluntary export restraint agreement with Japan that had the effect of limiting the number of vehicles exported to the U.S. from that country. But the agreement had the effect of accelerating North American production expansion by Honda (HMC) - Get Report , Toyota (TM) - Get Report and Nissan  (NSANY) .
Eventually, vehicles built and sold in the U.S. by foreign automakers led to a loss of market share by U.S.-based automakers, the outcome that the voluntary restraints were initiated to prevent.
Doron Levin is the host of "In the Driver Seat," broadcast on SiriusXM Insight 121, Saturday at noon, encore Sunday at 9 a.m.
This article is commentary by an independent contributor. At the time of publication, the author held no positions in the stocks mentioned.