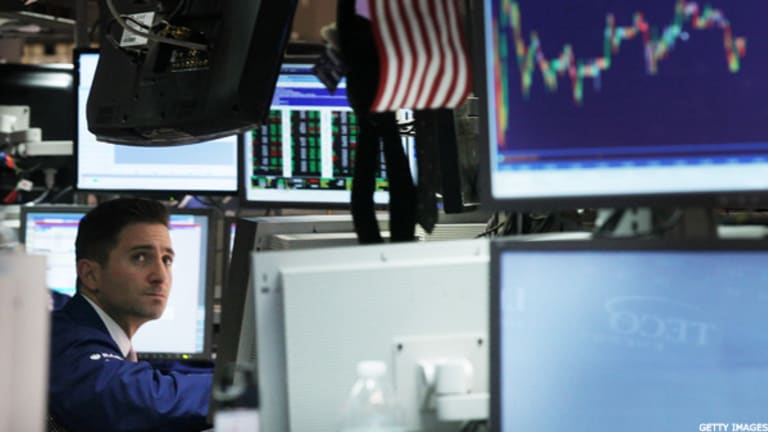 Auction Action, and Sears Now at the Brink: Best of Kass
In highlights from this week's trading diary and posts, Kass tells us that Sears is at the brink.
Doug Kass fills his blog on RealMoney every day with his up-to-the-minute reactions to what's happening in the market and his legendary ahead-of-the-crowd ideas. This week he blogged on:
How 10-year U.S. notes will do in the near term.
How Sears is at the brink.
Click here for information on RealMoney, where you can see all the blogs, including Doug Kass'--and reader comments--in real time.
Auction Action

Originally published Jan. 26 at 1:29 p.m. EDT
After Wednesday's soft five-year note auction, the seven-year note auction was a mixed bag, but two of the three components that markets focus on were slightly better. The yield of 2.335% was a touch below the when-issued yield of 2.337%, but the bid to cover of 2.45% was below the one-year average of 2.52% and the lowest in five months. The level of direct and indirect bidders totaled 79%, a bit above the 12-month average of 76%.
In light of the Treasury weakness this week leading up to the auction and the sharp selloff we saw in European sovereign bonds Thursday, the market was set up for a disappointing auction. Not getting it has resulted in a bounce in prices and a drop in yields to little changed on the day. The 10-year yield did touch 2.55% a few hours ago at the time the Italian 10-year yield hit the high of its day up 17 basis points. That Italian yield closed up 12 basis points and the 10-year yield is unchanged on the day at 2.51%.
The yield curve today is flat when compared with Wednesday's close.
My guess is that the 10-year U.S. note yield will remain in the 2.3% to 2.6% range for the near term.
More border disputes and raised probabilities associated with tariffs and trade wars would take the yield down towards the lower end of my projected range.
Such a scenario could result in weakness in equities in the financial space. Ergo, I have small trading shorts in the banks: Bank of America (BAC) - Get Bank of America Corp Report , Citigroup (C) - Get Citigroup Inc. Report and JPMorgan (JPM) - Get JPMorgan Chase & Co. Report and in Metlife (MET) - Get MetLife, Inc. Report and Lincoln National (LNC) - Get Lincoln National Corporation Report and brokerage Goldman Sachs (GS) - Get Goldman Sachs Group, Inc. Report .
Position: Long HIG large; short BAC small, C small, JPM small, GS small, MET small, LNC small.
Sears Is Now on the Brink

Originally published Jan. 26 at 11:36 a.m. EDT
This column's subjects are Mattel (MAT) - Get Mattel, Inc. Report and Sears (SHLD) and the ramifications for the consumer, the retail sector and the jobs markets of what happens to Sears.
1. I have followed both companies for several decades. A few years ago Mattel lost the all-important Disney (DIS) - Get Walt Disney Company Report account to Hasbro (HAS) - Get Hasbro, Inc. Report , but still possessing the powerful brands of Barbie and Fisher Price, it remains a good bellwether for the U.S. consumer
Mattel released its fourth-quarter results Thursday, ahead of the scheduled Feb. 1 release date, and the results were devastatingly bad.
The results could have broad and adverse ramifications for the retail industry.
By means of background, third-quarter sales were flat. Reported 4Q 2016 sales were down 8%, a rare and significant DECELERATION. What this means is that trade reorders did not happen.
Matted ended the quarter and year with significantly more than planned for inventories, signaling a weak trade environment. The company's report also confirms the high likelihood of a weak quarter at Walmart (WMT) - Get Walmart Inc. Report and Target (TGT) - Get Target Corporation Report .
2. Separately, both Moody's and Fitch have downgraded Sears paper. This was in spite of the planned sale of the Craftsman brand. The ratings agencies cited a still significant expected cash burn in 2017. Sears was a large customer of Mattel, and I suspect the toy maker may have refused to ship to Sears.
Sears shares declined another 7% today in morning trading, and the Moody's downgrade came out after the close.
3. Though Edward Lampert has pulled several rabbits out of his hat, Sears' cupboard is now almost bare.
I now believe--as I predicted in my "15 Surprises for 2017"--that a financial event at Sears may be imminent. If I am correct, a large portion of the retailer's stores will be closed and with this, about 100,000 jobs will likely be eliminated in bankruptcy.
Position: Short DIS small.
Action Alerts PLUS, which Cramer co-manages as a charitable trust, is long C.