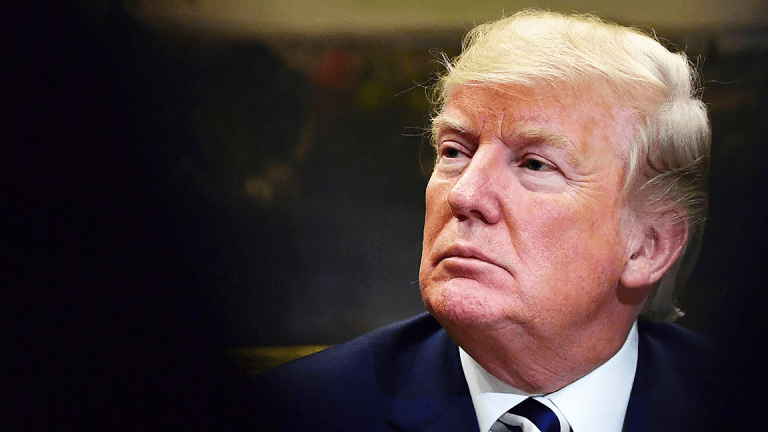 An Even More Unpredictable Donald Trump Makes This Dividend Stock a Buy
One of the XLU's better-performing components in Thursday's trading was this flight-to-safety name.
With Trump dominating news again, here is one course of action. 
There was indeed one SPDR sector ETF that closed in the green yesterday. Flight to safety? Boosted by the unexpected rally in U.S. Treasuries? That's right, the Utilities Select Sector SPDR ETF (XLU) - Get Utilities Select Sector SPDR Fund Report actually gained 0.4% on the day. The group has not done well year to date (-5.5%), but clearly the environment that provided that backdrop is not the environment we now deal with.
One of that ETF's better-performing components in Thursday's trade turned out to be FirstEnergy Corp. (FE) - Get FirstEnergy Corp. Report . Great company? I don't really think so. I mean, like with many utilities, debt levels absolutely dwarf cash levels. Your Current, and Quick ratios... don't even ask. Still, for fourth-quarter 2017, profit margins expanded significantly, as has net income. The stock trades at 14 times forward-looking earnings, and the firm pays out a quarterly dividend of $0.36, or $1.44 annually for a yield of 4.18%.
Turing to the chart, the stock has performed well throughout this winter of turbulence, and despite mostly negative Money Flow. Currently both Relative Strength as well as the daily MACD (moving average convergence divergence) offer bullish signals. Longer term, I want you to look at the two Pitchforks.
The orange pitchfork appears unsustainable. It does place most of the month of March directly upon support. The blue pitchfork, in place since the stock took a directional turn for the better last spring, puts the trend on resistance, but looking closely one might see that the line was actually pierced to the upside in Thursday's session. There is an excellent chance that the lower blue trend line, should the risk-off atmosphere persist throughout the session, become new support.
Short-Term price target: If the pajama traders are right (about the broader market), I think you'll get $35 for these within a few days. You might even see $38. If I am wrong, there is that dividend we just mentioned. The name next goes ex on May 4.
At the time of publication, Guilfoyle had no position in the securities mentioned.