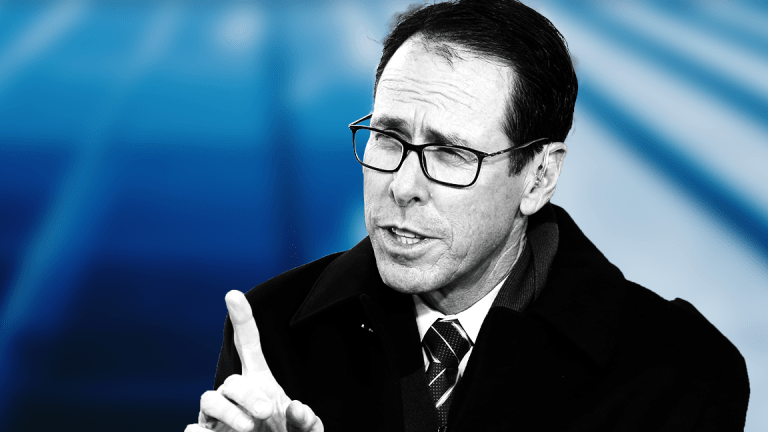 Here's Randall Stephenson's Vision for a Combined AT&T-Time Warner
AT&T boss Randall Stephenson on Thursday called the government's lawsuit to block his company's purchase of Time Warner "absurd," and outlined the new tech, content strategy and corporate structure the merger partners plan.
AT&T Inc. (T) - Get AT&T Inc. Report Chairman and CEO Randall Stephenson echoed the sentiments of other defense witnesses in the Department of Justice lawsuit to block the telecom's purchase of Time Warner Inc. (TWX) , in testimony on Thursday. 
"On its face, the premise is absurd," Stephenson said of the government's theory that AT&T would inflate the price of Turner content to benefit its satellite TV provider DirecTV. A day earlier, Time Warner Chairman and CEO Jeff Bewkes had called the proposal "ridiculous."
Stephenson outlined the new tech, products and corporate structures that AT&T envisions, which would allow it to improve advertising technology and lower pay-TV costs, before U.S. District Judge Richard Leon in Washington.
AT&T would use data from 100 million mobile phone subscribers, 25 million pay-TV subscriptions and other customer connections to sell targeted advertising based on customers' location, viewing habits and other data. The smarter ads can sell for 3 times to 5 times what traditional pay-TV ads fetch, he said. 
"There are companies we can acquire to speed that up," Stephenson said, regarding the adoption of the new technology. 
The goal is to eventually have other programmers provide data to DirecTV and AT&T to boost their ad sales, though Stephenson suggested that AT&T could be "very successful with just our own ad inventory."
AT&T will also glean "content intelligence" about what programming and stars viewers like "to inllfuence content creation" and produce more popular shows, Stephenson suggested. 
Content intelligence, which sounds like Nielsen data on steroids, came up Wednesday and earlier Thursday in testimony of AT&T executive John Stankey, who will head AT&T's media group following approval of the deal and is in charge of integrating Time Warner. Justice questioned the viability of the technology, citing an email from Stankey, noting that he encountered "specious buy-in" at Turner about using such data to shape programming. Stanley said in cross examination that "people are going to have new tricks" as the media business evolves.
Stephenson also laid out a new corporate structure that would support the new tech applications while purportedly preventing the types of market abuse that Justice predicts. The company will contain four independent units, with separate budgets and profit targets. 
AT&T's media business, which Stankey will run, includes Time Warner units such as Warner Bros., HBO, Turner and others. 
DirecTV and AT&T's mobile and broadband businesses will be part of a communications business that AT&T telecom executive John Donovan will head.
The ad technology that underpins Stephenson's new television business model falls in a separate group under former WPP plc executive Brian Lesser. The ad tech group will use data from Donovan's communications networks to provide targeted advertising for the networks in Stankey's communications group.
Telecom and broadband assets in Latin America will be part of an International group that AT&T Global Marketing Officer Lori Lee will head.
Stephenson said that the structure would allow AT&T to reap the benefits of consumer data in advertising and content businesses, while providing safeguards against collusion between Turner and DirecTV to harm rival pay-TV companies. The groups will be forbidden to exchange information about customer contracts. AT&T currently has such agreements between divisions, Stephenson said, noting that it provides services to mobile rival Verizon Communications Inc. (VZ) - Get Verizon Communications Inc. Report .
"This is one of the reasons I'm structuring the businesses these way," he said. 
Stephenson also testified that AT&T will continue to introduce "skinny bundles" of pay-TV packages that cost less than its DirecTV satellite TV service. In addition to DirecTV Now, an online package of channels that costs $35 a month, Stephenson said the company is introducing a sports-free bundle that will cost $15 per month.
AT&T would support virtual cable operators such as Alphabet's (GOOGL) - Get Alphabet Inc. Report YouTube TV after a deal, Stephenson suggested, countering another government theory. While AT&T would prefer consumers buy DirecTV now, he said, the use of online streaming packages would ultimately benefit the company's mobile business. 
During cross examination, Justice lawyer Craig Conrath asked Stephenson if he recalled saying that the government's thesis is absurd.
"I remember that, yes," Stephenson said.
The Justice lawyer also pointed to a 2016 email with AT&T's Stankey that arguably illustrates the fears that vertical consolidation can cause among content buyers.
Stephenson emailed Stankey about a phone call with Bewkes that raised concerns. Time Warner was taking a 10% stake in Hulu LLC, Bewkes said, and the online video company was starting its own online pay-TV bundle that would compete with DirecTV's offerings. Conrath asked Stephenson if he feared that the content distribution agreement with Hulu would limit AT&T's access to Turner's content--one of the concerns Justice has expressed about AT&T's purchase of Time Warner.
"We just wanted the same access (to Turner content) of others," Stephenson said of the email.
Conrath also pointed to a 2017 exchange with Facebook Inc. (FB) - Get Meta Platforms Inc. Report CEO Mark Zuckerberg. The message raised the possibility that Facebook could work with AT&T on ad technology. The telecom has argued throughout the case that the digital advertising dominance of Facebook and Alphabet/Google have forced AT&T and Time Warner to seek better ad capabilities.  
"This was in Sun Valley, Stephenson said, referring to the annual media and tech event hosted by Allen & Co. in Idaho. "You sit down by a duck pond" and have open-ended conversations with moguls, Stephenson suggested. The talk with Zuckerberg was "a passing kind of exchange" with no follow-up.
Judge Leon asked Stephenson about an arbitration offer to rival pay-TV companies that is meant to assuage concerns that it will gouge prices and threaten blackouts. The offer would stand for seven years.
What would the pay-TV business look like in seven years, Leon asked.
The need for content producers to sell programming through cable operators is a "thing of the past," Stephenson said. The proliferation of video means that content will get cheaper over time, he said.
Jim Cramer and the AAP team hold positions in Alphabet and Facebook for their Action Alerts PLUS Charitable Trust Portfolio. Want to be alerted before Cramer buys or sells GOOGL or FB? Learn more now.
Editor's note: This article was first published by The Deal, a sister publication of TheStreet that offers sophisticated insight and analysis on all types of deals, from inception to integration. Click here for a free trial.