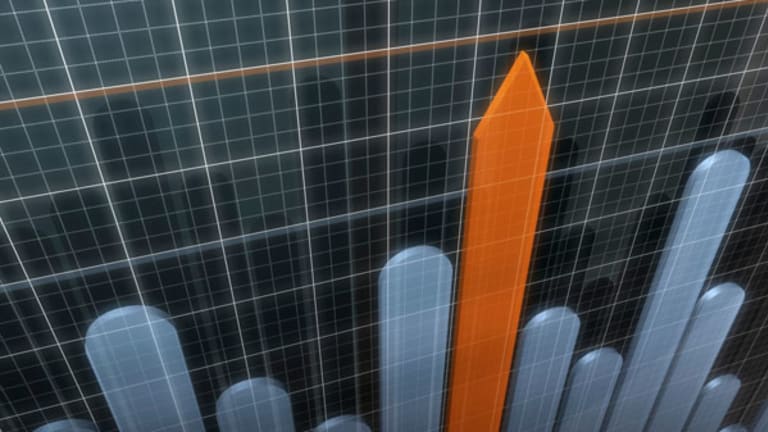 Athenahealth's Bush: Taking Health Care to the Cloud
Athenahealth CEO Jonathan Bush doesn't play the game the way the Street likes, but he's got a bigger aim that massaging investors: revolutionizing the exchange of medical information.
Editor's note: This story was part of TheStreet's 10-part Top Business Leaders of Tomorrow series.
WATERTOWN, Mass. (
) -- Your average Bush family member probably didn't vote for Barack Obama, but then again, Jonathan Bush, CEO and co-founder of Athenahealth, isn't average in the Bush clan or the class of corporate executives.
More Top Leaders: United Guaranty's Eric Martinez >>
Prone to off-the-cuff rants that keep Athenahealth handlers on their toes, and seemingly fueled by a blood-Red Bull-content that would be enough to keep an entire club of 18-year-olds dancing through Lady Gaga's entire discography, Jonathan Bush is always looking for the next status quo to upend before the day (or night) is done.
Jonathan Bush,CEO AthenaHealth (ATHN), and coincidentally, American President No. 43 Dubya's first cousin.
Analysts who cover Athenahealth, the only significant cloud computing company in the health care information space, even the ones who have Athenahealth rated a "sell," will tell you that Bush -- first cousin to President No. 43 and nephew of No. 41 -- certainly keeps things interesting. And that's no small feat, considering the sleep-inducing subjects of revenue claims and records management that are the bread and butter of the health care information game.
Indeed, Bush may be one of the few corporate executives ever referred to by an analyst who cover his company as a "beast." The analyst didn't mean it critically, but just as a statement of fact about the uncommon playbook, and oft primal scream, from which Bush takes his business lead.
Case in point: a few years ago, Bush decided to join a special Boston Marathon training group. The Athenahealth CEO wasn't just checking off running a marathon on his life's "To Do" list, but burning off some anger inherent in a marital split that involved five kids. "The marathon represented a (relatively) healthy way to process the sad and out-of-control feelings I had about being divorced," Bush wrote in his marathon training blog. The Athenahealth CEO's went further during a video interview when asked why he chose to run the marathon during his divorce, and his answer sums up (pretty well) his philosophy of life, and business:
"Oh, I don't know. But you know, everything's so safe in our bloody society. There're guardrails, and coffee can't be too hot. Or if it is, you have to have a printed warning. And this is something where you're actually invited to absolutely finish yourself off. Probably the fundamental underlying truth about happiness in the human condition, I think, has something to do with "**** or die trying." You're most fulfilled as a human being when you try to do something that seems important to you, or absolutely commit yourself to go all the way up against it, until you just can't go another step further. And the marathon's a classic example of that. It's almost an absurd example of that. All you're going to do is just run or die trying. This is a chance to actually pour yourself into something and see if you can do it."
Getting rid of the guardrails is a good way to describe Bush's approach to building Athenahealth into the cloud-computing standard in the health-care information space, with the legacy software-based approach sold by the likes of Cerner and Allscripts still dominating the medical information management game.
In 2010, the performance of Athenahealth shares has been anything but static. It's been an up-and-down stock ride befitting the health care cloud computing company's mercurial boss. The stock started off the year trading at a 52-week high above $47, thanks to the rally in all health care information shares through 2009 based on the rosy outlook for the federal government's support of electronic records adoption. Then, with Athenahealth failing to execute on ambitious growth plans, Athenahealth shares fell as low as $21.50 in July as the shorts piled in. Finally, Athenahealth pulled off the comeback of the year after its third quarter earnings, and is still climbing back in trading to near the level of the 52-week high at which its shares started the year.
Indeed, one could say the Athenahealth story came full circle in 2010, but Bush isn't having any of that. He may have run a marathon, but he speaks in sprints when it comes to talking about his company, and especially when talking about playing the game of providing guidance to the Street and investors.
"Our business didn't come full circle. It was always healthy," Bush said in an interview with
TheStreet
. "It's just our stock price and the Street view that has come full circle. High growth disruptive technology companies, if they are living up to their potential, don't grow in slow-mo mode. They don't grow in a linear fashion," Bush said.
The issue in 2010 for Athenahealth was a target of 30% top-line growth and 40% bottom-line growth that the company wasn't consistently meeting. And so what, Bush counters, saying those will remain targets -- but not formal guidance -- for the company:
"What I try to do is attract investors ready to make spot judgments and take bumpier progress, as opposed to the kabuki ritual of holding progress in reserve
when giving the Street guidance that most companies that are public do. That's the beginning of a slippery slope of disingenuousness with the Street."
And he's not done yet: "I think it's baloney to temper investor expectations and for the Street to say that if you behave erratically you will get pummeled. People will believe what they want to believe, and people learn through your actions, and whether you mean what you say. My approach has been to say what my goals are and say that sometimes I hit them and sometimes I miss."
Clearly, Bush is much more focused on winning the health-care information sector game by taking it "to the cloud" than he is on playing the Street game of quarterly massaging of analysts and investors.
"We've moved the exchange of medical information to the cloud. That's pretty cool. That's the single most important breakthrough in the process of delivering information that the health care sector needs, and that's why I'm still here. I've got my boat, house and kids all paid for. I'm here to create a national health information back bone," Bush said.
Athenahealth still has its detractors, or "traitors" as Bush would refer to investors who bailed out of the stock at the mid-year point and the health care shorts who continue to target the company, especially as its shares have again rallied. Some bearish analysts remain skeptical that the big turnaround in performance engineered by Athenahealth in the third quarter, and its big earnings beat, is proof that its strategy will continue to pay off quarter by quarter. Analysts told
TheStreet
that Athenahealth was able to mine its existing client base for additional sales in the third quarter, but that could be a one-time, unsustainable business opportunity.
Bush scoffs at this argument. "Our existing clients can only buy once? I don't buy that. All of our 2,000 clients representing roughly 26,000 providers on network are adding doctors, and we can't add more sales? Some clients are probably at critical market share, but by and large our base has potential, and it's not a balance sheet act we can only squeeze once. The surprise in the third quarter was existing clients expanding market share, and that was a phenomenon occurring on a nationwide basis and reflected inside of our client base," Bush contended.
The Athenahealth CEO conceded that the company's cross-sell opportunity among clients is finite, but nowhere near reaching saturation. "The finite element is the cross-sell. We only sell three full services and clients can only buy those three once so that's a finite cross-sell opportunity, but we're only a quarter of the way through that opportunity."
One big issue for Athenahealth has been the trend of hospitals buying up primary-care physician and specialty-physician practices, and the sale of medical information management systems moving up the food chain. Athenahealth has had a primary focus on serving the physician market -- and, therefore, the acquisitive hospitals have presented another challenge to Bush's plan for Athenahealth's cloud computing approach serving as a disruptive technology in the health care space.
Athenahealth is going after the hospitals, though Bush concedes it's an uphill battle. "Our job is to be an information infrastructure between various models. Certainly, hospitals have not been our historic wheelhouse, but if you think about it rationally, the cloud-based solution can lower business risk for the hospital CEO. The hospital CEO is taking a multi-$100 million business risk depending on standard health care information software applications."
The first big multi-specialty hospital to sign on with Athena was Cook Children's Health Care. "It would have cost them roughly $100 million over five years with legacy software product, and instead we took 100% of their doctors live in nine months for less than $1 million. Not-for-profit hospitals like Cook Children's are the least aggressive about acquiring doctor practices, but most aggressive about employing Athenahealth," Bush said.
Bush has been very critical of the strategy of hospitals acquiring doctors' groups, and has used his personal Athenahealth blog pulpit to launch salvos against the hospital brass. Yet it's notable that for a man who pulls few punches, Bush is now willing to pull a few when it comes to the hospital market.
"I was critical of hospitals. The way we were able to keep Medicare costs flat was doctors were incentivized to keep people out of the hospital -- and now, of course, if doctors work for hospitals, the incentive is to send people to the hospital as much as they can justify. Other players will enter into the primary care vacuum these doctors have left, though, whereas I was caught in a trap of thinking the primary care market was finite. So let the hospitals integrate in a mini-Kaiser model, and let some systems raise prices. New players will enter."
However, Bush continues to believe that some hospitals will ultimately face a day of reckoning when it comes to overly ambitious acquisition strategies.
"There's no question that some of these marriages will work, but others, when rates do come down and hospitals can't subsidize doctors at these levels, will fail. There's a $100,000 subsidy to a primary care doctor for selling out to a hospital, and for a specialist it's even higher. How many primary care physicians will bring in one million dollars in business each year for a business like a hospital, with an operating margin of 3%?" Bush asks.
There have also been indications from competitors in Athenahealth's core market of physician sales that pricing pressure is increasing. Competitor Quality Systems said as much during its recent earnings call.
Here, too, there seemed to be a wiser, gentler Bush when he spoke with
TheStreet
, even as he took issue with a basic premise of pricing discussions in the health-care space. The Athenahealth CEO said it's not fair that a cloud computing company be compared to pure software companies in the space, since Athenahealth is a full back-office service, and not just an electronic medical records (EMR) software vendor. "Our full service of operations are compared against monthly cost of EMR software," Bush noted.
Nevertheless, the Athenahealth CEO said price has become an issue in which he is personally involved in the sales decision-making process, especially on larger deals. "We have to be sensitive about price, and it's a big job for our marketing department, and me. You don't want to lose business just to get list price. On bigger deals, there is more price pressure, and as bigger groups are a bigger part of our sales repertoire, price is a bigger issue for us."
When all the beans are counted, though, Bush says that pricing pressure isn't changing the financial model in a significant way. "As you look at the select discounts we are giving out, it's rare that revenue per claim is off from the historical average. We're more acutely aware of discounts and I'm more personally involved in pricing on enterprise deals, but the revenue per claim is right where it usually is, and we are not losing business in the pipeline."
Inherent in the volatile performance of Athenahealth shares is that fact that when one steps back from the specifics of pricing, and the segmentation of the medical information market between hospitals and primary doctors and rural medical centers, Bush's approach isn't changing one bit, aiming high and expecting the "right" investors to come along for the ride, and expect that the ride may be bumpy.
Athenahealth has its annual investor day coming up on Dec. 16, and it was last year's annual investor day when all the trouble started, with Bush setting 30% top line growth and 40% bottom line growth goals that Athenahealth failed to meeting during the first half of 2010. At the same time, Athenahealth was sticking to its plan of spending a constant amount of revenue on sales and marketing and research and development.
As the sales expenses ticked higher but financial performance lagged, investors pummeled Athenahealth shares. Even so, Bush is steadfast in his refusal to play a different game with the Street. The one concession made this year by Bush was to bring in a chief financial officer, Tim Adams, who is arguably the "leash" on Bush when it comes to walking with investors. Yet if analysts or investors think Bush has "learned his lesson" from 2010 about playing nice with the Street, think again. Bush isn't changing his approach whatsoever: Athenahealth will continue to spend, even if investors won't see the revenue coming through the door months, or even a year, later.
"There are three things I know to be true for the five-year plan. We will shoot for 30% top line growth every year, and we will hold general spending and R&D development constant. How that all comes through to the profit line each quarter and earnings per share each quarter, how that flows through is more for Athenahealth CFO Tim Adams to set the Street straight on, without making promises we are locked in to."
Bush made clear that the timeline issue of spending out the door versus revenue in the door isn't going to go away either, with brand awareness being the big new category of spend for Athenahealth. By the end of 2010, the company will have its full sales force in place, and the focus will turn even more to making Athenahealth a name uttered in the same sentence at medical conferences as an Allscripts or Cerner.
"The biggest obstacle facing Athena is awareness. A doctor says, 'My friend has Allscripts.' Or, 'Athena's not really an EMR, is it?' All that kind of stuff. How many years was it from the invention of penicillin to its widespread use? Atul Guwande wrote an article about this and I think it was 35 years of no one trying it."
"Branding is a whole new category of spending that didn't exist three years ago. It was a toddler last year and will be a full-fledged adolescent next year. The last three years has been building out our senior team and sales team and that's been costly and now we have the whole team in place. The result will be that the percentage increase in spending
consistent with the roughly 30% increase in the top line goes to quote carrying sales reps and awareness of Athenahealth in the market."
For investors, Bush concedes that it's not an easy path to travel, but says it's the reality of building a disruptive technology business in a niche market. "We don't have a market like teenagers who try things willy-nilly. The incubation period between an investor watching sales and marketing costs going up and seeing revenues go up in turn is long."
Working backwards, Bush estimated that for every dollar of revenue hitting the network, there is a five-month period to implementation from when the contract is initially signed, and a six-month sales cycle before a contract is in place, which it itself is preceded by a 3.5-month ramp up of sales executives who are, to say the least, initially challenged to sell a new cloud approach to industry for revenue cycle management and EMR when they don't yet understand cloud computing. It can be 14.5 months, according to Bush, between the first dollar out to the sales team and the incubation period before a dollar in revenue is reported.
""With brand awareness, the spending versus revenue cycle can be even longer than that. That's torture for investors," Bush said. "But I'm not going to play the game of dangling proposal numbers in front of investors. That puts so much pressure on sales reps, and lots of analysts covering technology will tell you horror stories about software company sales people. There's a subprime mortgage crisis of fluff in the difference between promised numbers and actually reported number in the software technology space."
In the end, the Athenahealth CEO remains confident that the model works and short-term ups and downs won't deter those investors who understand the long-term implications of health care cloud-computing.
"I don't want to pressure sales people, but I sympathize with investors not knowing if we are doing CPR on the business or actually seeing a rise in demand. If they believed me in the first quarter when others were bailing out of our stock even though we said our lead volume had never been better, let those others bail and investors buy our stock at $22, and find out that I did mean what I said. I'll behave in a consistent way and we'll get the traitors out of the stock."
The health care cloud computing revolution may keep investors waiting for a while yet. In 2009, as the health care information stocks rallied on the federal financial stimulus plan for electronic medical records, the market was abuzz with talk of a "hockey stick"-like EMR adoption.
Bush was never a believer in the hockey stick scenario, and still isn't today. What the Athenahealth CEO does believe is that as the health care information game shakes out over the few years, the business currently going to legacy software companies won't be theirs to stay. The Athenahealth bears can look out on the market today and place their shorts on the bet that Athenahealth is losing business for good as the EMR adoption pace quickens, but Bush doesn't seem worried. For the fast-talking CEO, the EMR revolution is going to be another marathon race.
"I've witnessed too many hockey stick scenarios not happening, and sometimes I get a lonely chill down my spine that I'm the only guy who isn't quoting the hockey stick here. As far as the hockey stick pace, there will be a time when the first little boy points at the emperor and says that man is naked, and there are lot of emperors we run across in this business."
The Athenahealth co-founder remains confident in a "no land grab for software is the real land grab" scenario for health care information.
"People can talk about the 'theoretical' business we are losing now, but there are no other players on the cloud in health care, and when more companies are delivering the software for free and the exchange is what the client is paying for, then I'll be more ready to believe 'lost' business is really 'lost.' Competitors are pretending that all the patients will stay within the four walls' and all the winners will have a logo on them, but I'm confident on being patient and that the big business opportunity remains available to us."
Some Athenahealth detractors may conclude after a Jonathan Bush rant that four walls are needed -- and the four walls need to be padded, and the Athenahealth CEO put safely within them. In the end, though, if the Athenahealth CEO's particular brand of off-the-cuff energy and ambition pays off, even Dr. Jekyll and Mr. Hyde may one day in the not too distant future be taking patient records to the cloud, regardless of what the market skeptics or the health care software companies have to say about it.
--Written by Eric Rosenbaum in New York.
>To contact the writer of this article, click here:
NAME
.
>To follow the writer on Twitter, go to
.
>To submit a news tip, send an email to:
.
Top Business Leaders of Tomorrow:
United Guaranty's Eric Martinez
Top Business Leaders of Tomorrow:
SanDisk's Shuki Nir
US Cellular's Mary Dillon
Tim Hortons' David Clanachan
J.C. Penney's Steven Lawrence
MasterCard's Tim Murphy
United Guaranty's Eric Martinez
Boeing's Russ Jones