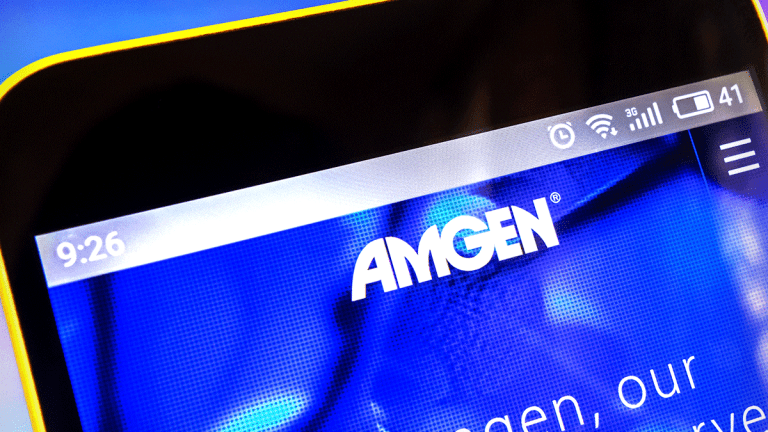 Amgen at 52-Week Highs Bumps Against Resistance, Remains a Long-Term Hold
Shares of biopharma giant Amgen have rallied more than 30% since their summer lows and recently hit all-time highs. Investors should now be cautious in the short term due to a strong fundamental resistance level.
In the stock market, a lot can happen in six months, and Amgen (AMGN) - Get Report  exemplifies this perfectly.
Back in the summer, the Thousand Oaks, Calif., biotech giant was trading at 52-week lows, in the mid-$160s. At the time I wrote several articles highlighting the company's quality and the irrational nature of the discount that the market was applying to its shares.
Since then, Amgen shares have risen more than 30%, and they now trade at a premium well above their 10-year average. They're bumping up against a fundamental resistance level that has been in place for more than four years.
And while Amgen remains a great company for long-term investors to buy and hold, in the short term I wouldn't be surprised to see the shares consolidate as the fundamentals catch up to the recent share-price rally. 
Summer Doldrums
In the summer, when Amgen shares were trading at their lows, the health-care space was under siege. Investors feared potential political fallout from bipartisan support for continued drug-price pressure industrywide, as well as more overarching healthcare reform being bandied about by politicians on both sides of the aisle hoping to make headway in their 2020 presidential campaigns.
The opioid-crisis headlines were casting the drug makers in a negative light, though this issue never pertained to Amgen specifically. Drug companies have become a favorite scapegoat of politicians and talking heads for a variety of society's ills. That's a bit ironic, but even so, these were significant pressures and the threat of secular reforms was weighing on the sector.
Since then, the political pressures haven't dissipated. But interest rates have started to rise -- the 10-year yield has added 0.3 percentage point in a month -- and  investors who were fearful of recession have rotated back into equities.
That rising rate tide has lifted most boats in the equity space. A number of unloved sectors have rallied. But instead of relying on fickle sentiment to dictate investment decisions, investors should focus on underlying fundamentals. And that's why I've turned cautious on Amgen as the stock touches records.
Otezla Rally
The change in sentiment in the broader markets isn't, of course, totally responsible for Amgen's recent rally. The $13.4 billion deal for the rights to Otezla that Amgen management made with Celgene (CELG) - Get Report in late August appears to have played a role as well.
This deal added a blockbuster to Amgen's product portfolio. Otezla, which treats plaque psoriasis and psoriatic arthritis, maintains patent protection in the U.S. until 2028, and Amgen expects sales of the drug to average low-double-digits growth over the next five years.
In recent quarters, slowing top-line growth had been an issue for Amgen, and management used its large cash hoard to address this concern. Amgen's management has a proved track record, which gives me long-term confidence in this stock. 
Bumping Up Against Resistance
After its recent runup, Amgen trades at 15.3 times trailing 12-month earnings. This is a sub-market multiple, and the premium applied to Amgen is below that of many of its large-cap biopharma peers.
Based on these benchmarks, Amgen may appear relatively cheap. But to properly estimate Amgen's fair value, we'd best look at the company's history.
Over the past 10 years Amgen's average trailing-12-month p/e multiple sits in around 13.4. Today's premium is roughly 14% higher than that.
Amgen has struggled to break out above 15 times in recent years. Amgen has risen to this level six times, and each time the shares faltered.
The stock last traded above 15.5 times in early 2015. And excluding a rally in 2014/2015, when the shares traded as strongly as 19 times, Amgen hasn't traded above 15 times for a prolonged period since early 2007.
Amgen's growth prospects are solid, with analysts' consensus earnings-per-share growth coming in at 10% for 2020 and 7% for 2021. But these expectations still trail Amgen's average annual bottom-line performance over the past decade.
That leads me to believe that high-single-digit/low-double-digit growth isn't going to be enough to justify a breakout. 
Even with 2020's 10% earnings-per-share growth expectations in mind, if the stock's p/e multiple were to fall back to the 10-year average, we'd be looking at a share price in the $212 area, indicating downside of roughly 4% from today's $221 level. Factoring in Amgen's dividend yield, this implies relatively flat returns over the next 12 months.  
When well-defined resistance levels form in the market, I'm not typically one to fight them.
Still, a Solid Long-term Hold
But just because I'm not a buyer at these levels, I'm not necessarily bearish. Long-term total returns in the market don't get much better than Amgen's performance.
The company went public in 1983 and has produced a compound annual growth rate of roughly 20% since then. Amgen's hypergrowth days are well behind it. The company has matured and is now more akin to a cash cow than a speculative growth stock.
Yet, Amgen continues to reward investors with steady performance and annual dividend increases, which make it one of the classic buy-and-hold stocks that still have the potential to build incredible wealth over time.
Nicholas Ward is long AMGN.