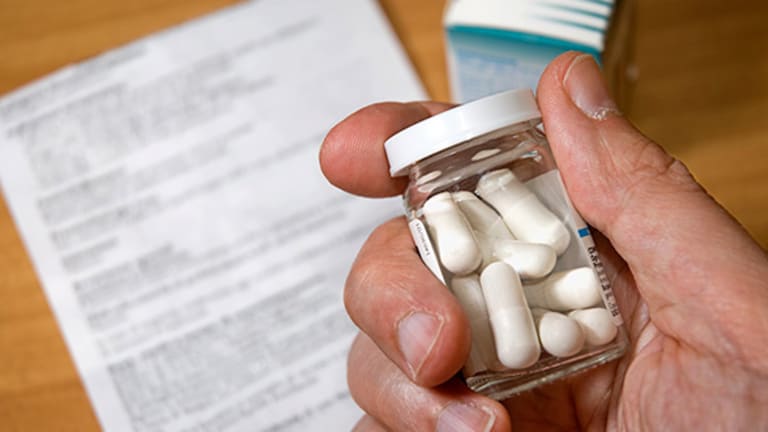 AstraZeneca Earnings, Sales Edge Above Forecasts
CEO Soriot says the company's pipeline is progressing well, and predicts a boost to full-year earnings from a decline in the pound.
Pharmaceuticals company AstraZeneca (AZN) - Get Report reported smaller-than-expected declines in quarterly revenue and earnings and said progress on the development of new products boded well for a return to growth.
Revenue fell 11% in the second-quarter to $5.6 billion after the company lost exclusivity on the Crestor anti-cholesterol statin in the U.S. in May. The figure was slightly better than consensus expectations for just under $5.5 billion of revenue, while earnings per share of 83 cents, down 31% year-on-year, compared with a forecast for 82 cents.
AstraZeneca is pinning its hopes on a new product pipeline as it strives to lift revenue to $45 billion by 2023 from $24.7 billion in 2015. Three products on which it has is or is about to lose patent protection by the end of next year - Nexium for heartburn, Seroquel for schizophrenia , as well as Crestor, account for almost 40% of revenue.
CEO Pascal Soriot said the pipeline is progressing, and that recently introduced, and patented, drugs are doing well.
"Our growth platforms continued to advance and made up over 60% of total revenue. Importantly, our transformed pipeline is advancing quickly and delivering a rich flow of differentiated medicines, boding well for our return to growth."
AstraZeneca's pipeline products include benralizumab for severe asthma, which would compete against a product being developed by GlaxoSmithKline (GSK) - Get Report and for which it expects to seek approval from U.S. and European regulators in the second half. They also include the Faslodex breast cancer treatment and Tagrisso for lung cancer.
The company is augmenting that pipeline with M&A, such as its December deal to buy 55% of Acerta Pharma for $4 billion to get its hands on acalabrutinib, a potential blockbuster cancer drug.
AstraZeneca is also cutting costs to mitigate against declining revenue and earnings and expects to slash $1.1 billion of costs by the end of next year.
AstraZeneca kept its full-year forecast unchanged for a low to mid single-digit decline in revenue and core earnings per share, though it said core EPS would gain a booster of the same magnitude from the recent depreciation of the pound.
It held the first-half dividend steady at 90 cents.
Astrazeneca shares were up 1.8% in early trading in London at 4,763 pence. Like peer GlaxoSmithKline, the shares have gained sharply since the U.K.'s June 23 Brexit vote and are up by around a quarter.