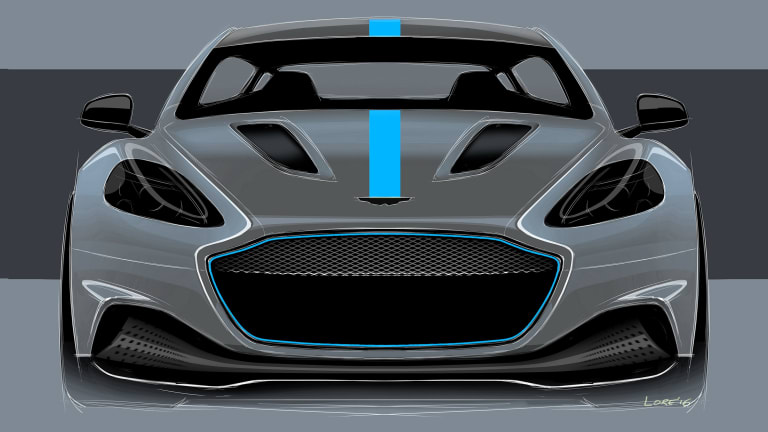 Aston Martin Takes on Tesla for Title of Fastest Electric Car -- Here Are the Other Challengers
Aston Marton is taking on Tesla.
Aston Marton is taking on Tesla.
Aston Martin Lagonda Limited is looking to get into competition with Tesla  (TSLA) - Get Report .
The British luxury sports car maker revealed on Tuesday that it has approved the building of a zero-emissions plug-in supercar called the RapidE. The nearly $300,000 project with Williams Advanced Engineering is promising a vehicle that can travel more than 200 miles on a single charge and accelerate to 60 mph in 3 seconds, according to the Daily Mail. That would make it one of the quickest electric vehicles ever made.
The new RapidE is leading a collection of all-electric and hybrid low-emissions cars for the brand.
"We are now putting the first all-electric Aston Martin into production," Aston Martin President and CEO Andy Palmer said in a news release. "RapidE represents a sustainable future in which Aston Martin's values of seductive style and supreme performance don't merely co-exist alongside a new zero-emission powertrain but are enhanced by it. The internal combustion engine has been at the heart of Aston Martin for more than a century and will continue to be for years to come. RapidE will showcase Aston Martin's vision, desire and capability to successfully embrace radical change, delivering a new breed of car that stays true to our ethos and delights our customers."
Its top speed is 155 mph, and it has 800 horsepower. Production of 155 vehicles will begin in 2019.
Here are the other super quick electric supercars.
Read More Trending Articles:
The Federal Reserve Is Too Optimistic in the Face of a Stealth Economic Slowdown: Market Recon
The 14 Worst Cruise Ships on the CDC's Sanitary Inspection List
When Walgreens Finally Acquires Rite Aid, It Will Be a Terrifying Drug Selling Monster
Editors' pick: Originally published June 27.