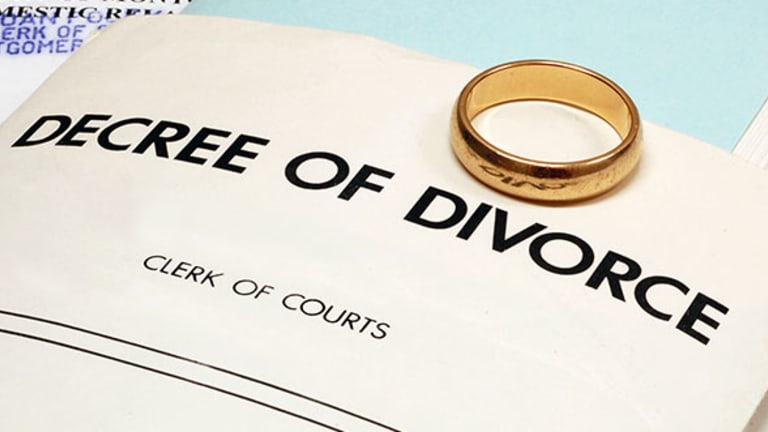 Ask These 5 Questions Before Signing Off on a Client's Divorce Settlement
Financial advisors consulting with a client in a divorce proceeding should circle back when an agreement is made - and make sure these questions were answered.
Researchers estimate that 41% of first marriages will end in divorce and 60% of second marriages will end up the same way - with both spouses on the outs.
While those numbers, somewhat surprisingly, are declining from divorce statistics, they still stand as pervasive, and can be a thorny problem for investment advisors helping clients get through a marital split.
While some advisors are more prepared than others to steer a client through the divorce minefields, there is a blueprint to follow for advisors looking for a safe path to a client's divorce proceedings.
More specifically, the blueprint entails getting answers to these five client divorce questions:
What are the tax implications of a divorce? - An often overlooked part of a divorce are the tax implications, says Scott Vance, an enrolled agent at Taxvanta. "Thus, so it's important that those questions are answered in the divorce," Vance says. He advises getting the following parental tax question covered. "Who is going to claim the child for exemptions, and the claim for deductions?" he adds. "One thing few divorce attorneys and individuals should think about is that alimony is deductible to the payer and includible as income to the payee. That might change the calculation for how those items are considered, especially for high-income folks."
Who pays for college? - College expenses are a common area of regret result from bad divorce settlements, says Joseph Orsolini, a certified financial planner with College Aid Planners, Inc. "Attorneys often leave the paying for college issue out of a divorce agreement or to be decided at a later date," Orsolini notes. "That really means the issue is litigated at a later date." Reconciling this after the fact unusually ends up costing more money than if taken up as part of the divorce settlement, he adds. "I've seen parents spend $10,000 arguing over a $2,000 tuition bill," he says. "It's also unfair to the kids, by putting them in the middle of a money argument. The best strategy is having the cost issues ironed out before finalizing the divorce."
Can both parties (but especially your client) afford to sustain a lifestyle with the divorce's financial settlement? - This issue is important because it's a matter of both parties being able to pay their bills versus living pay check to paycheck, says Jeffrey Sklar, managing partner of Sklar, Heyman, Hirshfield & Kantor LLP. "These things are important to deal with because of the emotional implications of financial changes," he says. "The best way to resolve those issues is to build a "divorce team" should include an attorney, an accountant, and financial planner to address key issues."
What happens if issues, even seemingly small ones, aren't settled? - The most critical part of a settlement is making sure that the loose ends are tied up, says Abigail Beebe, an attorney with The Law Office of Abigail Beebe, P.A., a marital and family law firm. "It's so easy to reach an agreement on terms that appear like a good outcome, but the issue arises down the road when one party does not comply and you need to seek court intervention to enforce that term," Beebe says. "Every dot needs to be there and every scenario must be played out in the negotiation and explained to your client, in depth." Those issues could include financial payments, time frames for which to comply, what happens if one event does not occur, and what is the alternative relief to achieve the outcome intended, she adds. "Basically, the key question is this - what happens if one party fails to do what they agree to do, and what is the default or alternative relief that kicks in?" says Beebe.
Who owns the life insurance policies? - If you're not named as owner, you have no guarantee that you or your children will be a beneficiary," says Elinor Robin, PhD, Florida Supreme Court certified mediator and mediation trainer. "The insurance company doesn't have to follow what your agreement," Robin says. The owner can make a new spouse the beneficiary or stop paying the premiums and by the time you figure it out or fight it out he or she could have passed away. So, verify all life insurance policy ownership before you sign."
Helping a client through a difficult divorce is one of the most important services an investment advisor can provide. Make it easier by having the answers to the above questions first.
60 Second Tips onTheStreet:
60 Second Tips: Navigating Financial Aid
60 Second Tips: Best Return on Your College Investment