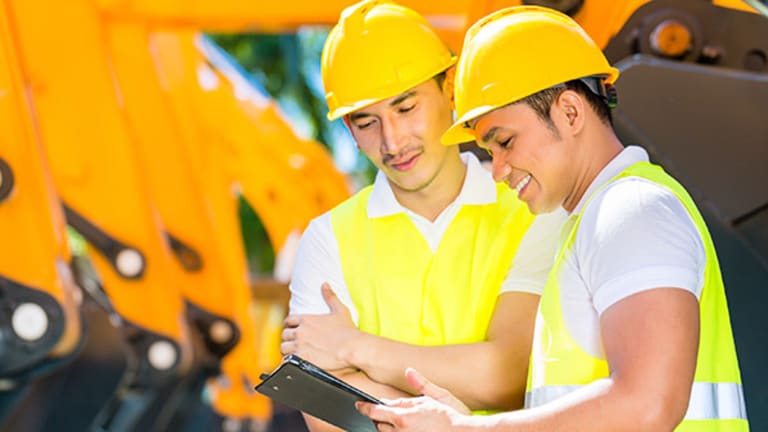 Ashtead Stock Slips Following Mixed Set of Third Quarter Numbers
The construction equipment firm missed revenue expectations by a country mile but beat forecasts for profit-before-tax
AshteadGroup plc (ASHTF) stock slipped Tuesday following a mixed set of third-quarter numbers from the construction equipment rental firm.
Seen as one of the greatest beneficiaries of President Donald Trump's infrastructure spending plans, Ashtead beat analyst forecasts for profit before tax even as it reported total revenue of £804.5 million ($981 million), largely in-line with the £805 million forecast. Profit before tax came in at £171.2 million, ahead of the Factset consensus for £165 million, while net income was in line at £109 million for the period.
Ashtead stock fell more than 2.8% in London to change hands at 1,691 pence each by 15:00 GMT, trimming its three-month gain to around 4.5%.
"Our end markets remain supportive and we continue to benefit from ongoing structural change as our customers increasingly rely on the flexibility of rental," said CEO Geoff Drabble.
While reported revenue was up more than 30% during the period, the 75% revenue exposure of Ashtead to the U.S. market meant that it saw an £82 million boost to its top line from the devaluation of sterling.
Ashtead stock has risen by nearly 50% since the election in November as investors bet that its tool and plant hire services will benefit from pledges of more spending on roads and other forms of infrastructure by the now-Trump-administration.
Analysts at Jefferies reiterated their buy rating for the shares on Tuesday and increased their price target to 2,000.0 pence, citing faster growth and low balance sheet leverage relative to peers.
The group spent £196 million on acquisitions during the first nine months of the year and more than £800 million on other forms of capital expenditure, including the opening of 58 new stores. Net debt as a multiple of Ebitda sits at 1.6 times and is targeted to remain below two turns.