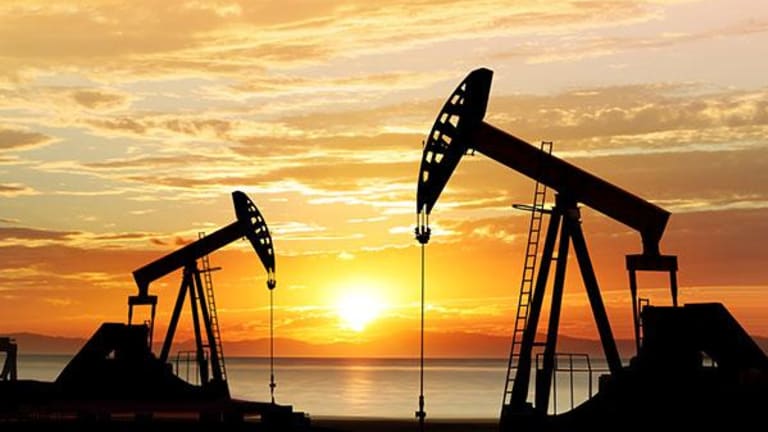 As US Producers Struggle With Sub-$45 Oil, Baker Hughes' Rig Count Falls
The Houston oilfield service provider reported Friday a much more moderate gain in U.S. oil rigs than the industry has recently seen and said natural gas rigs were down again.
Baker Hughes (BHI) has ended a bearish week for the oil industry with yet another uptick in U.S. oil rigs from the previous frame. 
The Houston oilfield services giant said the number of active U.S. oil and natural gas rigs had decreased overall by 2 to 506, versus last week's count of 508. 
Oil rigs were up again, however, by 2 to 416, while natural gas rigs fell by 3 to 89. Miscellaneous rigs also were down 1 to 1 overall. Last week the oil rig count rose 7 to 414, and the natural gas rig count had built by 4 to 92.
Some analysts have pointed out in recent weeks that based on historical trends, the U.S. shale industry should see a slowdown in rig additions, and potentially a subtraction of rigs, as rig activity tends to lag oil prices by as much as 90 days. 
September marks the point at which rig activity should be responding to a mid-summer crash in oil prices that saw West Texas Intermediate crude fall from $49.88 per barrel June 29 to the summertime low of $39.51 on Aug. 2.
But recent weeks have seen a resilient domestic oil rig count. The details behind the rig additions and the rate at which private equity is selling out to public companies, however, illustrate the dynamic is a bit deceptive, according to Stephens Inc. analyst Matthew Marietta. 
Some of the rigs added in recent counts can be attributed to private equity backed operators adding rigs in random acreage to prove its productivity, he said, therefore allowing it to fetch a better valuation in a sale of the properties to a larger public entity. 
Indeed, the industry has seen a number of public companies buying acreage from private players this year, especially in West Texas' Permian Basin.
Witness Callon Petroleum's (CPE)  Sept. 6 purchase of oil and gas properties in the Permian's Midland sub-basin from Plymouth Petroleum, a unit of ArcLight Capital Partners-backed Element Petroleum, for $327 million in cash.
And in late August, Denver oil and gas explorer PDC Energy's (PDCE) acquired properties in the increasingly popular Delaware Basin, another sub-basin of West Texas' Permian. PDC picked up acreage in the play from Kimmeridge Energy Management Co.-managed Arris Petroleum Corp. and 299 Resources LLC for $1.5 billion.
The rig count also can be skewed by leasehold drilling requirements, Marietta said in an interview with TheStreet. The analyst explained that many operators are required by leases to continuously develop the properties, otherwise they can lose the lease.
Meaning these operators aren't necessarily drilling for profits, Marietta said. In fact, given the more recent downward movement in oil prices, the analyst feels a reconsideration of the narrative that producers will be "ramping into year-end" may now be unavoidable altogether. 
Overall, Baker Hughes' U.S. rig count is down by 336 from last year's count of 842, with oil rigs down 228, gas rigs down 109, and miscellaneous rigs up 1. The U.S. offshore rig count is at 20, up 2 rigs from last week, and down 11 rigs year over year.
BHI's U.S. oil rig count has not declined since June 24, and Baker Hughes overall count has dropped just twice time since--both times due to a reduction in gas rigs.
Meanwhile, the Canadian rig count also is falling back, losing 2 rigs from last week to 132. Canadian oil rigs were up 1 week-over-week to 75, while gas rigs were down 3 to 56.