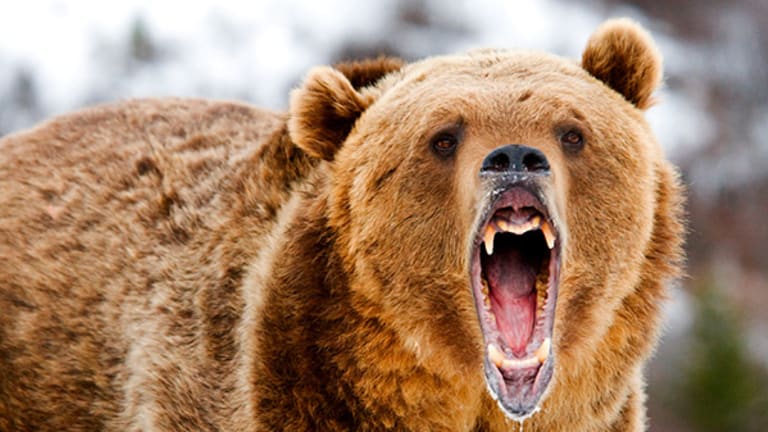 Publish date:
As Trump Euphoria Dies, Bet on This Bearish ETF
Wall Street is looking askance at its erstwhile hero Donald Trump, as the White House sinks into disarray. With stocks on the downswing, now's the time for this bearish bet.
Wall Street is looking askance at its erstwhile hero Donald Trump, as the White House sinks into disarray. With stocks on the downswing, now's the time for this bearish bet.
In the words of legendary investment guru Sir John Templeton: "Bull markets are born on pessimism, grow on skepticism, mature on optimism and die on euphoria."
It's safe to say that the bloom is off the Donald Trump rose. The Dow Jones Industrial Average fell on Monday for an eighth straight session, as investors fretted that the humiliating demise of "Trumpcare" could impede the rest of his pro-business agenda. The Dow's eighth straight decline marked its longest such streak in nearly six years.
With stocks climbing to record highs after Trump's surprising election, investors are concerned that his promises of tax reductions and greater infrastructure spending will meet the same fate as his bumbling efforts to repeal and replace Obamacare.
Investors are fickle and they were counting on President Trump to be a strong negotiator. Now that Trump has suffered an ugly setback on his first legislative initiative, his efficacy is in question. The growing smell of disarray around this White House is starting to infect Wall Street.
A red flag that the market is heading for a correction (or perhaps already in one) is that declining issues on Monday outnumbered advancing ones on the NYSE by a 1-to-1 ratio.
The NYSE advance decline line is a good measure of the market's general direction as well as the health of the market's liquidity. And market "breadth" is not comforting.
Stocks remain overvalued and due for a fall. The forward 12-month price-to-earnings ratio for the S&P 500 is 17.9, compared to the 10-year average of 14.4. Fact is, this overvalued equity rally is based on expectations that corporate profits will climb faster than gross domestic product.
Here's a shrewd investment play on these imbalances, especially concerning corporate earnings: buy shares in the AdvisorShares Ranger Equity BearETF (HDGE) - Get Report .
This exchange-traded fund focuses on U.S. based, mid- and large-cap stocks with low earnings quality or overly aggressive accounting practices, regardless of their brand name or favor on Wall Street.
To find these dangerous stocks, HDGE managers scrutinize the income statements to uncover weaknesses that have been masked by hyperbole. This ETF focuses on the empirical numbers, not sentiment or wishful thinking. The approach is bottom-up and research driven, to pinpoint imminent operational deterioration.
After unearthing equities with particularly weak fundamentals, the fund shorts them. With net assets of $162.97 million, HDGE buys the stocks that typically fall the hardest in a bear market.
Top HDGE holdings include SNAP (SNAP) - Get Report , the Internet mobile chat company that launched a frothy IPO this month, and Caterpillar (CAT) - Get Report , which got hit this month with a federal tax fraud investigation.
I "Sold My Soul" For This One Irresistible Stock ...
High-flying tech stocks have a nasty tendency to nosedive without warning. So much so that it's been nearly two decades since I've been tempted to buy one. But when I discovered this state-of-the-art facility just 4 minutes from my office, I couldn't help myself. This company has it all: explosive growth potential (with none of the risks that usually come with trendy tech stocks), steadily increasing dividend payments, and the buy-in of a group of Silicon Valley's top CEOs... Wouldn't you break your own rules for a piece of that action? Click here to tap into its $8.47/second income stream.
John Persinos is an analyst with Investing Daily. At the time of publication, he owned none of the stocks mentioned.