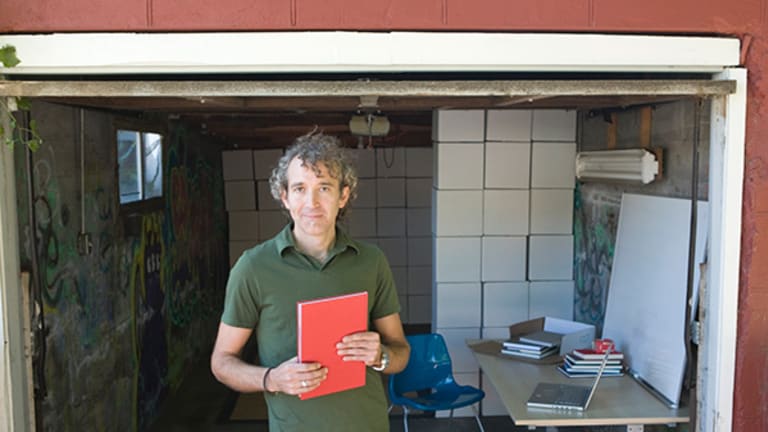 As Economic Danger Looms, Will Entrepreneurs Come to the Rescue?
In what's shaping up to be a tough year ahead, small-cap companies could bring the 'animal spirits' that the economy and investors need.
In a new year abounding with investment peril, the "little guy" just might save the day.
America's small companies are positioned to outperform their larger brethren and provide much-needed adrenaline to an economy that's probably on course for a downturn.
Small businesses represent more than 99.7% of all U.S. employers, employ half of all private sector workers, and account for 60% to 80% of the new jobs created annually in the country.
And the share prices of small-capitalization companies have been soaring.
Since Donald Trump's stunning upset on Nov. 8, the Russell 2000 index of small-cap stocks has jumped 10.14%; the index has gained 19.48% for full-year 2016. That's an impressive performance, compared with the gains of 3.39% and 9.54%, respectively, for the S&P 500 (SPY) .
Every portfolio should have exposure to small caps; now's a good time to start while they're displaying long-term momentum.
The term "small cap" is fungible, but it's typically defined as a market valuation of between $300 million and $2 billion. These companies form the backbone of the country's entrepreneurial innovation.
Many analysts contend that the bull market is overdue for a correction and the Obama recovery is on course for a recession. However, several tailwinds position small stocks not only as safer growth bets for investors but also as possible saviors of the overall economy.
Let's start with Donald Trump's policies, which are of surprising benefit for smaller companies.
Profitable firms in the Russell 2000 tend to pay higher taxes than global behemoths. The big boys are adept at lowering their rates through expensive lobbyists and accountants; they also avoid taxes by squirreling their profits overseas.
Trump wants to lower the business tax rate to 15% from 35% for corporations and 39.6% for sole proprietorships and partnerships. If he succeeds, those new rates would be a big shot in the arm for the country's small fry.
Meanwhile, small company CEOs, the GOP-controlled Congress, and President-elect Trump all share one great passion: they despise the Affordable Care Act and vow to get rid of it.
Obamacare's repeal may prove disastrous for low-income people who need health insurance, but it would prove a boon for small companies. President Obama's signature domestic achievement has dramatically lowered the number of people without medical insurance, but it also has placed a burden on smaller companies. The paperwork and compliance requirements of Obamacare have proved an impediment for smaller companies, which don't enjoy the economies of scale that big corporations wield in the health care marketplace.
Another future advantage for small companies is the likelihood that Trump's laissez-faire cabinet members and agency heads will lessen regulations against the financial services sector. That in turn will make it easier for regional banks to give loans to small companies.
The irony, of course, is that the working-class Rust Belt denizens who cast a vote for Trump were doing so under the assumption that he would crack down on Wall Street, when in fact he is now filling his administration with the very same "globalists" that he vilified during the campaign.
Trump's "America First" protectionist policies, which pose a threat to expert-dependent giants such as General Electric (GE) and Boeing (BA) , would actually benefit small caps. The majority of small caps derive the bulk of their sales domestically, which means that trade wars and a strong U.S. dollar tend to hurt them less.
General Electric is a holding in Jim Cramer's Action Alerts PLUS Charitable Trust Portfolio. See how Cramer rates the stock here. Want to be alerted before Cramer buys or sells GE? Learn more now.
In the holiday-shortened week ahead, keep an eye on the earnings reports scheduled for these small-cap companies; they're possible gauges of overall small-stock health.
Wednesday: Landec (LNDC) , Mistras Group (MG) and MTS Systems (MTSC) ; Thursday: Franklin Covey (FC) ; Friday: AngioDynamics (ANGO) .
Investors should consider the small-cap alternatives in sectors that are set to boom in 2017 and beyond, especially in health care where the attention tends to focus on the mega-cap blue chips.
One such small-cap growth opportunity is medical device maker AngioDynamics (market cap: $618.19 million). On Friday before the market opens, ANGO is expected by analysts to report quarterly earnings per share (EPS) of 16 cents, compared to 14 cents in the same quarter a year ago. For the full year, EPS is projected to come in at 66 cents, compared to 58 cents in 2015. For the next five years, ANGO's earnings growth is expected to reach a robust 18% on an annualized basis.
Noteworthy on the economic report docket in the week ahead: Motor Vehicle Sales (Tuesday); Factory Orders, Gallup U.S. Job Creation Index (Wednesday); Chain Store Sales, Jobless Claims, Bloomberg Consumer Comfort Index (Thursday); Employment Situation, Consumer Credit (Friday).
Virtually no one expected Donald Trump to grab the brass ring! Now, his presidency could turn the investment world upside down. If you're looking for new (and safe) growth opportunities in these uncertain times, we've found a genius trader who turned $50,000 into $5 million by using his proprietary trading method. He's guaranteeing you $67,548 per year in profitable trades if you follow his simple step-by-step process. Click here now for details.
John Persinos is an analyst with Investing Daily. He also serves as a frequent commentator on the financial television show Small Cap Nation. At the time of publication, Persinos owned stock in General Electric and Boeing.