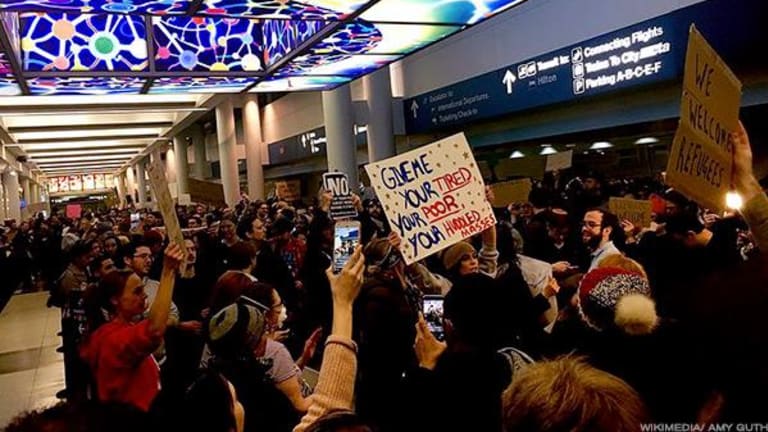 As Delta Gets Called Out by Politicians, Analyst Senses an Airline Industry Correction
A top airline industry analyst senses a share price correction after various carriers suffer problems, including a decline for Delta after it gets drawn into politics.
Monday was a bad day for the big three airlines, bad enough that by midday JPMorgan analyst Jamie Baker had raised the question: "Could this be the start of a correction?"
During the day Delta (DAL) - Get Free Report , which suffered an IT systems outage Sunday night, got drawn into politics. The carrier was blamed by President Trump for airport crowds that in fact resulted from his change in immigration policy and was publicly interrogated by two U.S. senators regarding the technology breakdown.
Meanwhile, American (AAL) - Get Free Report saw its stock continue to fall after Friday's earnings report, and United (UAL) - Get Free Report shares seemed to decline on general principle. By the end of the day, shares in each of the three carriers had declined about 4%.
At Monday's close, American shares stood at $44.90, down 4% year to date; Delta was at $47.67, down 3% year to date; and United was at $71.72, down 2% so far this year.
Then add in JetBlue (JBLU) - Get Free Report , which remained mired in a share price decline that has cut the price by 11% since Jan. 25, the day before it seemed to lose the faith of Wall Street during a troubling earnings call. JetBlue shares closed Monday at $19.36. The stock has fallen 14% year to date.
Shares of the four carriers were down on Tuesday. 
"The combination of profit-taking, capacity fears (misplaced, read on), IT outages, airport protests ... well, we're not hugely surprised to see what is beginning to feel like a bona fide correction in the space," Baker wrote on Monday.
Baker dismissed the capacity fears, noting that an offhand remark during American's earnings call on Friday by Chief Marketing Officer Andrew Nocella had led some analysts to falsely conclude that American might boost domestic capacity.
"There was nothing in American's commentary to make us question its discipline nor our industry domestic capacity outlook," Baker said. Nevertheless, he said, a correction is possible and might even be welcome.
A correction "could prove cathartic, as it has in the past, as we believe there remains significant interest in the sector among investors still languishing on the sidelines," he said.
Delta's problems cascaded late Sunday and early Monday.
The carrier on Sunday night suffered an IT systems outage which resulted in delays and cancellations that continued into Monday. About 280 flights were cancelled and about 1,000 flights were delayed, according to FlightStats. Delta has not yet disclosed the cause of the outage.
Subsequently, Trump blamed Delta for the weekend problems at airports, where crowds of protesters opposed his executive order that temporarily banned U.S. travel for refugees and citizens of seven countries.
"Big problems at airports were caused by Delta computer outage," Trump tweeted.
Later, Sens. Edward J. Markey (D-Mass) and Richard Blumenthal (D-Conn) sent Delta a letter inquiring about the state of its It system and about the accommodations Delta made for passengers.
"Now that three of the four largest air carriers have recently experienced significant disruptions due to IT failures -- including two within a week of one another -- it is time for airlines to update their IT systems for the jet age?" the senators asked.
 For its part, Delta had very little to say on Monday.
 In a prepared statement, CEO Ed Bastian apologized to customers "who have been impacted by this frustrating situation" and said "this type of disruption is not acceptable to the Delta family."
This article is commentary by an independent contributor. At the time of publication, the author held no positions in the stocks mentioned.