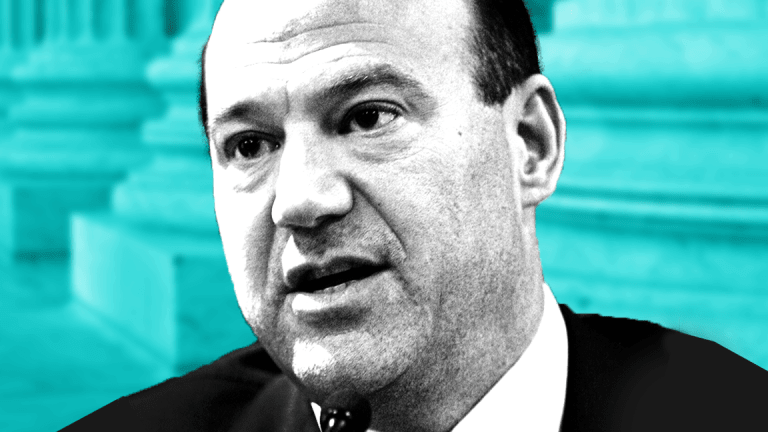 As Gary Cohn Stock Selloff Gets Nasty, Investors Send All Sorts of Assets Lower
From gold to tech stocks to bitcoin, markets are under fire as the thought of a trade war remains front of mind.
Gary Cohn's departure from the White House could be upping the ante in a market already on its toes.
Cohn said Tuesday, March 6, that he plans to depart his role as President Donald Trump's top economic adviser in the coming weeks. While the White House gave no specific reasoning for his exit, Cohn has long been a strong proponent of free trade in an administration leaning increasingly toward nationalism.
The decision to leave comes after Trump announced plans to implement import tariffs on steel and aluminum coming into the U.S. On Wednesday, March 7, the European Union said it will use the World Trade Organization's rules to combat Trump's tariffs if need be.
Markets were already cautious that such tariffs would cause a trade war, but it seems Cohn's giving up his alleged mission to persuade the president against the tariffs signaled that the threat of a trade war could soon become reality.
Stocks finished Wednesday trading sharply negative after Wall Street closed higher in the previous session. But what were the other major assets doing in response?
Gold prices were lower Wednesday, down 0.18% to $1,325.20 per troy ounce. While spot gold was lower in morning trading, prices have been on an upward climb so far in March and have risen about 5% over the past three months.
The U.S. dollar index moved higher, up 0.18% to 89.59 Wednesday. Over the last five days, the dollar index has shed about 1% as the greenback lost some strength when weighed against a basket of six other major currencies. Year to date, the dollar has declined 2.8%.
Oil prices settled lower Wednesday. West Texas Intermediate crude oil for April delivery was down most of Wednesday, but pushed higher 0.36% to $61.31 per barrel in evening trading, while Brent crude for May delivery was down 2.2% to $64.34.
Technology stocks took some heat Wednesday morning, too, before rallying higher for the most part by the market close. Action Alerts Plus holdings Apple Inc. (AAPL) - Get Report shed 0.93% to $175.03, while Microsoft Corp. (MSFT) - Get Report  gained 0.58% to $93.86. Amazon.com Inc. (AMZN) - Get Report  gained 0.48% to $1,545, Alphabet Inc. (GOOGL) - Get Report  gained 1.28% to $1,115. International Business Machines Corp. (IBM) - Get Report fell in premarket trading before recouping losses to trade higher 1.67% to $158.32. The Technology Select Sector SPDR ETF (XLK) - Get Report  was higher 0.53%.
Large, multinational conglomerates moved broadly lower Wednesday as threats to their international business dealings looked imminent. Walmart Inc. (WMT) - Get Report stock fell 1.48% to $87.74, BP PLC  (BP) - Get Report shares lost 0.61% to $39.31, Exxon Mobil Corp. (XOM) - Get Report stock slipped 2.52% to $74.26 and General Electric Co. (GE) - Get Report shares were down 0.96% to $14.51.
A riskier asset, bitcoin, also was lower Wednesday, down about nearly 10% to slip under the $10,000 mark. The No. 1 cryptocurrency has been on a lower trajectory since the beginning of March.
The Morning Jolt never misses the hottest, most to-the-point market commentary. Catch up here: