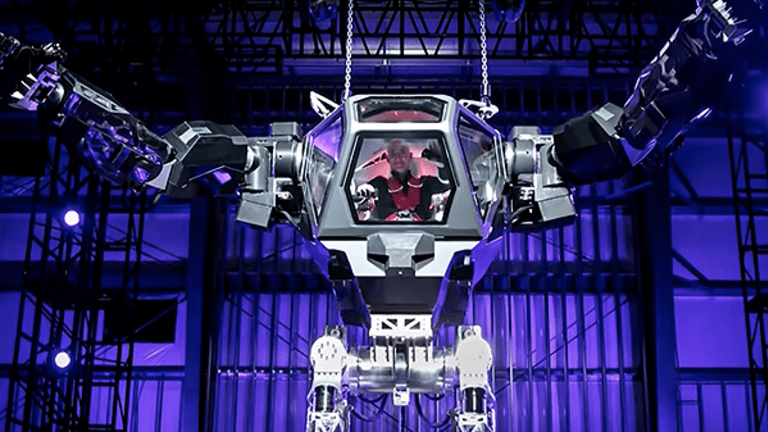 Artificial Intelligence Stocks Could Soon Eclipse Social Media Giants
'Ignore AI at your own peril,' says this expert.
'Ignore AI at your own peril,' says this expert.
Leading artificial intelligence firms' market cap is going to "absolutely, positively" represent five to 10 times the market cap of today's consumer internet and social media giants, Breyer Capital CEO Jim Breyer said at CNBC and Institutional Investor's Delivering Alpha conference in New York on Tuesday, Sept. 12.
Breyer was joined by C3 IoT CEO Tim Siebel, who explained that "AI is about self-learning algorithms. Algorithms that modify themselves in real time as the data are presented to them and get better and better."
Breyer and Siebel agreed that artificial intelligence isn't the dehumanizing terror some would make it out to be. Wall Street took notice of artificial intelligence debates this summer, when Tesla (TSLA) - Get Report CEO Elon Musk and Facebook (FB) - Get Report CEO Mark Zuckerberg sparred over the future of AI.
While Zuckerberg sees AI as an opportunity for good, Musk has called for regulation for AI that he thinks could overtake humanity in the future. For Breyer and Siebel, it seems there's only one smart side of that tussle.
"I bet on Mark Zuckerberg when I was 20. And I'll never bet against Mark Zuckerberg," Breyer said.
Even if AI becomes an enemy of humanity once it reaches our level of intelligence, we've got decades before that could happen. The median year of 2050 is generally considered the year at which AI could possibly meet human intelligence, Breyer said.
For now, investors need to focus on the competition for top talent in computer engineering and artificial intelligence. "There's great risk," that another country could overcome the U.S. in the race to the top for AI talent.
Although U.S. firms such as Facebook, Amazon.com Inc. (AMZN) - Get Report and Apple Inc. (AAPL) - Get Report still have the best of the best when it comes to AI, China represents half the most interesting AI investment opportunities in the world, Breyer said.
They're utilizing the "power of the data sets," that weren't available as recently as five years ago. Tencent Holdings (TCTZF) , Baidu Inc. (BIDU) - Get Report , Alibaba (BABA) - Get Report , JD.com (JD) - Get Report and a "handful of others" are integrating self-learning talents into their companies at an "astonishing" rate, Breyer said.
Amid that hefty competition, the cream of the crop in AI are commanding "NFL-like" salaries in a stiff competition for talent. Could we now start comparing post-doc engineers and PhD students from MIT and Stanford with Tom Brady? Breyer sees it as possible.
As Breyer sees competition with China heating up, Siebel said his company, which focuses on internet of things, is staying out of Chinese investments on concerns over IP safety.
But even if AI is considered only in a domestic lens, it shouldn't be cast aside.
"Ignore AI ... at your own peril," Breyer said.
Facebook and Apple are holdings in Jim Cramer's Action Alerts PLUS Charitable Trust Portfolio. Want to be alerted before Cramer buys or sells FB and AAPL? Learn more now.
More of What's Trending on TheStreet:
Hooters Has a Big $1 Million Problem in One of Its Key Overseas Markets