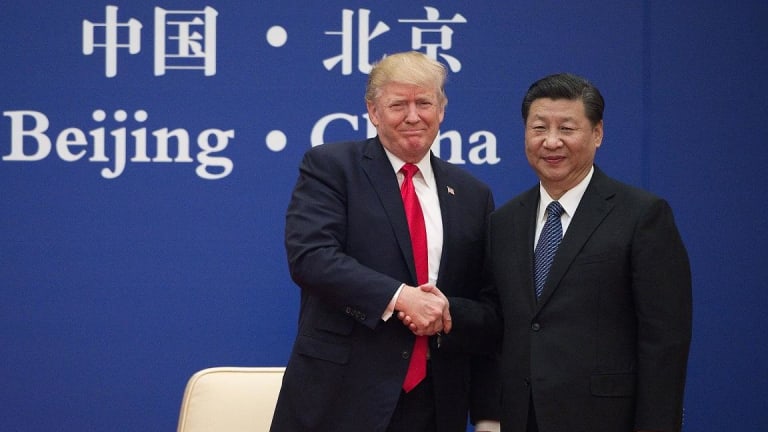 Art of a China Deal: Trump Drums Up $250 Billion in New Business From Asia Tour
Boeing, Qualcomm and GE ink deals with Chinese firms as Trump ends visit with $250 billion in new contracts - and a jab on trade deficits.
Boeing, Qualcomm and GE ink deals with Chinese firms as Trump ends visit with $250 billion in new contracts - and a jab on trade deficits.
President Donald Trump capped his two-day summit in China Thursday with a litany of new commercial contracts for some of America's biggest companies even as he continued to criticise trade relations between the world's two biggest economies. 
Around $250 billion in new and existing deals between U.S. and Chinese firms were touted by the President and his team as they departed from the third leg of his 11-day Asia tour and celebrated the anniversary of his shock election victory last November. Boeing Co. (BA) - Get Report , General Electric (GE) - Get Report , Qualcomm Inc.  (QCOM) - Get Report  , Goldman Sachs (GS) - Get Report and Ford Motor Co. (F) - Get Report were just names on the list of deals and contracts linked to the Trump visit and the broader ambitions of an economic policy he began trying to co-ordinate with China's Xi Jinping earlier this year.
"Addressing the imbalance in China trade has been the central focus of collaborative discussions between President Trump and President Xi," said Trump's Commerce Secretary, Wilbur Ross. "Achieving fair and reciprocal treatment for the companies is a shared objective."
Boeing was perhaps the biggest receipient of what China's Commerce Minister Zhong Shan called a "miracle" of trade deals, agreeing to terms on the sale of 300 jets with a list value of around $37 billion to China Aviation Suppliers Holding Co. Some of the orders, however, could have been blended in to past agreements, analysts said, making it difficult to judge how much the announcement will change Boeing's order book.
Boeing shares were marked 0.2% lower in pre-market trading in New York, indicating an opening price of $265.03.
Another major announcement from the ceremony linked GE to three separate deals with China-based firms valued at around $3.5 billion while chipmaker Qualcomm, which is the mulling a $103 billion bid from Broadcom (AVGO) - Get Report , inked $12 billion in non-binding agreements to sell semiconductors to China-based firms Oppo, Vivo and Xiamoi over the next three years. Ford also announced a $756 million Joint-venture with China's Anhui Zotye Automobile to build electric cars. 
Goldman Sachs also said it would establish a $5 billion investment vehicle with China Investment Corp., the country's sovereign wealth fund.
The deals may soften the blow of data published yesterday showing China's trade surplus topped the $300 billion mark over the first ten months of the year, a faster pace than in 2016, amid a stronger U.S. dollar and robust global economic growth. 
China's customs office said total exports from the word's second largest economy grew an annual 6.9% last month, slowing from the 8.1% pace recorded in September. Import growth, however, was impressively strong at 17.2%, although again slower than the 18.1% pace notched in the previous month.
The figures also reveal a 37.8% increase in China exports to the United States which, when set against an 11.1% rise in imports translates to a trade surplus of $26.6 billion. That's down from last month's record high of $28 billion but still puts the year-to-date tally at just over $300 billion - more than $12 billion head of last year's pace, according to U.S. Census Bureau data.
"As we all know America has a huge annual trade deficit with China, a number beyond anything that anyone would understand," the President said "Both the United States and China will have a more prosperous future if we can achieve a more level playing field."
However, Trump was quick to note, on Xi's home turf, that he didn't blame China for the historic imbalance. 
"After all, who can blame a country for being able to take advantage of another country for the benefit of its citizens," he reasoned. "I give China great credit, but in actuality I do blame past administrations for allowing this out-of-control trade deficit to take place."
More of What's Trending on TheStreet: