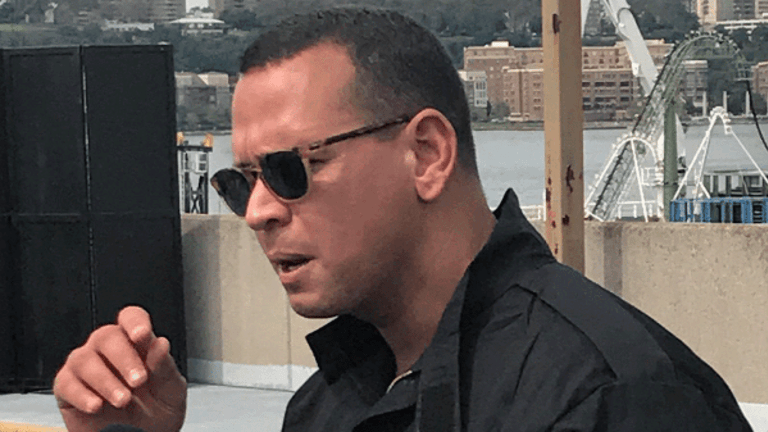 Former NY Yankees Slugger Alex Rodriguez Reveals One Juicy Investment Tip
The former Yankee third baseman is pretty cautious when it comes to investing, but he has one hot tip he's looking to act on in the next 18 months. And find out why he's not messing around with Bitcoin.
Alex Rodriguez, the Yankees legend and boyfriend of Jennifer Lopez, is eyeing the secondary and tertiary real estate markets for a huge win over the next year and a half.
On Tuesday at a Kia MotorsNew York Fashion Week event at Pier 94 during which the company unveiled its new Stinger, the all-star slugger noted that he's less focused on big real estate markets -- in cities with MLB teams, say -- and is instead using a different sports guide-post to dictate his investments in smaller markets.
"Over the last 15 years, we've deployed a lot of equity into the Southeast quadrant of the United States," Rodriguez told TheStreet in an interview. "So if you think about all the SEC (Southeastern Conference) teams that play college football - South Carolina, to Georgia, and you come across to all over Texas -- we've been very active, we like all of that.
He handles most of his real estate investments through A-Rod Corp in which he holds a portfolio of commercial and residential properties, auto dealerships and high-end fitness centers in Mexico and the U.S. But A-Rod is looking to bide his time at the moment, because he thinks great opportunities will appear on the horizon, perhaps after a market crash during which real estate valuations plummet. Then he'll pounce, using some of the half a billion dollars he made in his baseball career.
"We are taking the approach right now that it's a good time to be patient and to stay liquid on the side lines," he said. "We think that over the next 18 months there'll some pretty interesting opportunities, not only in primary markets but in secondary markets as well. We find that usually you find great deals in tertiary markets. You find good deals in secondary markets, and those are the markets we've played pretty well and have dominated for a long time. But it's rare to find deal flow in markets like New York, Los Angeles, San Francisco."
In the event's "Runway Racing" drag competition, A-Rod came in dead last behind fierce competition from supermodels Candice Swanepoel and Joan Smalls, fashion designer Brandon Maxwell, fashion writer Derek Blasberg and internet personality Cameron Dallas. One Direction's Zayn Malik was a no show but would likely have left A-Rod in the dust as well. After all, A-Rod had the most to lose out there and played it cautiously - just like his investment strategy.
Indeed, beyond real estate, he's not trying to do anything too fancy in his financial life and is staying away from cryptocurrency.
"I just don't have enough expertise in Bitcoin," he said.
Instead, his asset allocation is geared for the long-haul, with a prudent diversified strategy along with a few stock picks A-Rod stands by. After all, J.Lo has expensive taste. 
"I am someone that likes just to play the long and steady game, long and slow," he said. "Some index funds work really well for me, like the S&P 500 index -- low fees, [and] it's proven that over time, that's going to do better than pretty much anything else. And then I have my three or four winners that I like and that I've been doing for a long time: Facebook (FB) - Get Facebook, Inc. Class A Report , Google (GOOG) - Get Alphabet Inc. Class C Report (GOOGL) - Get Alphabet Inc. Class A Report , Amazon (AMZN) - Get Amazon.com, Inc. Report , and Berkshire Hathaway (BRK.A) - Get BRK.A Report (BRK.B) - Get Berkshire Hathaway Inc. Class B (BARK.B) Report ."
More of What's Trending on TheStreet: