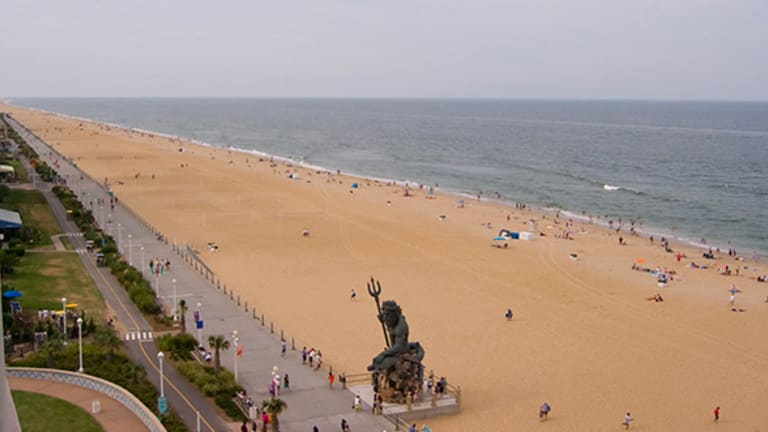 Armada Hoffler Properties Invests $400 Million in Downtown Virginia Beach
A partnership with the city allows the real estate company to essentially control downtown.
Shares of Armada Hoffler Properties (AHH) - Get Armada Hoffler Properties, Inc. Report rose 7.5% in 2015, far outpacing the 6% drop in the iShares US Real Estate ETF (IYR) - Get iShares U.S. Real Estate ETF Report . Louis Haddad, CEO of Armada Hoffler, said the Virgina-based REIT outperformed because its pipeline finally started paying off.
"We were able to add significantly to our net operating income," said Haddad. "Our development pipeline finally yielded what we've been promising by the delivery of five buildings totaling a couple hundred thousand square feet and consequently our NOI was able to grow at a pretty fast clip."
Armada Hoffler went public in May 2013, just prior to the so-called "taper tantrum" that sent REITs plummeting. The company's shares underperformed the REIT index substantially until its investments kicked in last year. It pays a dividend of 6.5%.
"For the first year and a half we kept telling people that good things were on the way and then we ultimately delivered," said Haddad.
He said the company's major property is in Virginia Beach and it accounts for about 40% of its net operating income on a property basis. A public, private partnership with the city allows Armada Hoffler to essentially control the city's downtown. He said the city put in about a $200 million subsidy for infrastructure, while Armada Hoffler invested about $400 million to develop the property with retail, office and multi-family units.
"It all works together," said Haddad. "It's a live, work, play environment."
When it comes to the retail environment, Haddad said Armada Hoffler has always favored grocery-anchored, neighborhood shopping centers.
"Groceries are the most impervious to Internet drag and when you have a good name anchor store with high sales per square foot numbers, then your small stores are going to stay full," said Haddad. "We are really concerned with other soft and hard goods that are more susceptible to Internet sales."