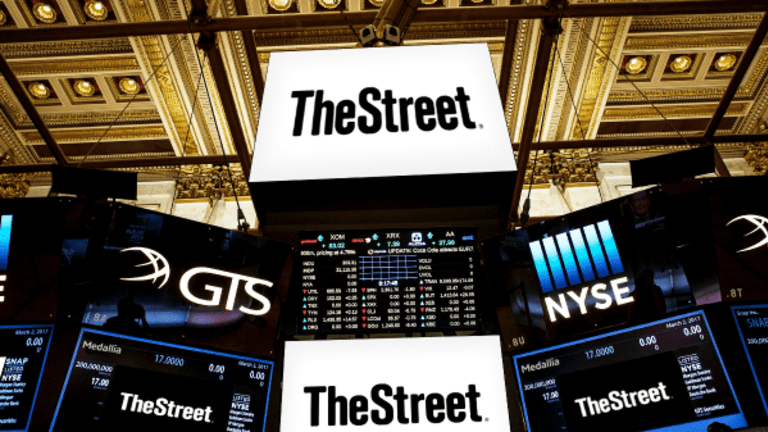 The Arena Group Reports Surge in Third-Quarter Revenue
TheStreet's parent company posts an 82% boost in revenue as advertising surges.
The Arena Group undefined, parent company of TheStreet and publisher of Sports Illustrated, reported on Monday that third-quarter revenue jumped more than 80% from a year ago.
Shares of the company, formerly known as Maven, were up 3.7% in after-hours trade Monday.
The company reported a net loss of $24.7 million, or 10 cents a share, compared with a net loss of $21.4 million, or 55 cents a share, a year ago, an 82% improvement year-over-year.
Revenue totaled $59.6 million, up 86% from a year ago, boosted by a 130% increase in advertising revenue to $21.7 million.
The Arena Group said the advertising revenue increase was primarily due to additional revenue of roughly $6.8 million, generated as a result of a doubling of advertising sponsorships. 
"Our progress has been significant. We are just getting started," Ross Levinsohn, chairman and CEO, said on a call.
Those sponsorships were for its Sports Illustrated Swim business and other growth in its Sports Illustrated media business, with about $5.5 million from the addition of The Spun sports website, which was acquired in June for $11 million.
Executives on the call stressed to analysts that the company does offer bundles for digital and print subscribers.
"The future of our business is in digital, but the power and the strength of print never goes unnoticed," Levinsohn said. "This is as pure a next-generation company that exists," he added, referencing the success of both print and digital offerings.
The company said that since acquiring The Spun, monthly revenue has tripled to more than $2 million with expenses remaining relatively flat. 
The monthly audience increased by 50% to more than 30 million users; and monthly page views have doubled to more than 110 million.
"Just an hour ago, Comscore released its October 2021 numbers, and the SI group grew again, to over 56 million users," Levinsohn said.
"In fact, that means that July, August, September and October were the four biggest months in terms of unique users since The Arena Group took over operation of SI.com in October of 2019," Levinsohn said. "We are seeing that growth trend continue at an accelerated pace."
Magazine circulation revenue increased 102% to $26 million, compared with $12.9 million a year ago, reflecting higher subscriber levels and the diminishing effect of acquisition accounting adjustments from the commencement of Sports Illustrated media group operations in 2019.
"With a proven model, and tremendous momentum heading into 2022, we believe we will expand our footprint and business operations into new verticals, and new areas of growth including the launch of a commerce initiative and plans to enter both the NFT segment and Metaverse in the year ahead," Levinsohn said in a statement.
The Arena Group acquired TheStreet in 2019.