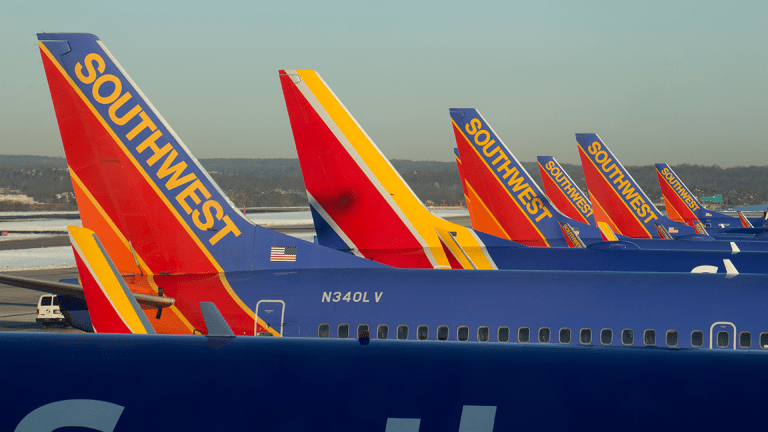 Has a Golden Age of Airline Investing Come to an End?
For the airline industry, 2017 marks the second straight year of declining profit. And no airline stock has come close to matching the gain of the S&P 500. But some CEOs remain optimistic.
Has a golden age of airline investing come to an end?
In 2015, the U.S. airline industry posted a record profit of $25.6 billion. That shrank to $13.5 billion in 2016. This year, Deutsche Bank analyst Mike Linenberg expects another decline, with profit down 18% to $11.7 billion --- despite a 4% gain in revenue to $159 billion.
Also this year, not a single airline share has performed as well as the S&P 500, which so far in 2017 has gained 15.6%.
The leading airline, Southwest Airlines Co. (LUV) - Get Southwest Airlines Co. Report , has gained 8.6% this year. Delta Air Lines Inc. (DAL) - Get Delta Air Lines, Inc. Report  has risen 2.5%, while American Airlines Group Inc. (AAL) - Get American Airlines Group, Inc. Report  has gained 1.6%.
All the other airline shares are down, with declines ranging from 14.4% at JetBlue Airways Corp. (JBLU) - Get JetBlue Airways Corporation Report to 41.2% at Hawaiian Holdings Inc (HA) - Get Hawaiian Holdings, Inc. Report .
One reason for the decline, noted in a report last week by JPMorgan analyst Jamie Baker, is that airline investors have now come to focus on cost.
Baker calls that a welcome change "as it implies a refreshing respite from RASM myopia." RASM, or revenue per available seat mile, measures revenue, which can fall when ticket prices fall --- even if profits are rising. Rising costs, however, can lead to declining margins.
In fact, Baker wrote that "industry margins are expected to decline for a third consecutive year, an unfortunate headwind for equities."
Also last week, Airlines for American economist John Heimlich told reporters, "The peak of this particular economic cycle is behind us.
"As an industry, expenses are outpacing revenues - something investors and industry analysts have been very focused on," Heimlich said.
Since the 2015 peak, Heimlich said, "Expense increases are easily outpacing revenue increases, which has resulted in lower profits year over year. [This year] margin is down from 15% to 12% for the first nine months.
"While still respectable, [margin] continues to lag the U.S. corporate average," he said.
With labor accounting for 33% of industry cost and fuel accounting for 23%, boosting margins "is a tough nut to crack," Heimlich said. In that effort, he said, future cost reductions will most likely derive from alterations in aircraft fleets, including more efficient new aircraft.
Despite some negative indicators, the CEOs of the two biggest airlines, American and Delta, declare regularly that the airline industry has changed.
On American's third-quarter earnings vsll in October, American CEO Doug Parker reiterated this view, saying, "We feel really good about where American is. We feel good about the transformation that's taking place in the industry.
"The industry has dramatically transformed and is stronger than it ever has been and I believe permanently transformed," Parker said.
Parker has said that American will produce average annual profit of $5 billion, although that doesn't seem likely this year. Net income for the first nine months was $1.7 billion, down from $2.4 billion in 2016.
Delta, meanwhile, had net income for the first nine months of $3 billion, down from $3.8 billion during the same period in 2016. Early in the year, Delta CEO Ed Bastian said the airline would have a  $6 billion profit.
Despite the shortfall, Baker upgraded American to overweight on Wednesday, Nov. 1. He now has overweight ratings on American and Delta as well as Southwest.
Baker said that to the extent RASM still matters, American and Delta are most likely to outperform his estimated average 2018 gain of 1.7%.
More of What's Trending on TheStreet:
This article is commentary by an independent contributor. At the time of publication, the author held no positions in the stocks mentioned.