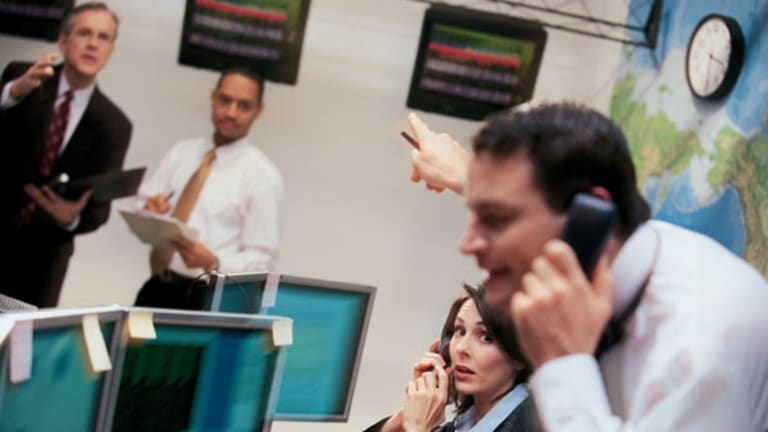 Are Stocks Headed for a Year-End Rally?
These factors will help determine whether a challenging trading year finishes with a bang or a whimper.
NEW YORK (Stockpickr) -- It's been a year of peaks and valleys for U.S. stocks. The S&P 500 rose roughly 10% through late April, fell nearly 20% over the next five months and, after a solid 15% rebound in October, has begun to fade lower again as we head toward the final stretch of 2011.
What's the next move? A clear case can be made for a year-end rally, though government policymakers here and in Europe may serve to snatch defeat from the jaws of victory.
First, let's look at some possible reasons for the market to keep falling.
Europe is the obvious headwind. A series of incremental half-steps have assured no one that the current Greek crisis -- and burgeoning Italian and Spanish crises -- will be contained. At this point, the very solvency of major European banks has started to come into question, and as we saw here for a brief period three years ago, a crippled banking sector can bring a whole economy to its knees. Europe is America's largest trading partner, and a deepening European crisis could drag us into recession as well.
Budget talks in Washington to tackle our long-term deficit also have the potential to spook investors. The odds of a far-reaching resolution to our persistent budget deficits seem increasingly remote as both parties talk past each other. If the market gets a sense that our current $14.5 trillion deficit will keep growing in the face of inaction, major stock and bond institutional investors may throw in the towel and press the sell button. Perversely, a big budget deal brings its own headaches as a massive drop in federal spending would drain resources from the economy.
Many U.S. consumers remains deeply distressed, and if the upcoming weekly retail sales figures portend a dismal holiday shopping season, then profit forecasts will need to be slashed.
Lastly, oil prices have been climbing due to possible tensions between Iran and Israel and a surprising drop in inventories of crude oil both here and in Europe. The U.S. economy can tolerate $100-per-barrel oil, but a move toward $110 or $120 by year-end would lead economists to start thinking about a possible recession in 2012 as shocked-at-the-pump consumers stop spending on discretionary items.
Against such a bleak backdrop, why should investors be thinking about buying stocks right now? Because a whole host of positives are in place, starting with corporate profits (which at the end of the day are the truest measure of an investment climate).
Earnings for firms in the S&P 500 rose almost 18% in the third quarter compared with a year ago. And profits a year ago were pretty impressive themselves. Roughly 70% of the companies in the index topped analysts' estimates, even as their European divisions muddled through a very difficult summer.
>>7 Smaller Stocks Beating the Big Guys
Looking ahead to the current quarter, companies look poised to exceed expectations once again. On an aggregated basis, S&P 500 profits are expected to rise 10.3% in the fourth quarter, which would represent a pretty big drop from third-quarter earnings growth rates. That's the game that analysts play. They continually set a low bar, and then companies can walk right over it.
These numbers have been coming at a time when the U.S. economy has looked sickly. Yet recent economic data imply that the patient is getting healthier. On Friday, the Conference Board announced that its index of leading economic indicators rose 0.9% last month, the strongest showing since February.
Of course an improving economy will only come when employment trends start to percolate, and even here, there's a cause for modest optimism. This past week, we saw weekly jobless claims fall to 388,000, the lowest level since early April. The more closely watched four-week moving-average, which smooths out fluctuations, fell below 400,000 for the first time since April as well. These gains are coming at a time when federal, state and local governments keep shedding jobs, which means that the private sector is really starting to pull its weight. Few would call the job market healthy, but it's starting to look as if the vast ranks of unemployed face better prospects in 2012 than they've seen in several years.
Right now, the market is dependent on a pair of "ifs." If the European crisis can move closer to containment, and if Washington can cobble together any sort of agreement that doesn't spook the market, then a year-end rally may be at hand. After all, stocks rose sharply in October simply because crisis concerns temporarily recede and investors again focused on the healthy level of corporate profits. And investors surely noted that many companies in the S&P 50 sported very low price-to-earnings ratios. That backdrop remains in place.
What to Buy
Since it's far too soon to conclude that all is right with the world, it's still best to play defense as you play offense. That means a focus on companies with cash-rich balance sheets such as
Intel
(INTC) - Get Report
,
Oracle
(ORCL) - Get Report
and
Apple
(AAPL) - Get Report
. Also, companies in the S&P 500 that have a forward P/E ratio below 10 likely offer downside protection. We're talking about firms such as
Chevron
(CVX) - Get Report
,
Microsoft
(MSFT) - Get Report
and
Viacom
(VIA) - Get Report
.
>>10 Dow Stocks With Lowest P/E Ratios
Stocks with forward P/Es below 7 look screamingly cheap. These include
Ford
(F) - Get Report
,
Hewlett-Packard
(HPQ) - Get Report
,
Peabody Energy
(BTU) - Get Report
,
Allstate
(ALL) - Get Report
and
Delta Airlines
(DAL) - Get Report
.
The current troubling economic environment that has been roiling stock markets has also created opportunities abroad. Major stock markets in places such as Turkey, South Africa and Argentina now sport aggregated P/E ratios below 10. These economies are increasingly decoupled from European and U.S. trade flows and are good proxies for faster growth in emerging markets.
These next few weeks will be crucial. If policymakers on both sides of the Atlantic can take bold and decisive action in tackling their respective crises, then the stock market could post a robust year-end rally.
RELATED LINKS:
>>5 Stocks Under $10 With Big Upside Potential
>>3 Cheap China Stocks Without the Risk
>>7 Stocks Dishing out Bigger Dividends
Follow Stockpickr on
and become a fan on
Facebook.
Stockpickr is a wholly owned subsidiary of TheStreet.com.