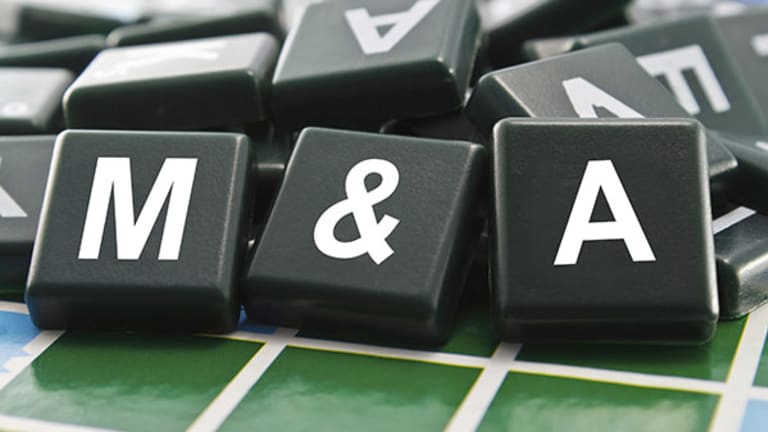 Publish date:
Can a Shopping Spree Compensate for Banks' Lackluster Earnings?
Uncertainty about how much the Federal Reserve will raise interest rates, a driver of banking profits, have finance companies seeking alternative ways to boost profits. One answer may be M&A.
Uncertainty about how much the Federal Reserve will raise interest rates, a driver of banking profits, have finance companies seeking alternative ways to boost profits. One answer may be M&A.
How will U.S. banks bolster lackluster earnings last year?
It's a question that's taking on heightened significance after market volatility and a slowing Chinese economy curbed the likelihood that the Federal Reserve will stick to an original target of as many as four interest-rate hikes this year.
That projection, in December, was good news for banks whose net interest income -- the difference between the amount charged to borrowers and paid to depositors -- has been curbed by years of near-zero rates. Speculation since the start of the year that the central bank will raise them only once, combined with the possibility of loan defaults by energy companies grappling with low oil prices, has hit banking stocks hard.
"There's growing uncertainty as to whether rates will rise this year and that benefit to bank earnings is looking more distant," said Julie Solar, senior director for banking at Fitch Ratings.
One answer to the dilemma, for small and mid-size banks, may be mergers and acquisitions, according to Fitch. That could bolster profitability, by spreading costs over a wider pool of operations, as well as other performance gauges, the firm noted in a report this week.
"We expect to see increased shareholder pressure across the industry to address lackluster returns, which are still well below" their levels before the financial crisis of 2008, Fitch noted. "Although some banks might prioritize share repurchase schemes over M&A, given weak prices, we believe there is heightened appetite for consolidation."
Earnings reported by banks in the last quarter of 2015 were poorer than previous periods, according to the report. Additionally, the average industry-wise return on equity in the last three months of 2015 was 9%, down four percentage points from the first quarter of 2006, before the collapse of the housing bubble that precipitated the crisis. 
While low prices may prompt banks to repurchase more shares, it's also likely to make some more appealing as takeover targets. The KBW Bank Index has dropped 13% this year, about four times as much as the broader Dow Jones Industrial Average and the S&P 500.
"We do not think interest-rate hikes will provide much uplift to overall bank earnings in 2016, as the operating environment remains challenging," Fitch said. "M&A could lead to cost savings, which could support earnings."
Solar said heightened regulations after the financial crisis, including the Dodd-Frank reform law of 2010, had a chilling effect on consolidation in the industry. Among the challenges is that a larger size can lead to heightened scrutiny: Banks with total consolidated assets of $10 billion, for instance, are subject to oversight by the Consumer Financial Protection Bureau, which enforces rules designed to protect customers.
Still, the M&A market in banking picked up in 2015, with $34.5 billion in U.S. deals, the most since 2012. The year also marked the completion of the merger between New York-based M&T Bank (MTB) - Get Report and New Jersey-based Hudson City Bancorp, following three years of delays, after the Federal Reserve signed off on the deal.
BB&T (BBT) - Get Report , with assets hitting almost $210 billion, completed the purchase of Susquehanna Bancshares and Bank of Kentucky last year and expects to complete its purchase of National Penn Bancshares for $1.8 billion in April. 
And in a $2 billion acquisition, New York Community Bancorp's (NYCB) - Get Report  announced in October that it would buy Long Island-based Astoria Financial (AF) .
While acquisitions are a part of BB&T CEO Kelly King's growth strategy, the industry as a whole remains somewhat cautious. And even King said he'd be more inclined to spend cash on share buybacks at present, given his company's lower valuation. BB&T stock has fallen about 11% this year, to $33.66 as of Tuesday, but it has still outperformed both the KBW or the S&P 500 financials indexes.
"In this environment, I think M&A is less likely," King said at a Credit Suisse financial services conference in February. "I think buyback is getting more likely."
 Another obstacle to deal-making is the drop in energy prices, which will heighten the risk of loan defaults from major borrowers at mid-size banks in oil-producing regions, Solar said.
"There's going to be a wait-and-see sort of approach in Texas," for instance, since the risk of loan losses would make negotiating terms more difficult, she said. "That would likely slow M&A."