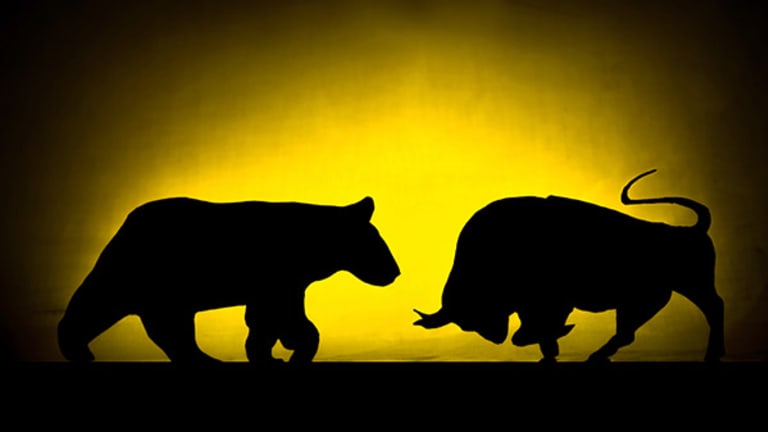 Are Hedge Funds Technically Wrong?
Charts show 'hedge hogs' shouldn't dump AAPL and some other big-caps.
Charts show 'hedge hogs' shouldn't dump AAPL and some other big-caps.
My colleague Jonas Elmerraji of TheStreet recently took a fundamental look at five stocks that 13F filings show that hedge funds are selling -- concluding that some aren't so bad after all. Let's check out how they look on a technical basis as well.
Now, hedge funds aren't known for their overt use of technical analysis. After all, you need to offer clients something more sophisticated than oscillators and moving averages when you charge 2% annual fees (and sometimes take 20% of the upside as well).
Still, here's my technical take on the five stocks that Elmerraji wrote about:
Apple (AAPL) - Get Report
I see a possible "cup-and-handle" formation when I look at the daily chart for Apple (a component of Actions Alerts Plus):

Source: BigCharts.com
A cup and handle is a bottom pattern popularized by William O'Neil of Investor's Business Daily fame. It combines a saucer-like pattern with a breakout and a subsequent retracement.
In Apple's case, the cup pattern starts back in December, with an upside breakout looking like it occurred earlier this month when AAPL broke above $110 a share. Since then, prices have been pulling back on light volume over the past week or so.
Another strong push to the upside with increased volume would give me confidence in my bullish observation. But add in the fact that momentum isn't diverging from the price action and I already favor an upside move for the stock. I think the bullish "golden cross" of Apple's 50- and 200-day moving averages that we saw in early September only adds to the stock's positive setup.
Microsoft (MSFT) - Get Report
Dow-30 component Microsoft's daily chart shows a $48-to-$57 trading range from November to July, followed by a break above $57 in late July and then a shallow pullback or retest:

Source: BigCharts.com
But now, the stock's price is pointing up along with its 50- and 200-day moving averages. The On-Balance-Volume line has also moved up strongly since late June, supporting a bull case for Microsoft. Add in the fact that momentum isn't diverging and I would take a bullish stance on the name.
Allergan (AGN) - Get Report
I must agree with the Allergan bears when I look at a daily chart for the pharmaceuticals giant, which Action Alerts Plus owns:

Source: BigCharts.com
While AGN has managed to rally from its May nadir, the upward move stopped well short of the stock's declining 200-day moving average line. Allergan also failed this month at the underside of its 50-day moving average.
The stock's OBV line has likewise made little upside movement since April, which suggests little in the way of aggressive buying.
Delta Air Lines (DAL) - Get Report
Delta's daily chart shows that stock has a bearish flight plan, making lower lows and lower highs:

Source: BigCharts.com
In fact, DAL's price has made a triangle-like pattern since July -- and triangles are "continuation patterns," meaning that after the pattern is complete, you typically see a stock's price continue with its previous trend. In Delta's case, that points downward.
DAL currently trades at around $39 a share, but if it can't break over resistance in the $40-$42 area, another move to the downside might be coming in the weeks ahead.
Target (TGT) - Get Report
Retail giant Target's daily chart has a price pattern that we see with many retailers:

Source: BigCharts.com
While TGT has been able to bounce from the $68-$66 area before, a declining OBV line and bearish moving averages suggest that further price weakness seems more likely as we approach the fourth quarter.
Editor's Note: This article was originally published at 3:45 p.m. EDT on Real Money on Sept. 28.
Employees of TheStreet are restricted from trading individual securities.