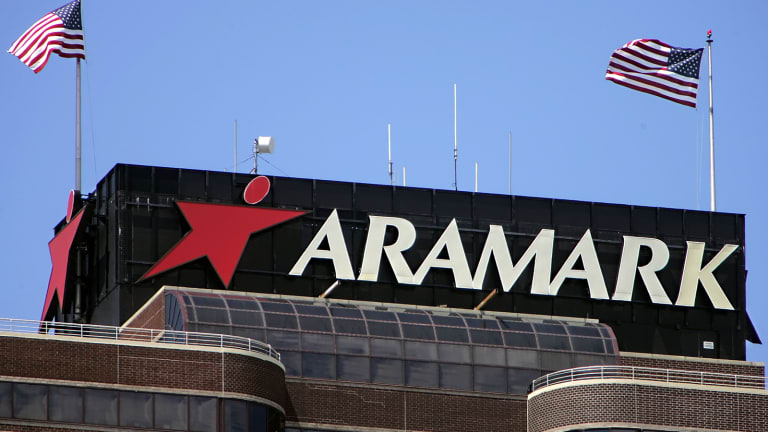 Aramark Tumbles on Second-Quarter Earnings Miss
Aramark Holdings falls after missing Wall Street's earnings expectations.
Shares of Aramark Holdings  (ARMK) fell 6.7% to $29.20 Tuesday after the food, facilities and uniform services provider missed Wall Street's second-quarter earnings expectations.
The Philadelphia-based company reported net income of $29 million. or 12 cents a share, compared with income of $28 million, or 11 cents a share, a year ago. Adjusted income came to 45 cents a share, missing analysts' expectations of 50 cents. Revenue increased 6.7% to $4 billion, meeting analysts' forecasts.  
Aramark updated its 2019 adjusted earnings to a range of $2.20 to $2.30 a share, which reflects the impact of strategic portfolio actions in the company's international segment, as well as adverse weather.
The company said that a stronger U.S. dollar decreased revenue by roughly $89 million and had a negative impact of about $4 million on operating income. It also had a 1-cent negative impact on adjusted earnings per share, Aramark said.
Last year, Aramark closed the acquisitions of hospitality procurement services Avendra for $1.35 billion and uniform and linen company AmeriPride Services for $1 billion in separate deals.
"We saw strong revenue growth in the quarter, while simultaneously making deliberate investments to support new and existing clients," Eric J. Foss, chairman, president and CEO, said in a statement. "We are making tangible progress on our transformational growth strategy, as we continue to innovate and strengthen our brand and product portfolio to create a consistently great customer experience."