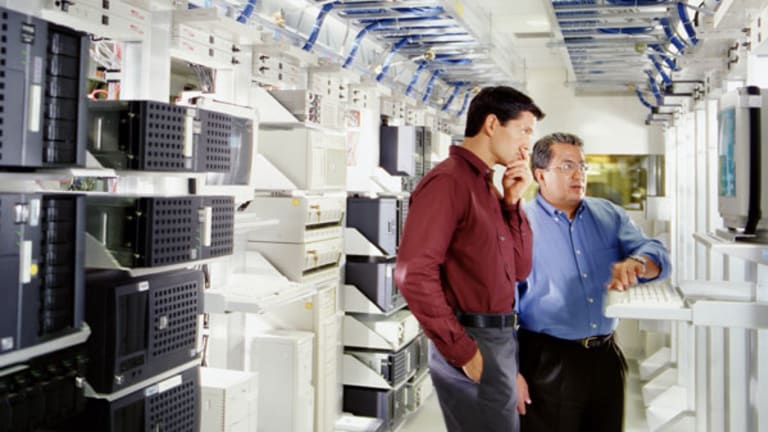 It's billed as a response to
Google
(GOOG) - Get Alphabet Inc. Class C Report
. But
Microsoft's
(MSFT) - Get Microsoft Corporation (MSFT) Report
latest acquisition has as much to do with its own aging software business as it does with its rival.
On Friday, Microsoft said it would
acquire
aQuantive
( AQNT) for $6 billion -- a massive 85% premium to where shares of the interactive ad agency had traded the day before. Many commentators scoffed at the price tag, seeing it as an admission by the software giant that it had failed to crack the Internet.
But if it succeeds, the bet will do more than just give Microsoft another shot at the Web. It will also help Microsoft evade the inevitable slowing in its bread-and-butter businesses.
aQuantive gets most of its revenue -- 60%, by investment bank Goldman Sachs' estimates -- by selling services to advertisers who want to reach customers through digital forums. That sets aQuantive apart from other online ad companies like
DoubleClick
, which was recently acquired by Google, or
ValueClick
(VCLK)
, which has seen its stock soar amid takeover speculation. Those companies are known for selling technologies to Web publishers who want to place ads on their own sites, not advertisers.
And while aQuantive is often mentioned in the same breath as DoubleClick or ValueClick, it's unique in having the ear of so many top notch online advertisers. And that's why aQuantive is so valuable to Microsoft. The traditional method of selling software in shrink-wrapped packages and through expensive annual licenses is being displaced by a more nimble way in which software is delivered over the Internet. Some of this so called Software-as-a-Service, or SaaS, model will rely on having ads placed next to it, which Microsoft knows.
"We are investing in this concept of software plus services," Microsoft platforms and services division president Kevin Johnson said in a conference call for investors to explain the deal. "Whether it is Windows Live, Office Live, or Xbox Live, we will have a set of online services -- many of which will be monetized using online advertising."
Ads, in other words, will prop up many of the products that Microsoft currently charges for. And given the vast scale of its business -- annual revenue came in close to $50 billion -- even a slight up tick in the rates can total vast sums in the long run. Along with propping up those businesses, Microsoft will also seek to put ads in emerging mediums ranging from video games to IPTV.
aQuantive, meanwhile, is the ideal company to nudge advertisers toward the host of new offerings that Microsoft is rolling out. The company has a reputation for both creating and monitoring cutting-edge ads. Who better to help customers not only plot ambitious new campaigns in the brave new world of Microsoft advertising, but also to quantify the results?
"aQuantive has a who-is-who list of customers, and a very strong set of relationships developed since the early days of online advertising," Goldman Sachs analyst Sarah Friar wrote in a research note on Friday. Goldman Sachs makes a market in Microsoft shares.
But it's not just aQuantive's star-studded list of customers that Microsoft values. It's also who counts aQuantive as a significant customer: Google. Managing online campaigns for advertisers makes aQuantive a major user of Google's platform -- and gives the company the perfect perch to help Microsoft bring its own offering up to speed.
"We believe aQuantive's familiarity with Google's platform, from the advertiser's perspective, can potentially bring significant benefits in improving Microsoft's own adCenter," Friar writes.
If Microsoft's bold bet pays off, the premium it paid for aQuantive will seem like pocket change. And if it doesn't, Microsoft will be stuck with a stagnant software business as it continues to flail with the Internet. At that point, a mere $3 billion premium down the drain will be the least of its worries.