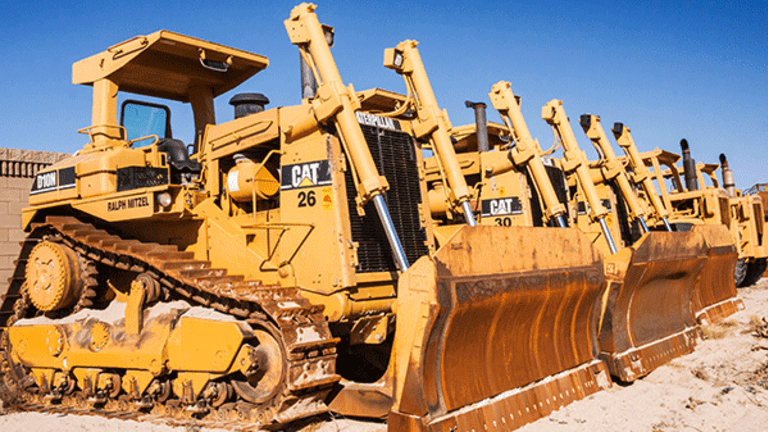 Publish date:
Approach Caterpillar's Stock With Caution
The construction equipment company has little upside remaining.
The construction equipment company has little upside remaining.
Shares of the $55.2 billion construction machinery giant Caterpillar (CAT) - Get Report have witnessed a gradual ascent, up 24.3% over the past year, underperforming peers like Deere (DE) - Get Report (44.3%) and Illinois Tool Works (ITW) - Get Report (28.2%).
This relatively sluggish share movement, coupled with Goldman Sachs' positive view on the mining & construction machinery segment has led to the stock finding a place in its 'conviction list'.
We would, however, recommend caution. Caterpillar's dividend focus in a difficult economic cycle is commendable, but its immediate earnings growth prospects are uncertain.
The optimism around Caterpillar is driven by three factors: a recovery in commodity prices fueling a possible demand for machinery, Trump's focus on infrastructure with a $1 trillion spending plan, and a sense that the company's former struggles are now behind it.
Trading at a forward price-to-earnings ratio of 21.25 times, a chunk of that optimism is already factored into the stock.
2016 was terrible for Caterpillar with its fourth consecutive annual revenue drop since 2012. The company also booked a net loss of $67 million, a far cry from the $2.5 billion net income it reported in 2015.
Most of Wall Street isn't particularly bullish on the stock, in the short term, either. Annual sales are expected to drop 1.7% year-over-year to $37.9 billion, implying that the company's sales won't recover this year.
Several of its key arms such as aftermarket mining equipment and Chinese construction equipment are scheduled for a recovery. Sales growth is still slated to be sluggish and earnings per share (EPS) are projected to drop by over 8% this year to $3.14.
Trump's grand infrastructure plan, now pushed back to 2018, is at best a work in progress.
Investors are also advised to be wary of two key developments.
U.S. officials carried out raids on Caterpillar's offices. A new report commissioned by the U.S. government accuses the company of engaging in tax and accounting fraud. The IRS is pursuing over $2 billion in income taxes and penalties on profits, earned by Caterpillar's Swiss subsidiary. A federal probe is also in progress, discussing the heavy equipment maker's overseas business dealings.
Caterpillar's retail sales numbers aren't particularly healthy either. Retail machines sales were down 1% year-over-year in the three-month period ended February. The Resources segment was down by 7% and construction industries were up 2%. Energy & transportation retail sales were down 9% as well.
True, Caterpillar offers an attractive dividend yield of 3.34%, but its payout ratio is almost at 100%, which is worrisome. With $36.8 billion in debt and an uneven earnings outlook, the company will eventually rethink its yield numbers if the slump continues.
The events of the last few months have left Caterpillar with little room for a bigger bump and other nagging distractions don't help the situation either.
---
As we've just explained, investors should avoid Caterpillar's stock for now. If you're looking for better growth opportunities, we've found a genius trader who turned $50,000 into $5 million by using his proprietary trading method. For a limited time, he's guaranteeing you $67,548 per year in profitable trades if you follow his simple step-by-step process.Click here now for details.
The author is an independent contributor who at the time of publication owned none of the stocks mentioned.