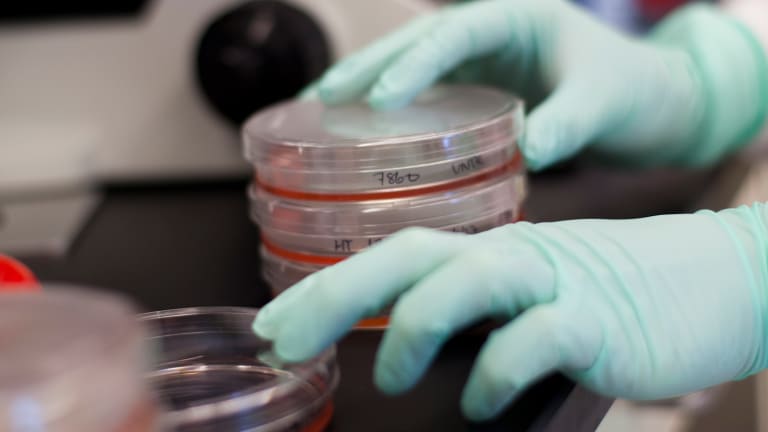 Applied DNA Sciences Is Surging in Antitheft, Fraud Prevention Business
DNA-based authentication company Applied DNA Sciences has significantly bucked the bearish trend among biotech firms over the past month.
NEW YORK (TheStreet) -- Applied DNA Sciences (APDN) - Get Applied DNA Sciences, Inc. Report has significantly bucked the bearish biotech trend in the past month. Its CEO, Dr. James Hayward, said the DNA-based authentication company has only begun to make its mark.
Shares of Applied DNA Sciences have risen over 45% in the past month and are up 80% year-to-date. By comparison, the iShares Nasdaq Biotechnology ETF (IBB) - Get iShares NASDAQ Biotechnology ETF Report is down 15% in the past month and 4% so far this year due to worries about valuations and price-gouging.
The company's solutions and its SigNature DNA mark protect products, brands, entire supply chains, and intellectual property of companies, governments and consumers from theft, counterfeiting, fraud and diversion. The company's products provide a forensic chain of evidence and can be used to prosecute perpetrators.
Last week, the company announced a pilot program with printer Creative Labels to help its customers protect their products with anti-counterfeiting technologies, offering them an entry-level opportunity to prove the value of this technology before developing their own SigNature DNA. For those not ready to make changes to their main label, Creative Labels will offer a SigNature DNA Seal of Authenticity that cannot be duplicated.
"We can put that mark on virtually anything, we have yet to fail," said Hayward.
In mid-September, Applied DNA purchased the assets of privately held Vandalia Research for $1.5 million in cash to boost its manufacturing capabilities. Vandalia's core technology and intellectual property portfolio, allow for the large-scale production of specific DNA sequences using polymerase chain reaction (PCR). PCR can amplify a few copies of a piece of DNA, generating millions to billions of copies without the impurities of fermentation, according to the company.
"We had used Vandalia to outsource some of our production in the past and we were very impressed," said Hayward. "Alone we have enormous capacity to manufacture DNA but combined with Vandalia, we without a doubt have the world's largest capacity to manufacture DNA."
The consensus prediction of Wall Street analysts is that the company will lose 53 cents a share in 2015 and drop another 27 cents a share in fiscal 2016. Hayward, however, said the company is heading quickly in the right direction in what is turning out to be a banner year.
"We have no regulatory approval so we can be very fast to market," said Hayward. "If you look at our performance over the last three quarters, we've grown our top line 50% consecutively."