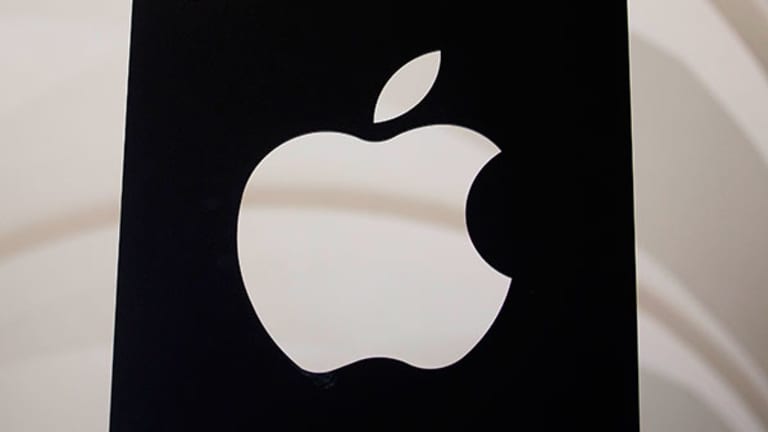 Apple's R&D Could Trump Icahn's $150 Billion Buyback Plan
Apple can use its ability to profitably invest in its business as a means to fight Carl Icahn.
NEW YORK (TheStreet) - If Apple (AAPL) doesn't want to continue to engage billionaire activist investor Carl Icahn with his proposals for a $150 billion share buyback, the company should give investors added clarity on its research and development activity and its product pipeline.
Apple's record-breaking earnings and product launches aren't moving the firm's stagnant share price, nor are its efforts to return cash to investors by way of another record -- $100 billion in dividends and share buybacks through 2015.
The company's inability to move its share price with tangible earnings, dividends and buybacks, ironically, comes at a time when investors appear willing to bid up the shares of low-profit firms such as Amazon (AMZN) , Tesla (TSLA) and Netflix (NFLX) to ever-higher prices.
Now investors like Icahn are clamoring for Apple to release its stockpile of cash and cash equivalents as a means to improve the firm's discounted market valuation.
Icahn believes that if Apple released its cash through a buyback, it would immediately add over 30% to the firm's earnings per share and could lead to a more-than doubling of the Apple's stock price in coming years.
Given Apple's uniquely solid financial footing and earnings outlook, it is hard to argue against Icahn's math and his understanding of the firm's capital structure.
To Apple customers and those who consider the firm to be among the nation's top innovators, however, a discussion about buybacks and capital structure is likely to be taken more as a rude Wall Street attack on a well-run company.
Icahn has invested billions in the firm's shares and said he is willing to initiate a shareholder proxy battle if the firm refuses to take up his buyback proposal. But Apple's management may feel confident about their products after a well-received revamp of the company's iPhone, iPad, MacBook and software offerings.
"Can't innovate anymore, my ass," to quote of Apple marketing chief Phil Schiler, appears to be the firm's operating mantra heading into an all-important holiday season sales push. It's hard to argue against that statement, considering the quality of Apple's next-generation products.
However, if Apple is going to dismiss Icahn's buyback proposal after CEO Tim Cook and CFO Peter Oppenheimer met with the activist earlier this year, the company would do well to further explain how it is investing its cash. 
The company could effectively fight criticism from number crunchers like Icahn with greater clarity on its strategic direction, which would appeal to a different crowd of investors and users.
Apple is decidedly opaque about its research and development  and its overall product pipeline.
Investors still are left to speculate on whether the firm will launch an iWatch or a smart television. They also are also waiting for the major next breakthrough product.
To prove to investors something groundbreaking is in the works, Apple could increase its discussion about its research and development activity. The company also has the ability to dramatically increase its R&D and capital spending if it is unwilling to release its cash to shareholders.
Apple's R&D spending falls woefully short when compared against competitors such as Google (GOOG) and Amazon.
In 2012, Apple spent $3.4 billion on R&D, or about 8% of the firm's overall $41.7 billion in earnings. That contrasts with $6.1 billion in 2012 R&D spending at Google and $4.6 billion in R&D spending at Amazon. Those figures stand in even greater contrast when stacked up against Google's 2012 net income of over $10 billion and Amazon's razor-thin profitability.
It is no surprise to see greater buzz about Google and Amazon's product pipeline.
Apple's R&D spending also seems light when compared with previous spells of innovation at the company.
When Apple was in the midst of developing the iPhone, the company appears to have invested in R&D at a rate of between 25% and 80% of overall net income.
Annual profits have risen more than tenfold since Apple launched its iPhone, however, R&D spending is up roughly fourfold, according to Bloomberg data. 
And still Apple's R&D spending should be celebrated.
The company generates a return on assets that is roughly double the ROA generated from Google, in spite of its cash hoard. Amazon's ROA is currently negative, given the firm's lack of profitability.
One way or another, Apple is going to have to spend its way to success.
If the company decides to take an aversion to investors grubbing over the firm's cash, Apple would do well to instead focus on dramatically boosting its investment in new products and innovations.
Written by Antoine Gara in New York