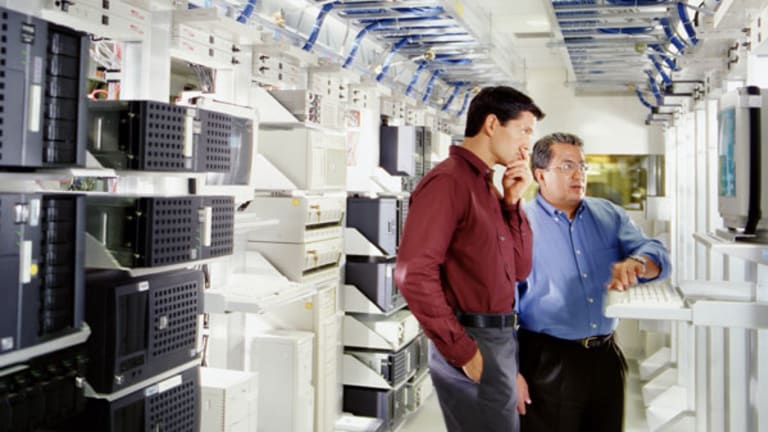 Apple's iTV Intriguing but Not a Core Business
The iPod maker's foray into the living room is not a sure hit.
Updated from 3:20 p.m. EDTWill couch potatoes make room for an Apple?
Investors will get their first hints at an answer to that question this January, when
Apple
(AAPL) - Get Apple Inc. (AAPL) Report
makes its first big foray into the living room.
As company CEO Steve Jobs
announced last week, Apple plans to introduce at the very beginning of the year a device code-named iTV that will enable users to stream the digital content on their computers -- movies, music, photographs -- to their home entertainment systems.
Industry analysts are intrigued by the device and say it could be a key building block in creating the
digital living room. But don't expect iTV to be a runaway hit a la Apple's iPods, they say.
"For them to come out with this product validates this idea in general. It recognizes that people want to start to move
their digital media around," says Stephen Baker, an analyst with market research firm NPD.
But iTV is a very early attempt to address a nascent market, Baker says, suggesting that iTV could go a long way toward establishing a market for devices that connect consumers' computers to their home entertainment systems.
Many analysts believe that hardware for, and services that deliver content to, the digital living room will eventually be a huge market -- potentially replacing sales of products such as CD and DVD players and discs, and conventional cable TV.
But expectations that computers and entertainment centers would converge in some fashion date back nearly 30 years. Though the technology certainly is closer to making the digital living room a reality today, the market still hasn't really taken off.
More specifically, iTV's success could be important for Apple. The company's growth in recent years has been driven largely by its lineup of iPod digital music players. But with the digital music market maturing out of the hypergrowth phase, investors have been on the lookout for the company's next growth area.
iTV -- and Apple's new movie download service that will link to it -- is one of the first moves by the company to broaden beyond the digital music and computer markets into a new market.
There are good reasons to believe that couch spuds could welcome Apple into their living rooms. Not least among them is Apple's success in digital music and related markets: The company simply dominates the digital music market, holding more than a 75% share of U.S. sales of portable digital players and nearly 90% of sales of digital music downloads.
Moreover, Apple has done far better at selling TV shows than many investors imagined when the company added them to its iTunes Music Store last year. At last count, Apple had sold roughly 45 million shows and now has the support of all the major networks.
It's
not a stretch to believe that consumers who now have much of their music and TV shows on their computers and iPods might be interested in playing that content on their home entertainment systems.
"The value proposition is easy to explain," says Van Baker, an analyst with Gartner. Consumers' best audio and video equipment is typically in their living rooms, he says. "Who wouldn't want to watch their movies or listen to their music
there?"
Gartner's Baker, among other analysts, blame today's small market for digital living room devices on the complexity of the products. They weren't easy to use, they were often difficult to configure and set up -- and they weren't compatible with the files consumers have purchased from iTunes.
In contrast, analysts attribute a good deal of Apple's success in digital music to the iPod's ease of use and to how seamlessly it works with iTunes. Ostensibly, iTV would offer similar simplicity in the digital living room.
"This market is crying out for an Apple solution," says Van Baker.
That may be, but the company and iTV still face some significant challenges.
As much as analysts believe that the digital living room is the wave of the future, the market is still unproven; products haven't sold well. And it's unclear if consumers are clamoring for a box that will link their computers to their entertainment centers.
Indeed, in some ways, existing technology is cheaper, easier and better than what iTV or other digital living room products can offer. Downloading a single feature length movie from iTunes will take at least 30 minutes -- under optimal conditions.
Many consumers may find that their local
Blockbuster
(BBI) - Get Brickell Biotech, Inc. Report
or
Best Buy
(BBY) - Get Best Buy Co., Inc. Report
is a lot closer than that, and they can get a selection of DVDs at the same time.
And consumers get a lot more with a DVD that they won't get with an iTunes movie. Most DVDs include extras such as documentaries and outtakes that don't come with digital downloads. And while DVDs work on every DVD player, iTunes-purchased movies will only play on Apple's iPods and iTV, as well as on computer's via Apple's software.
Then there are devices that offer similar functions at a cheaper price. Want to play your digital music and view your digital photos in your living room? Apple itself offers a cable that plugs into your iPod and does just that for just $20 -- or less than one-tenth the expected $300 price of iTV.
iTV also could see significant competition from
Sony
(SNE) - Get SONY GROUP CORPORATION SPONSORED ADR Report
and
Microsoft
(MSFT) - Get Microsoft Corporation (MSFT) Report
. Both companies have new video-game consoles that can be used as living room media hubs.
Unlike Apple's iTV, both devices will be on store shelves this holiday season, and sales of both are expected to be in the millions of units, if only for their video-game functions.
And then there's the threat from companies that are already delivering video to the living room, namely the satellite and cable companies. Those companies are already dabbling with portable media devices and have consistently upgraded their set-top boxes with more and more features.
"The primary source of video viewing is going to be pay-TV as far out as the eye can see," says Danielle Levitas, an analyst with market research firm IDC. "It's not as if those
companies are going to sit still not do anything."
Those kinds of challenges convince even those who are bullish about iTV and Apple's movie store that Apple won't be a core part of the consumer's living rooms anytime soon.
Apple's efforts "will go a long way toward helping Apple consolidate its hold on the entertainment space," Van Baker says, asking, "Is there going be huge market for it tomorrow?
"No."