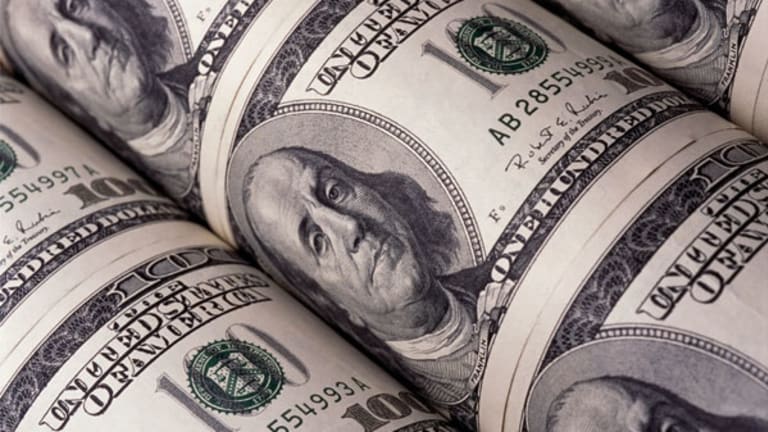 Apple's Got to Drop
In the last three years, every time Apple has reached a round number, it has pulled back.
In the last three years, every time Apple has reached a round number, it has pulled back.
This column originally was published on Real Money at 12 p.m. Friday.
On Thursday,
Apple
(AAPL) - Get Report
kissed $600 before pulling back -- and, all in all, since late November it's been a breathtaking move for a company this big. At that point, the stock had traded in the mid-$360s.
I remember, at that time, there were many technicians on Twitter saying Apple's stock chart was broken and it was going to be an easy move down to $300. Well, here we are now at $600. It's remarkable.
I've been long Apple for some time and had been complaining that the stock was underpriced. I was at an Apple Investor conference in Los Angeles this week, and many people there were touting the long-term potential for the stock, still, at these levels.
I absolutely agree with their bullishness. However, after such a big move, it's very hard for me to be optimistic on the stock in the short term.
In the last three years, every time Apple shares have hit a new round-number $100 level, it led to a big pullback and a consolidation before shares leapt above that level for good. We saw this happen at $200, $300 and $400. It's only been in these last few weeks, with the rapid move past $400 and $500, that we've seen the stock move so easily move through these psychologically important areas.
Now we have new worrywarts saying a company this big can't keep growing at these levels. That's what they said when the stock passed $250 billion, by the way.
We also have people saying Apple is a bubble because their grandmother has started talking about the stock, and because the stock's move has been so meteoric.
As far as Apple's size is concerned, I agree with the bulls who say the company is in a far different situation than what's suggested by this, given its market-share levels in key markets and the potential growth of those markets overall. But I also believe those worrywarts: The achievement of $600 a share in such a swift period means Apple is in for a pullback.
Friday, we'll hear about how well the new iPad sales are doing, and we'll hear about the first-weekend successes. Over the next two weeks, we're also likely to hear about sell-side analysts lifting upping their price targets on the company, reflecting sales of the new iPad. Yet, I just don't believe this can help Apple's stock for the next four to six months.
I believe it's much likelier that Apple will see $500 before it'll hit $700. Of course, maybe that's wishful thinking on my part, because I'd love to pick up more stock in Apple at a lower price than where it currently stands.
Turning to more fundamental questions, what's the bullish case for even more growth at Apple? Here's one point: Despite the mega growth for the company, as analyst Horace Dediu pointed out Thursday, Apple only has 6% of the global phone market and 9% of the PC market. What's more, it created the tablet category.
In phones, even though I'd estimate about 80% of the people I saw walking around L.A. Thursday were carrying an iPhone, most of the world still uses feature phones. It's when you see 80% of people in Kunming, China carrying iPhones that we'll know Apple has hit a saturation point.
In PCs, despite a slower-growing industry growth rate, Apple has been hitting the cover off the ball with their Macs. When people buy iPhones and iPads -- and they've been doing so in increasingly greater numbers -- they tend to start wanting a Mac as well. It's difficult to see Apple's growth rate slowing in this sector.
As far as tablets are concerned, some have provocatively said that there is really only an iPad market, and not a tablet market. Apple certainly hopes it is able to retain its iPad-type market share for some time, rather than dipping to its iPhone-type market share levels.
All of this, put together, is why I still feel there's ample opportunity ahead for Apple's business and its stock price. Even though Wall Street will likely get more skeptical on the company as it gets even bigger -- and this will probably mean smaller price-to-earnings and price-to-sales ratios -- the growth is set to more than make up for this. That, in turn, should keep the stock moving to $1,000 and beyond in the next three years.
At the time of publication, Jackson was long AAPL
.
Eric Jackson is founder and Managing Member of Ironfire Capital and the general partner and investment manager of Ironfire Capital US Fund LP and Ironfire Capital International Fund, Ltd. In January 2007, Jackson started the world's first Internet-based campaign to increase shareholder value at Yahoo!, leading to a change in CEOs in 2007. He also spoke out in favor of Yahoo!'s accepting Microsoft's buyout offer in 2008. Global Proxy Watch named Jackson as one of its 10 "Stars" who positively influenced international corporate governance and shareowner value in 2007.
Prior to founding Ironfire Capital, Jackson was President and CEO of Jackson Leadership Systems, Inc., a leadership, strategy, and governance consulting firm. He completed his Ph.D. in the Management Department at the Columbia University Graduate School of Business in New York, with a specialization in Strategic Management and Corporate Governance, and holds a B.A. from McGill University.
He was previously Vice President of Strategy and Business Development at VoiceGenie Technologies, a software firm now owned by Alcatel-Lucent. In 2004, Jackson founded the Young Patrons' Circle at the Royal Ontario Museum in Toronto, which is now the second-largest social and philanthropic group of its kind in North America, raising $500,000 annually for the museum. You can follow Jackson on Twitter at www.twitter.com/ericjackson or @ericjackson.
You can contact Eric by emailing him at eric.jackson@thestreet.com.