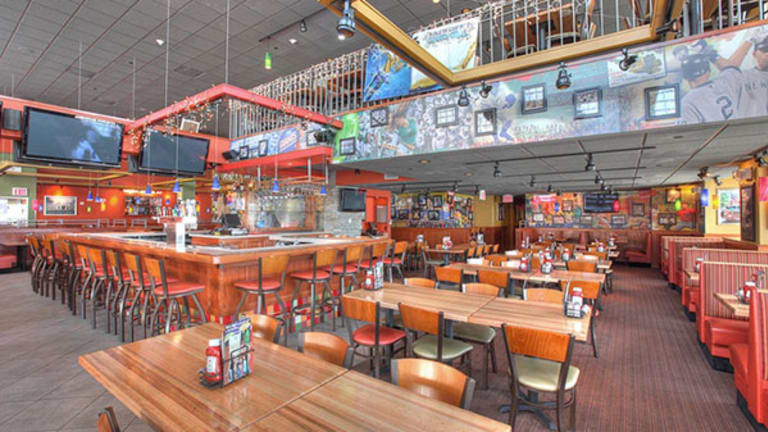 Applebee's Aims to Put Some Sizzle Back Into Its Sales
The restaurant chain has rolled out new wood-fired grills and now offers USDA Choice steaks.
DineEquity (DIN) - Get Dine Brands Global, Inc. Report  is looking to put some sizzle back into the sales at its Applebee's restaurant chain after several challenging quarters. And to do so, the restaurant operator is wagering that Americans would rather pay a few bucks more to eat wood-fired grilled steak, salmon and pork instead of proteins served over a lifeless gas grill.
Over the past few months, Applebee's has replaced its boring gas grills with new wood-fired grills that use American Oak at all of its 1,900 U.S. locations. The move will change the taste and flavor profile of about 40% of the items on the Applebee's menu.
Applebee's is also converting to USDA Choice steaks from ones that were not graded. Servers have been trained to properly highlight the differences of the new wood-fired grilled menu to customers. Meanwhile, Applebee's has trained 6,000 meat cutters to now slice beef that no longer comes in frozen off a truck.
The overall investment in the grills, training and marketing -- a cool $75 million.
TheStreet sampled the new wood-fired grilled menu at the world's biggest Applebee's in New York, and came away generally impressed. Is the sirloin comparable in quality to ones found at fine-dining establishments or the local hipster BBQ joint that has lines around the block? Not exactly. But, the steak was juicy, easy to cut and chew and had a hint of the smokey flavor advertised on TV. If anything, it did need some seasoning and more smoke flavor.
Importantly, though, the overall quality of the beef was far superior to what was previously on the Applebee's menu - likely as it's not frozen -- and well ahead of the beef found at direct competitors Chili's, which is a division of Brinker International (EAT) - Get Brinker International, Inc. Report , and privately held TGI Friday's.
The wood-fired menu could help Applebee's differentiate itself in the sea of sameness that is hampering many casual dining establishments and reawaken its top line, and stock price. Applebee's domestic same-store sales have dropped for three straight quarters, and fell 3.7% in the first quarter.
At Chili's, domestic same-store sales dropped 3.6% in the most recent quarter. Shares of DineEquity and Brinker International have shed about 2.3% and 7.3%, respectively so far this year.
"From the consumer's perspective, there is this perception of a sea of sameness in casual dining," explained DineEquity CEO Julia Stewart during a May 5 earnings call, adding, "we are very focused on doing what we think is right to turn that trajectory around and differentiate the brand from what I think is the perception of the sea of sameness."
Next up for Applebee's? Potentially new types of wood flavors to keep things interesting.