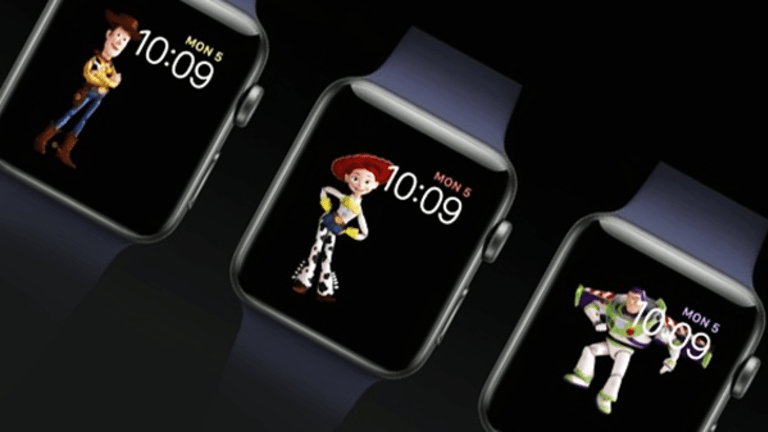 Apple Watch Is on Its Way to Becoming a $6 Billion Business, but Is That Really Enough?
After a slump early last year, the smartwatch's sales have been rebounding.
Two years after the original Apple Watch launched, how successful one considers the smartwatch to be is really a matter of perspective.
The glass-half-empty view: The watch is far more of an iPhone accessory business than Apple Inc.'s (AAPL) - Get Apple Inc. Report "next big thing." Its annual sales still appear to be a fraction of Apple's Mac and iPad revenue, never mind iPhone revenue.
The glass-half-full view: Even if its sales have fallen short of initial hopes, it looks as if the watch is adding over $4 billion per year to Apple's top line, and at a high margin. And there are reasons to think that contribution will grow meaningfully in the coming years.
On Monday, June 5, watch shipment estimates from research firm IDC drove home how the business is rebounding, after having struggled in early 2016. And soon afterwards, Apple made a couple of announcements at its WWDC developer conference that suggest it understands a thing or two about how to grow the watch's appeal.
IDC estimated watch shipments, boosted by last September's launch of the Apple Watch Series 2, rose 64.1% in Q1 to 3.6 million units. That was good for an estimated 14.6% wearables unit share; revenue share is bound to be much higher, since a large portion of the 24.7 million wearables IDC thinks shipped in Q1 consist of fitness trackers with sub-$100 prices.
Regardless, IDC's estimate indicates the watch added to the sales momentum it saw in seasonally big Q4, when shipments rose an estimated 16% to 4.6 million. And it largely fits with what Apple reported in early May: The company announced its "Other Products" revenue, which covers the Apple Watch, Apple TV set-tops, iPods, Beats headphones, AirPods and accessories, grew 31% in calendar Q1 to $2.87 billion.
Gauging just how much of that "Other Products" revenue was provided by the watch remains a guessing game, since Apple still declines to give a number. The fact that individual models costs anywhere from $269 (the current price for the Series 1 with a 38mm case) to over $1,000 (certain Series 2 models featuring premium bands and/or case materials) doesn't make things easier.
If one assumes a $400 average selling price (ASP), that suggests the watch produced $4.3 billion in revenue last year, based on IDC's 2016 shipment estimate of 10.7 million. If one uses the $450 ASP estimate provided by some analysts, revenue stands at $4.8 billion.
Editors' pick: Originally published June 7.
The 3.6 million Q1 shipments implies quarterly revenue of $1.4 billion at a $400 ASP, and $1.6 billion at a $450 ASP. Split the difference, and you're looking at a business with a $6 billion revenue run rate, before accounting for Q4's seasonal strength. It should be noted, though, that even $7 billion in sales would only be equal to around 3% of Apple's expected 2017 revenue.
As expected, Apple took some time at WWDC to unveil watchOS 4, which will be available to Apple Watch users this fall (possibly coinciding with a Series 3 Watch launch). While many of the watchOS 4 features announced were pretty incremental -- for example, an improved Workout app, new animated watch faces and the ability to automatically sync music playlists -- a new Siri Watch face is a notable improvement.
The feature intelligently surfaces appointment reminders, traffic updates, news headlines, activity data and other information on the watch's display when a user raises his or her wrist (echoes of Google Now cards). Assuming the algorithms behind it work well, the feature should help address a major pain point with smartwatches in general: Navigating apps via their tiny screens and even tinier controls to find content that one wants is often frustrating.
Also announced at WWDC: The Apple Watch is getting a programming interface (API) that will let third-party sensors directly communicate with it, rather than having to communicate with an iPhone. This can be useful while jogging, playing sports or engaging in other activities during which a user is wearing the watch, but doesn't have his or her phone on hand. Shares of medical device maker Dexcom (DXCM) - Get DexCom, Inc. Report (already partnering with Google) jumped on Monday following news the watch will be able to sync with a Dexcom glucose monitor. Plenty of other sensor makers should provide similar announcements in the coming months.
It's hardly a secret that the core limitations of smartwatches have curtailed their addressable market. The aforementioned tiny screens and controls have led many consumers to decide smartphones are the only information source they need while on the go, even if smartwatches can deliver some information slightly faster since they don't need to be taken out of one's pocket.
And for all the work Apple and others have done to add health/fitness-tracking features to their watches, many fitness enthusiasts prefer to stick with fitness trackers, owing to their cost, weight and battery life advantages. The last benefit is of particular value if one cares about sleep-tracking.
But there is clearly a subset of consumers who find value in the smartwatch's unique blend of information delivery, music playback and health/fitness-tracking features. And within that subset, the Apple Watch clearly reigns supreme. The 3.6 million Watches IDC estimates Apple shipped in Q1 is more than twice the 1.4 million wearable devices (both smartwatches and fitness trackers) IDC estimates for No. 2 smartwatch vendor Samsung.
The software/services ecosystem Apple has built for the watch has aided its cause. So has its hardware and chip engineering, which has led to weight and battery life advantages over rival products running Alphabet/Google's (GOOGL) - Get Alphabet Inc. Class A Report Android Wear or Samsung's Tizen OS. Apple's status as a premium consumer brand (a big deal in a market such as watches) also hasn't hurt, nor have its efforts to provide a wide variety of band and case options.
And ahead of an expected fall Apple Watch Series 3 launch -- possible features include a 4G modem, an improved display and support for "smart bands" that can feature things like sensors and batteries -- Apple is coming up with compelling ways to improve the watch's consumer appeal and broaden its hardware ecosystem. The product may not be a spectacular success, at least not in the context of 2015 expectations, but it's hard to call it an abject failure at this point, either.
Apple and Alphabet are holdings in Jim Cramer'sAction Alerts PLUS Charitable Trust Portfolio. Want to be alerted before Cramer buys or sells AAPL and GOOGL? Learn more now.
This column originally appeared on June 6 on Real Money, our premium site for active traders. Click here to get more great columns like this.