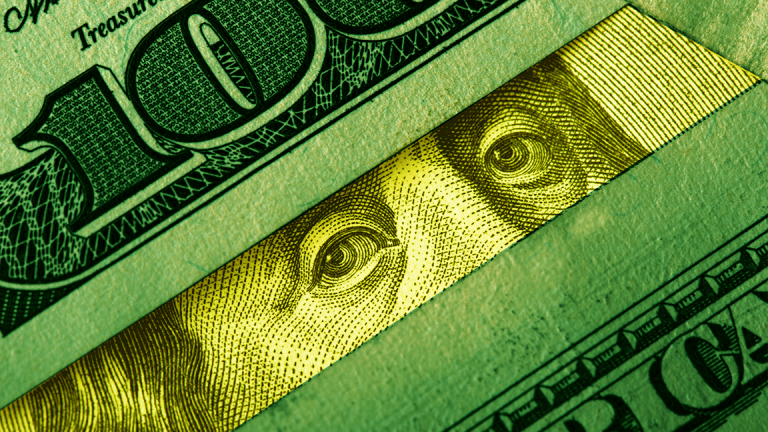 Apple Warning Sparks Currency 'Flash Crash,' Highlighting Strong Dollar Concerns
Apple's shock revenue warning triggered the biggest 'flash crash' in global currency markets in more than two years.
Apple Inc's (AAPL) - Get Apple Inc. (AAPL) Report shock revenue warning triggered the biggest "flash crash" in global currency markets in more than two years late Wednesday in move that reminded investors of increasing liquidity concerns linked in part to the tightening policies of the U.S. Federal Reserve.
The Japanese yen, a traditional flight-to-safety assets in Asia trading owing to the size of Japan's U.S. dollar holdings and the depth and liquidity of its currency market, rose more than 4% against the greenback to a March 2019 high of 104.79 in early Tokyo trade, over just a few minutes, following the Apple revenue warning. The move was the largest of a major currency pair in the daily $5 trillion market since the U.K. pound's 'flash crash' of October 2017, when sterling plunged more than 9% against the dollar during Tokyo trading hours. 
"The proximate trigger is almost irrelevant; after all, the Apple profit warning news moved the S&P 500 futures some 1%t or so, hardly remarkable relative to recent trading ranges," said Saxo Bank's head of FX strategy John Hardy. "More important was that prior to the news, several JPY crosses had plunged rather quickly to new multi-month lows, setting in motion the snowballing of stop orders and margin calls once a fresh piece of bad news hit the wires - accentuated further by widespread speculative short yen interest and poor liquidity over Japan's extended market holiday."
The sharp yen rally -- which saw gains of 9% against the Australian dollar and 9% against the Turkish lira -- was pared somewhat in European trading, with the currency now marked 1.2% higher against the greenback at 107.60, but he moves could ignite speculation of a policy response from the Bank of Japan when markets resume trading on Friday.
Japan's economy, the world's third-largest, shank by an annual rate of 1.2% over the third quarter -- more than analysts' forecasts -- as overseas sales fell the most in three years. A firmer yen will add extra pressure to exports, which are already being threatened by the prospect of deeper U.S. tariffs, and BoJ officials could decide to extend their current monetary stimulus, which would weaken the yen, in order to ensure the economy doesn't tip into recession.
Further upward pressure on the U.S. dollar, which has risen nearly 1% against a basket of global currencies over the past three months, may come from investors repricing the greenback in the wake of the Fed's signalling on interest rate hikes.
Apple CEO Tim Cook also cited the stronger U.S. dollar -- as well as slowing China growth and the impact of U.S./China trade policies from President Donald Trump -- as key reasons for a cut in revenue guidance for the three months ending in December, which he said come in around $84 billion, notably shy of the Street consensus of around $92 billion and the company's own previous guidance of between $89 billion and $93 billion.
"Coupled with weaker Chinese manufacturing data this week, Trump's U.S protectionist confrontation is starting to have an impact on economic activity, and this despite U.S President implying, via rhetoric and social media, that a Sino-U.S trade deal is within grasp," said Dean Popewell of Singapore-based futures brokerage Oanda. 
With the U.S. corporate earnings season only weeks away, and investors trimming expectations for 2019 profit growth to around 7% -- sharply lower than last year's 24% pace -- Apple's softer revenue guidance has the potential to extend the current market decline if other domestic companies find similar struggles in overseas markets, where S&P 500 undefined companies generate around 40% of their annual revenues.
Fed Chairman Jerome Powell is slated to speak Friday, alongside former Fed Chairs Janet Yellen and Ben Bernanke, at the American Economic Association and Allied Science Association Meeting in Atlanta, just hours after the Labor Department will publish non-farm payroll data for the month of December.
Should Powell hold a hawkish tone, supported by firmer wage growth and stronger-than-expected job creation data, U.S. dollar bulls -- and the potential policy response from central banks around the world -- will for the central plank for market direction in the weeks ahead.